When I graduated from University with my music degree (totally seemed like a good idea at the time btw!  Not at ALL practical in the real world however…) (ah, hindsight…) my parents bought me a piano as a graduation gift.  I lived in a tiny little apartment at the time (apparently minature abodes are something I'm unknowingly drawn toward) so they bought me a digital piano (which, while being smaller/lighter than an actual piano, still feels and sounds like a large instrument.  Quite brilliant!)  It's followed me around from apartment to house to house and now resides in our (spoiler alert!: soon to be painted!) back room.  It's not the ideal spot for it, but it's the only place it fits right now, and this is where it's lived for the past year.
The problem?  Despite feeling/sounding like a piano, it's not overly…  pretty.  It's functional without the "fun."  It's melodious but not merry.  It's plunky but missing the funky.
And then, yesterday, I found this post…
…via Pop of Pretty, and I've gotta admit, I'm seriously jonesing for a full sized REAL piano now.  And not just any piano.  After a bit more research (facilitated by my good buddies at Pinterest) I've decided that I desperately need a turquoise piano…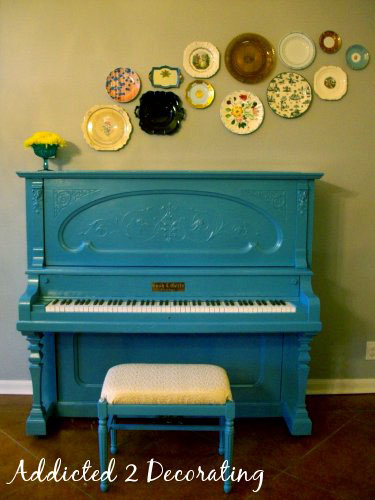 Adore adore and adore somemore.  Amazing eh?  C/O Kristi at Addicted 2 Decorating.  :)
And then I saw this lemony-beauty and exclaimed (out loud, and with gusto): well hello, yellow…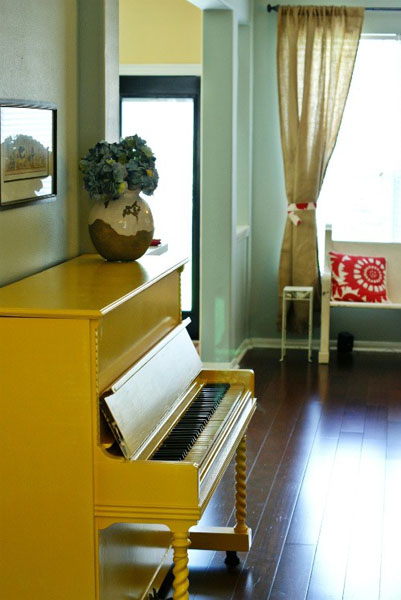 Happiest piano ev-ver, from the cheery folk at Bake @ 350.  If I had a yellow piano, I'd sit at it every day.  I might not actually play it every day, but I'd sit and look at it adoringly and likely smile a whole lot too.  :)
And seriously?  How fantastically fun is this…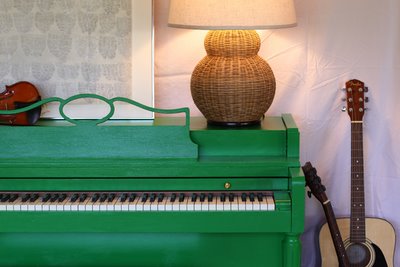 I'm not normally a green person (does that make sense?  Likely not) but this kelly keyboard from Design Mom totally makes me giddy.
And then there's this elegant lady in white…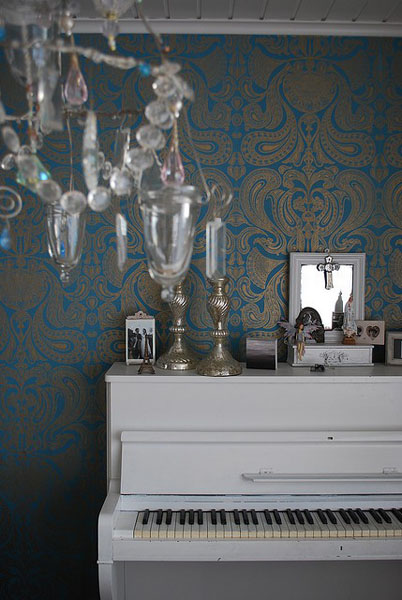 …from a fine faux-ivory-loving flickring fan.  :)  I might be in love.  (Insert ginormous enamoured sigh here.)
Yes.  I would looooove a painted piano.  Mine is just so… dreary by comparison.  Don't believe me?  See for yourself…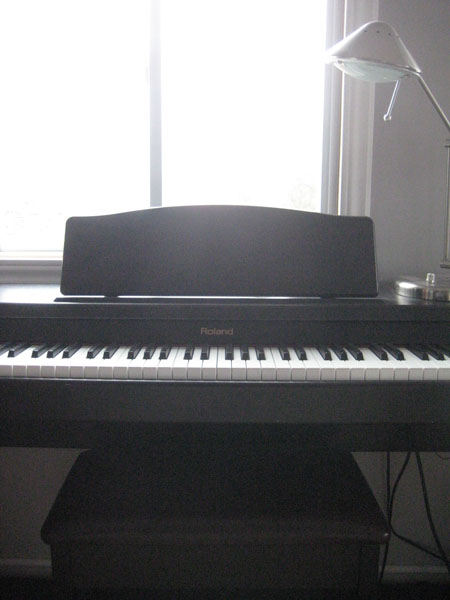 Can I get a dramatic "dun dun dun?"  Thanks.  Yup.  You've entered Drearyville, population 5 (that's five, including me, Sweetie, two cats and one digital keyboard.)
Sadly, we have neither the budget nor the space for a lovely (and much longed-after!) full-sized instrument at the moment.  However, I haven't given up all hope of having a pretty piano.  No siree bob!  Why?  Because I found this…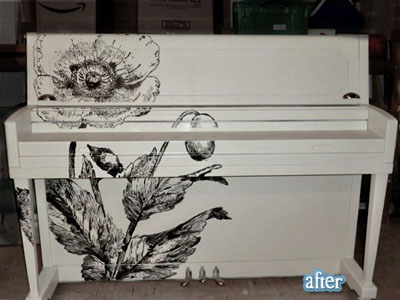 …from the folk at The Junk in our Trunks and realized that while no, I probably shouldn't paint my digital piano, I could possibly add a decal or two to fancy it up a bit…  Maybe not a ginormous poppy, per se, but a pretty little decal couldn't hurt, eh?
And so off I go to hang out with the nice people at Etsy in the hopes of finding a piano-worthy decal.  Something flowery would be cute, non?  (Again, ixnay on the giant poppy!)  Or something graphic could be super fun…  And poof!  Suddenly I'm way more excited about my dreary little piano than I've been in years.  My university profs would be so proud!  And possibly a little shocked (I don't know how they'd view my desire to piano-primp.)  But mostly they'd be proud.  Maybe.  I think.  :)
Leave a comment