Once upon a time, a long long time ago, I found this picture (from Jessica Helgerson Interior Design) and swooned just a little…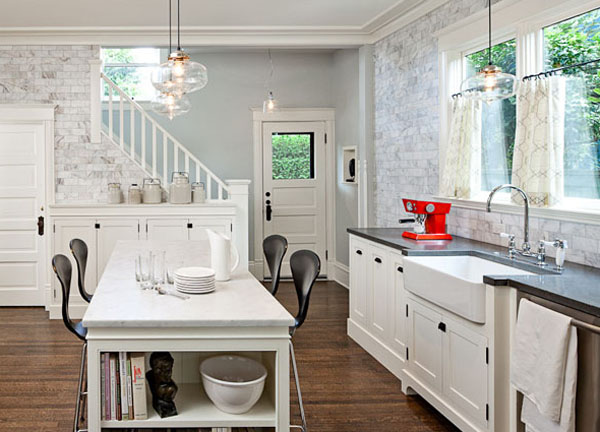 …it was love.  :)  Twu wuv, in fact (as the Bishop in the Princess Bride would have declared.)  The gray walls.  The dark countertops and lovely marble backsplash.  The white cupboards.  The wood floors.  Sigh…  This is the image that inspired the gray/white/red colour scheme in our current kitchen.
And so, my obsession with that lovely pic in mind, I'm not sure why it took me so long to realize that my own kitchen could benefit from wood floors.  Maybe it was the presumed cost.  Maybe it was the seemingly non-diy-ness of installing hardwood.  I dunno. But the thought of putting some sort of wood-type floor in my kitchen had somehow completely evaded me.
Until this weekend.
But first, let's backtrack to 2004 for a moment, shall we?  :)
Our last house had ugly flooring.  Uuuuugly.  Like, possibly even worse than the 1980s-blue-peel-and-stick tile situation here in our current house.  Really.  It was ba-ad.  Our old kitchen was home to brown 1970s peeling linoleum.  Need a visual?  Prepare yourself…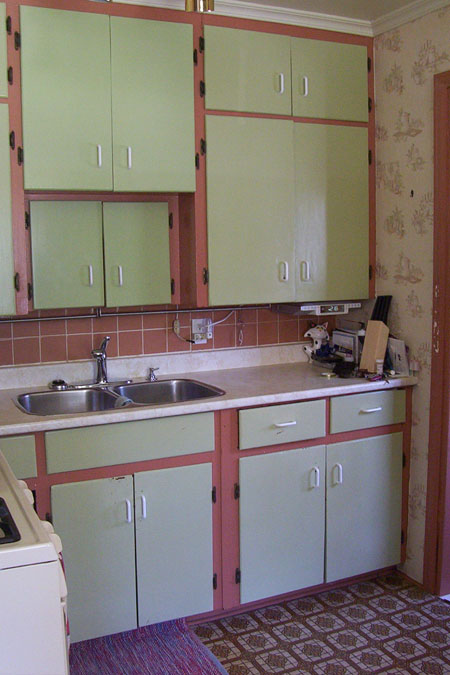 Yeppers.  We actually bought a house with a kitchen that looked like THAT.  We're brave, brave souls.
We lived with that floor for over five years.  Until about a month before we listed that house, in fact (at which point we jumped into crazy full-fledged flooring mode.)  Because the flooring was SO ridiculously old, we didn't even consider taking it up.  Instead, we put a tile-look floating floor (by Allure) right on top.  And it looked great (and, also importantly, was semi-simple to install ourselves!)  Here's the (rather grainy – sorry 'bout that) after (from the night we moved out)…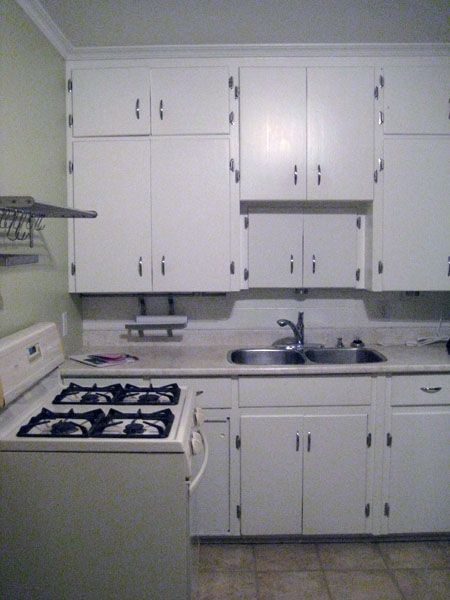 We also de-wallpapered and re-painted EVERY SQUARE INCH of that house.  (But that's a whole other story.)
And so (fast forwarding back to 2012), it suddenly dawned on me the other day that the answer to our current flooring woes might be to install the same type of floating floor directly over the blue-tile-disaster that currently resides in our kitchen.  A quick trip to Home Depot later, and I was sold.  We will again be making friends with Allure Trafficmaster Resilient Flooring, this time in a Hickory-plank finish.  I'm quite excited about the reunion. :)
Here is the floor we'll be going with…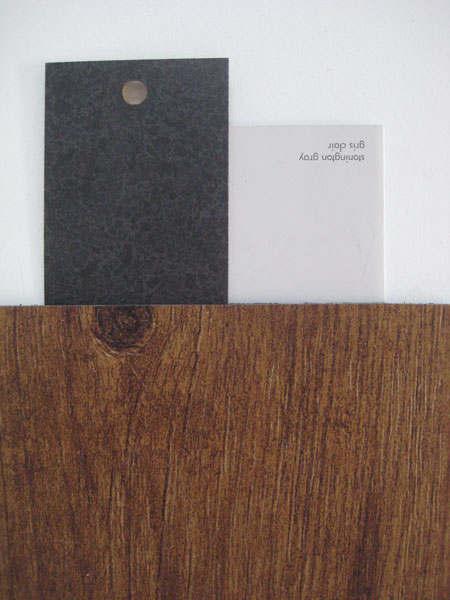 …along with the sample laminate countertop I'm considering and a Stonington Gray paint chip I wrestled up from my ginormous pile o' paintchips (it's already on my walls and I adore it.)  Not too shabby eh?  And perhaps even reminiscent of my inspiration pic.  Should we look at that again?  Let's look again.  :)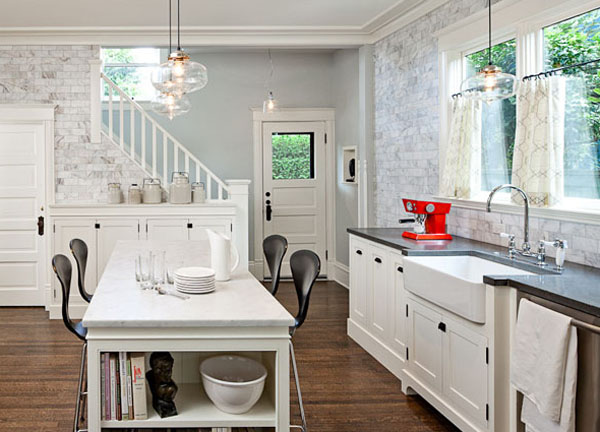 Sigh.  It's so lovely.  :)  And, well, since I'm a Google-search/Pinterest junkie, here are a couple more pics I found of the exact same Allure Hickory flooring in other people's homes…
This one is from a super cute blog called Creative Little Daisy: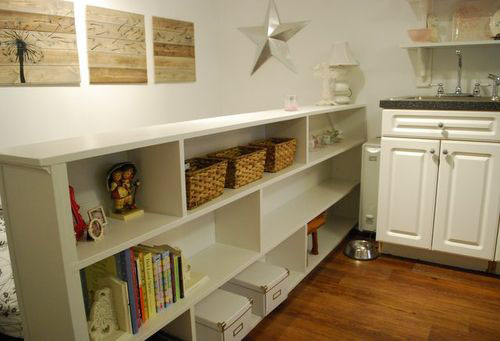 And then there's this bathroom renovation from Southern Hospitality Blog…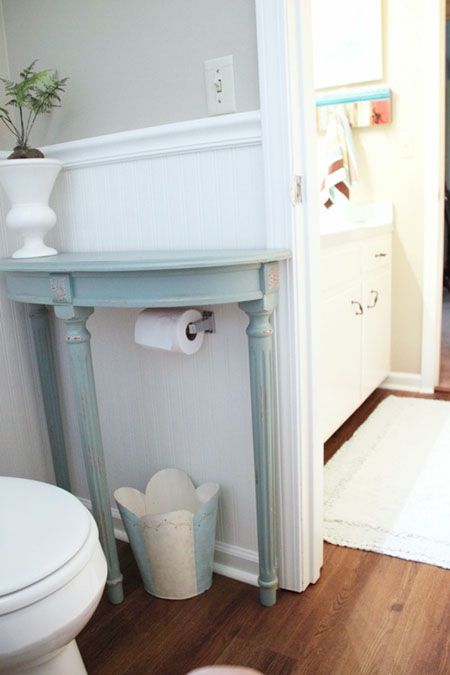 And here's a look at this same flooring in (Never Home) Maker's (originally carpeted – ick!) kitchen (and it looks lovely!):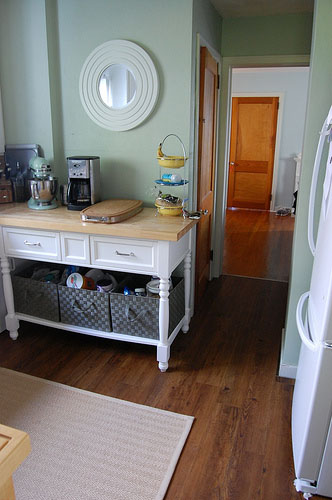 Yep.  I think Allure Trafficmaster Resilient Flooring may again find its way into my home.  Will it be a fun little DIY jobbie?  Likely not.  It's somewhat easy to install, but getting it right is a wee bit finicky.  It'll be worth it, though.  I hope.  My kitchen, sans 1980s-blue-peel-and-stick flooring, will likely be a much prettier place.  :)
PS – if you're not familiar with my Princess Bride reference above, please click here for one of my all-time favourite movie moments! (Skip to 1:25 if you want to get straight to the punchline… although the entire wedding scene makes me giggle.)  (Mawwage.)  (Teehee.)
Leave a comment