Have I told you yet about my most favourite recipe ever?  No?  Oh!  Let's chat, k?  :)
I heart risotto.  A lot.  But I hate putting a lot of effort into food (which, sadly, risotto generally demands.)  The solution?  Microwave Risotto.  Like, made entirely in the microwave.  Really.  This is the ultimate (ridiculously!) simple and (amazingly!) delicious comfort food.  We eat it as a main course.  We eat it as a side dish.  I've brought it to work on potluck day.  I've made this for company.  I have this cold for lunch the day-after.  It is SO GOOD.
I'm not sure of the exact origin of this recipe (if it's yours, please tell me!) but I've been making this for years.  It came through one of those email recipe chain letters (way back in pre-Pinterest times) – you know, those emails where some friend would add your name to some list and forward it to a bunch of other friends, and you then were expected to email a recipe to 5 people (who you probably didn't know) under the promise that, like, a hundred-ish people would then send you a recipe within seven days.  Remember those emails?  Yeah.  I didn't really like those emails either.  This is the only recipe I think I ever received from one of those recipe chain letters.  Luckily for me, it's fantastic.  :)
I'm pretty sure the original microwave risotto recipe included mushrooms, not green peppers.  But, well, I think mushrooms are squishy, so I use green peps instead.  :)  I've also substituted a couple cups of frozen broccoli/cauliflower (thawed), and that's yummy too.  Or I've added corn.  Or I've added asparagus.  This is a pretty casual recipe (if a recipe can be casual?) so I generally just use what I have on hand.  It's pretty hard to screw this up!
Microwave Risotto
INGREDIENTS
1-2 tbsp butter
Half an onion, chopped
1 large green pepper, washed (of course), seeded and chopped
2 cloves of garlic (or 1 tsp of the pre-chopped-in-oil stuff)
1 cup arborio rice (or some other short grain rice)
2.5 cups of beef broth (I usually just use bouillon)
Grated cheese (about a cup?)
METHOD
1.  Melt butter in a large bowl in microwave
2.  Add onion, green pepper, and garlic to bowl.  Stir to coat with melted butter.  Microwave uncovered for 5 minutes.
3.  Add rice and beef broth to vegetables in bowl.  Stir.  Microwave uncovered for 25 minutes, stirring once midway.
4.  Add cheese.  Stir.
5.  Eat.  Enjoy.  Marvel at how simple that all was.  :)
And, when you're done, this is what it looks like, all risotto-ed up…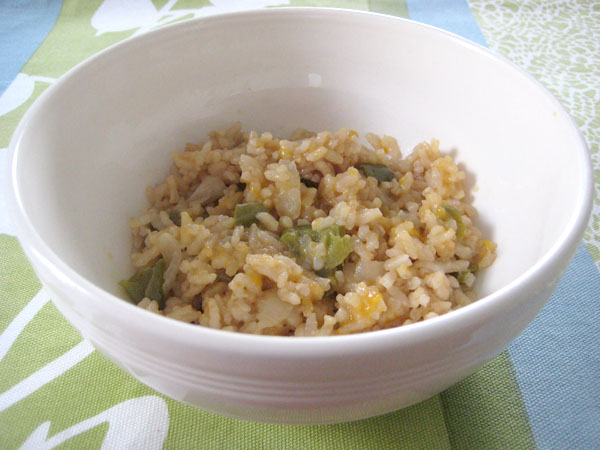 In case it doesn't look like there's much in my bowl…  ummmmm, yeeeeah.  You're right.  I didn't remember to take pics until the next day and this is all that was left from the night before.  Ooops.  So yep!  It's JUST that tasty.  On the well-known comfort food scale of 1 to 10, this is definitely a 10.5.  Maybe even an 11.  It's like happiness in a bowl.  Like a big risotto hug.  Sound weird?  Trust me.  Try it.  You'll see.  :)
Want something equally awesome? Check these out!: