This weekend, the sunroom painting project will continue.  Yay!  Finally.  If it's the last thing I do.  I've been in sunroom painting limbo for the past month or so, due to the acclimatization of two very cute (but, until recently, not yet Jacob approved) new kitties (aka Irwin and Erik) (or, as Sweetie has nicknamed them, Ir-dog and Booger.)  And while I can't say that they're entirely integrated into our cat-family now, there is a lot of tolerating going on.  Which is really all I can ask for at this point.  (Although I'm hoping to find them all cuddling together and holding paws one day soon.)  (Or at least hanging out in the same room.)  (Baby steps, I know.)  :)
So, on to painting!  Hooray!
Paint was actually purchased pre-sunroom cat occupation, and it's DARK.  At least, it's dark for me.  To get all technical and paint-namey, it's Benjamin Moore's Chelsea Gray.  And it looks like this (according to the paint blob picture-takers of the internet)…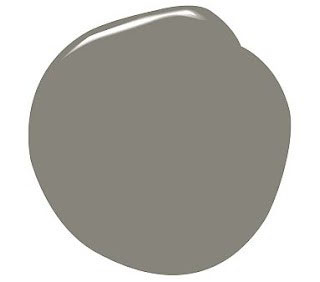 How did I find said Chelsea Gray paint (considering my fear of dark paint colours?)  By accident.  Really.  In a nutshell (since I could ramble on and on about paint for hours) (it's embarrassingly true – just ask my friends) I was given the wrong test pot by a Benjamin Moore store representative (I think I had originally asked for Coventry Gray.)  (Coventry…  Chelsea…  An honest mistake!)  But, to my surprise (once discovering the mixup), I liked it.  A lot.  And I've been looking for a place to slather with its lovely dark grayness ever since.
And then, a couple months ago, I saw this room from brilliant blogger Love, Home & Style…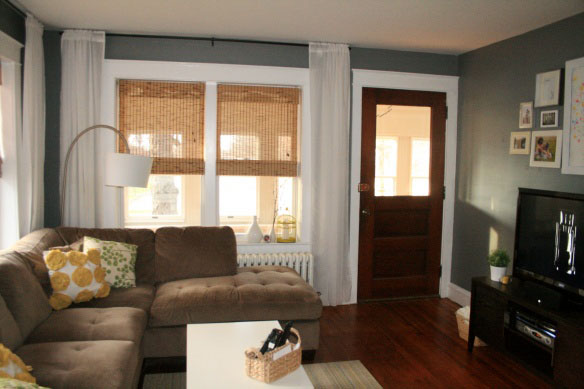 …and decided that the sunroom would be THE room to get a lick of Chelsea Gray (I think it was all of her windows that made me realize that our sunroom, with all its windows, could indeed be dark AND be fantastic!)  Her room isn't actually Chelsea Gray (it's Shaker Gray, which apparently – and strangely – they don't make here in Canada according to the peeps at my local Benjamin Moore) but Chelsea Gray is pretty darn close.  Here's hoping it looks just as lovely once up on my walls!
So that there is the story of how my Chelsea Gray sunroom came to be.  Not that it's Chelsea Gray yet.  But it will be by the end of the weekend.  I hope!  (I really really hope!)
Have a great first official weekend of summer!  If you want me, I'll have a paint brush in one hand.  Of course.  And maybe a strawberry daiquiri in the other.  I love summer.  :)
Want something equally awesome? Check these out!: