Could we please talk about my kitchen floor a wee bit more?  Just a little?  I know.  I KNOW.  We've talked about my floor A LOT (here, and here, and here, to be exact.)  One more, k?
Need a reminder?  It has been a good, oh, couple of weeks since I've obsessed about my kitchen.  Here's the current state of my wee little kitchen (please note the uuugly floor!)
Gross eh?
So what's this big ongoing internal dialogue all about?  Painted plywood floors.  Again.  Yeppers.  Just when I thought I'd made a decision on which flooring would be most cheap and most cheerful for my humble little kitchen, I saw a Pinterest pic that made me pine for something else.  But rather than the patterned floors I drooled over the last time I pondered plywood potential, I've now switched gears (me? really?  go figure…) and my newest obsession is checkerboard.
It kinda started with this floor from Better Homes and Gardens (which, if you'll recall, was indeed a contender for my floor future the last time we all discussed this)…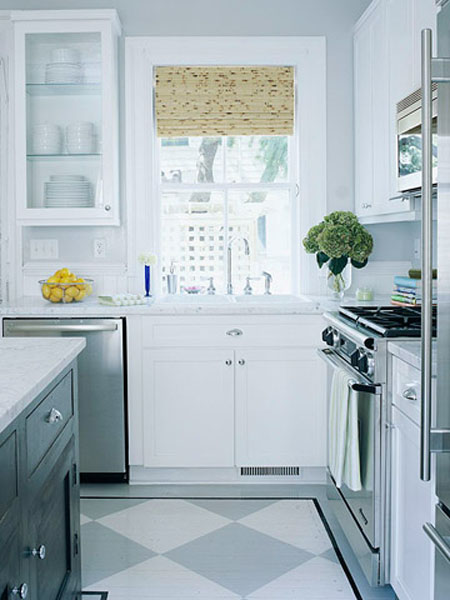 It's just so PRETTY!  And that gray on the walls could very well be the Stonington Gray that's on our kitchen walls.  Which is perfect alongside those white cupboards (hey – we have white cupboards too!)  Yep.  This is the exact colour scheme of our current kitchen.  (Well, sorta…  If you completely disregard our sad looking countertops.)  And just look at how pretty and serene that all looks with the checkerboard floor.  Sigh.
I'm a little obsessed.
Here's a second gray and white checkboard floor from Northern Light.  Just as lovely.  The pattern is a classic, like the black and white staple, but the gray and white is less in-your-face…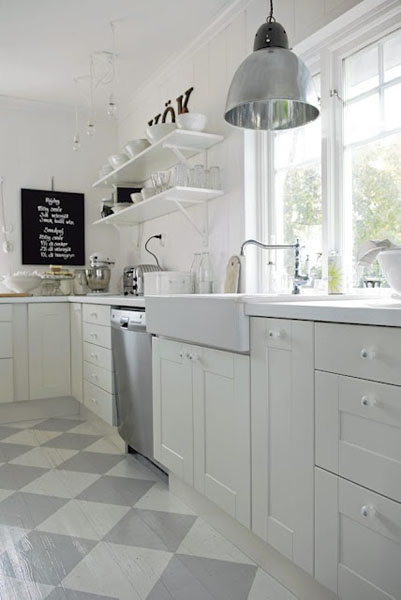 And here's a third (yes really!) gray and white sample (this one via Southern Living.)  (I might truly be onto something with this whole gray and white obsession!)  This one is ALSO lovely…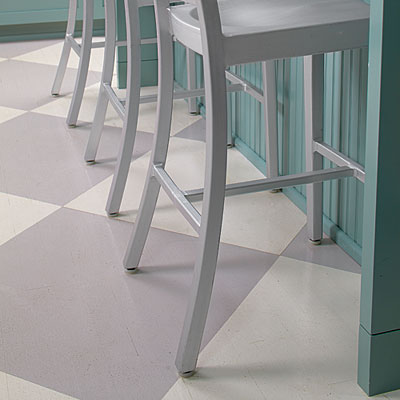 And then there are indeed non-gray options.  For example, could I interest you in a little yellow perhaps?  A la Makin' It in Memphis …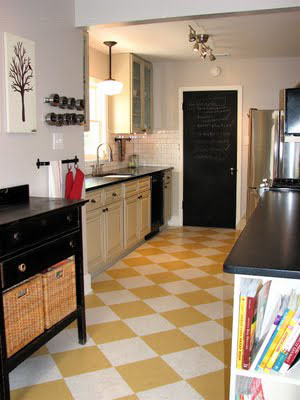 Yep.  If a floor could be happy, I bet it'd look just like that!  (Albeit, Makin' It In Memphis' floor is genuine marmoleum, not painted, but a yellow and white painted checkerboard would be equally cheery methinks!)
I might very well be sold on the checkerboard floors.  Especially the gray and cream versions (again, it's just so pretty with the gray wall paint.)  (Please excuse me while I swoon.)  What's holding me back?  The truth?  It looks like a lot of work.  Not necessarily the painting part.  I'm sure that's pretty straight forward.  It's the TAPING that looks like quite the chore.  (And, being both slightly OCD and somewhat of a perfectionist, I'm guessing this is the type of project that could truly push my buttons.)
So will I have painted checkerboard floors in my happy little 1940s kitchen one day?  Perhaps.  Once I'm a gazillion percent sure that it's really the right choice for my kitchen.  Since, well, I'm only going to (very precisely) tape off forty-seven 12″ squares once.
OK.  Twice.  Tops.
Leave a comment