So the curtains in our front window have been driving me a wee bit bonkers for a while now (since we hung them up almost two years ago when we moved into this house, in fact.)  Why?  Despite being super cute (I love the pretty little pattern!) (the curtains are from Ikea btw – they're Ikea's Hedda Blad) they're very… light and airy.  Ie: they look a bit like we've hung sheets in our windows when closed.  Which, having lived in student housing for quite a while during my University years, I can attest from experience is never a classy look.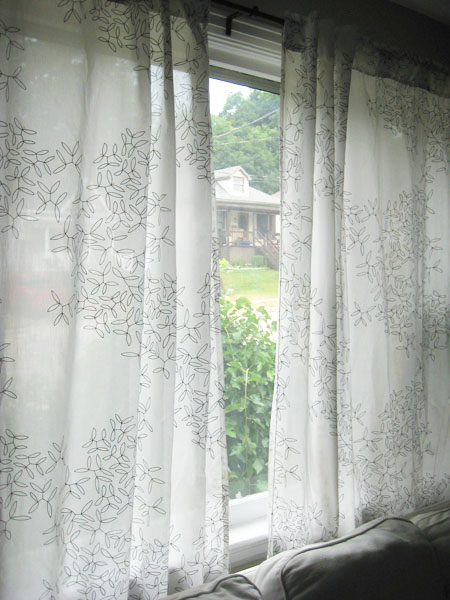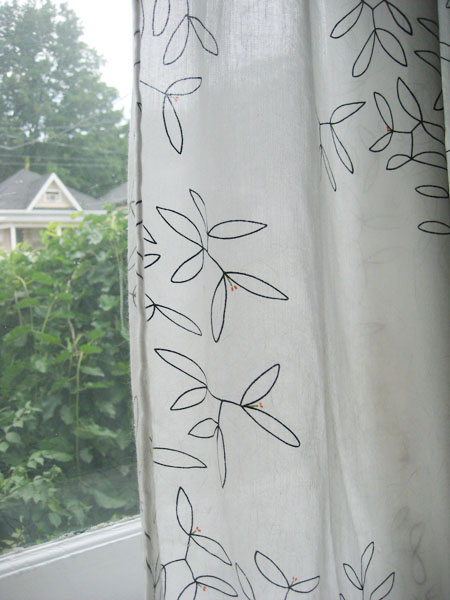 They're very sweet curtains and I really do like them, but because they're rather sheer and cotton and white, they DO indeed resemble sheets just a bit.  Which, unfortunately, isn't at all the look I'm going for.
So what did I do?  I went to Ikea, of course.  :)  I buy pretty much all of my curtains at Ikea since…
a) they're inexpensive (so if the kitties play hide and seek behind the curtains, which they often do, and the curtains become riddled with claw marks, I don't stress) (because who wants to stress over curtains, anyway?)
b) they're LONG.  It's not so much of an issue at this house (our ceilings here seem to be a pretty standard height) but with super high ceilings at our last humble abode, I became obsessed with having long curtains.  I'd rather my drapes be too long than too flood-ready
c) they're NICE – I love Ikea's drapery department (plus there's always the fun of hiding in the sample drapes and scaring the crapolla out of your Sweetie when he walks by :)
After a rather whirlwind trip to Ikea (they were scheduled to close about 30 minutes after we arrived, so Sweetie helped keep me focused on moving straight into the drapery department, despite that what I really wanted to do was wander off and browse) (I heart Ikea) we walked out with the natural-coloured Ritva drapes.  They're hidden-tab-topped.  They're hearty-looking.  They're both cheap and cheerful.  And they're not at all sheet-like.  I rather like them.  As does Jacob.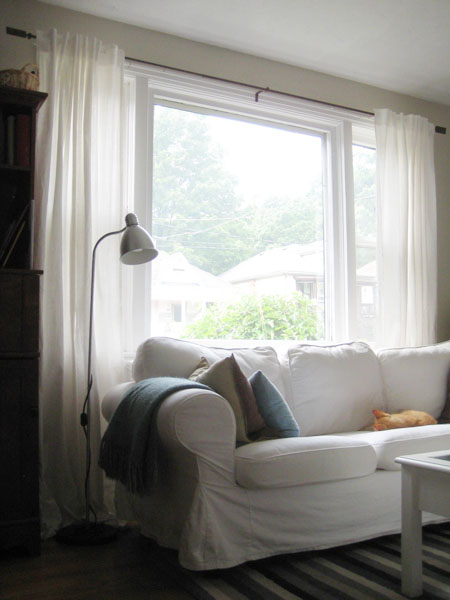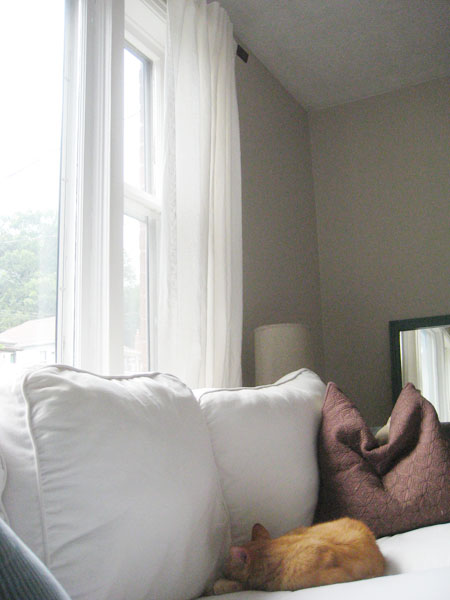 The Ritva curtains have a bit of a linen-ish look to them, which keeps them from looking particularly sheet-like…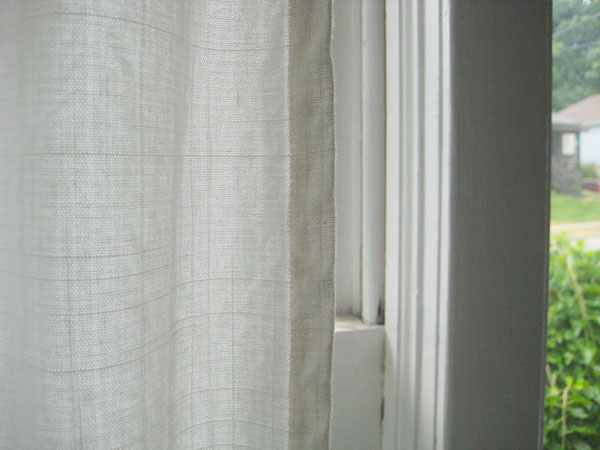 Erik rather likes the new curtains too.  Kitten approval is very important in decorating matters, you know.  :)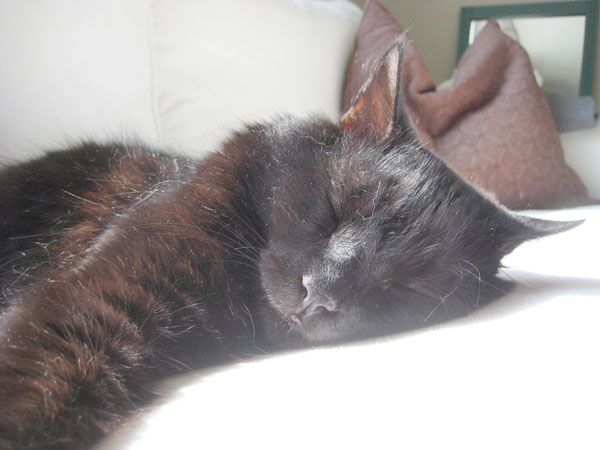 All in all, I'm quite happy with our new Ritva curtains!  From a decorating-risk standpoint, they're about a 2 on the 1-10 scale (with 10 being chartreuse paisly, and 1 being one of those plain white vinyl pull-down blinds) but I'm ok with that.  They'll do for now.  :)
PS – sending a big huge congratulations out to my little brother and his new wife who were married last Thursday!  So happy for you!  So happy for me (I've finally got that sister I've wanted since I was little and realized that a gross and stinky brother [since all brothers are both gross and stinky when you're little] was all I was ever going to get.)  Lots of love to you both!
Leave a comment