It's Christmas Eve today (yay!), which means today is the day that Sweetie and I head home to spend Christmas with my family.  Can't wait!  My family is a family full of traditions, especially Christmas traditions, and our annual Christmas Eve arrival (followed by Christmas Eve pizza – of course! – and, most importantly, my dad's reading of a very special story) is something I look forward to every year.
The cats will be alone on Christmas Day, but they're not overly concerned – we had our own pre-Christmas celebration here at the house this morning and over the weekend.  There were tiny little reindeer antlers.  There were gifts to unwrap and catnip mice.  And they even snuggled up with us for a bit to watch White Christmas (my absolute favourite Christmas movie ever.)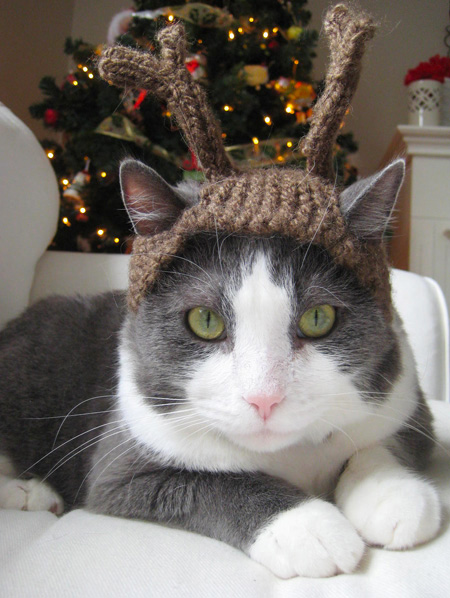 And, on that note, and in case you've never seen White Christmas, I wanted to sign off for the holidays with the lyrics from one of the songs from that movie.  In all honesty, 2012 has been a bit of a bear.  While there have been some really amazing and wonderful moments this year, it's also been a really hard year for a few of my friends (and, well, for us too at times.)  I think this song is really good advice for us all…
Count Your Blessings (Instead of Sheep)
When I'm worried and I can't sleep
I count my blessings instead of sheep
And I fall asleep
Counting my blessings
When my bankroll is getting small
I think of when I had none at all
And I fall asleep
Counting my blessings
I think about a nursery and I picture curly heads
And one by one I count them as they slumber in their beds
If you're worried and you can't sleep
Just count your blessings instead of sheep
And you'll fall asleep
Counting your blessings

That Irving Berlin guy was pretty amazing eh?
Sending so much love out to my friends and family over the holidays.  I hope the next couple of days are filled with good food, the lively and familiar company of family and friends, and lots of lovely surprises.
Merry Christmas all!  :)
Leave a comment