Admission: I cringe whenever I start planning to mount things (hooks, frames, mirrors, random tapestries) on my walls.  I'm not sure why.  Perhaps it's the assumed permanency of drilling into my lovely (ie: freshly painted and yet unmarred) walls.  Maybe it's a fear of placing items too high or too low (since, um, that happens.  To me.  A lot.)  Maybe it's because I don't use power tools (that's Sweetie's job) and because the whole anchor (necessary with our plaster walls!) + screw (in a very specific size and type) combination confuses me just a bit.  Not sure.  Let's just suffice it to say that when I repainted much of this house, I actually left some of the previous owners' screws in the walls and painted around them.  The previous owners had already done the dirty work for me.  Why mess with that?
But I'm thinking it's nearly time to face this fear and address the empty wall space around my fireplace.  A space that drives me a little bonkers.  And now that the Christmas tree is down (it finally – FINALLY! – came down last weekend) it's especially obvious that there's a big gaping hole in my living room loveliness.
Yep.  I'm ready to tackle the vacant (and rather sad-looking) space around old not-at-all smokey.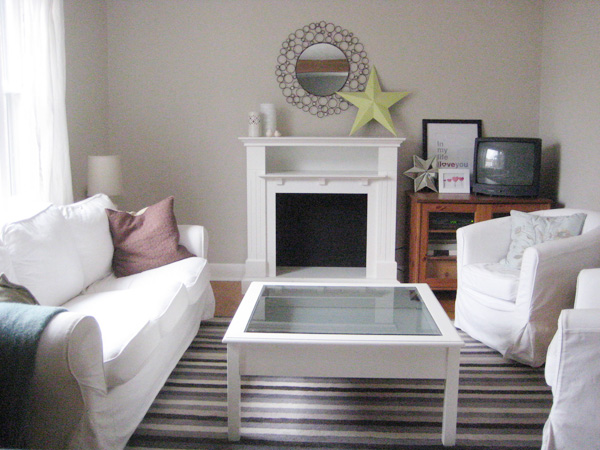 The corner to the left of the (faux) fireplace is particularly lonely looking.  Even Sweetie exclaimed (once the tree was all packed away and the merriness banished to the attic for the next eleven months): "You're going to put something else there, aren't you?"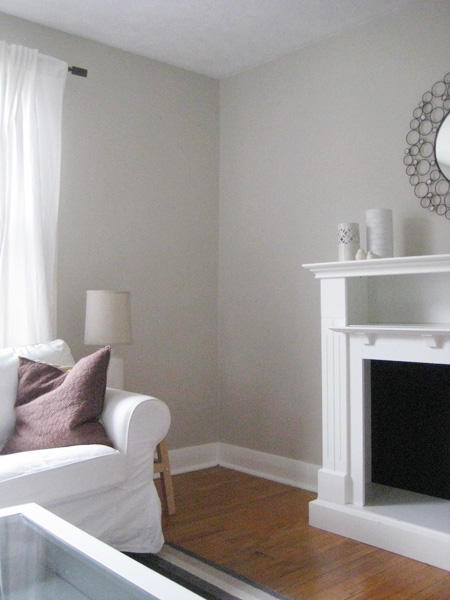 And if Sweetie (aka Mr "Oh…  What's that?  You say you painted the kitchen fuchsia?  I didn't notice…") recognizes that something isn't quite right, something obviously must not be right.
My dilemma?  What to decorate the void with.  Given my fear of putting stuff on walls, I've been doing a lot of research on empty corner filling (since I'm a tad OCD and indecisive and generally nervous about any sort of wall-marring commitment.)  A quick discussion with the lovely folk over at Pinterest (they're exceedingly helpful over there, btw!) left me with the following suggestions…
Wall-filling strategy #1: Framed… somethings.  For the record, I'm in love with this room (holy moly that's some gorgeous tealness!) from Emily Henderson…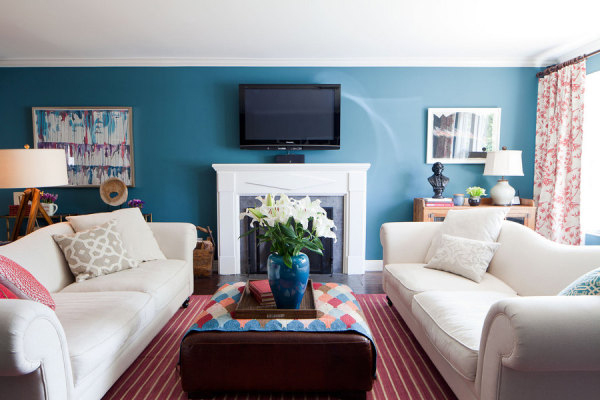 But what, exactly, would I put in the frames?  Prints?  Art?  Pictures of the cats?  And should I go with white frames?  Dark wood frames?  Metallic?  Sigh.
Or I could fill the space with plates perhaps (aka "Wall-filling strategy #2.")  Just look (look!!!) at this stunning wall of pretty plates from Larissa over at mmmcrafts…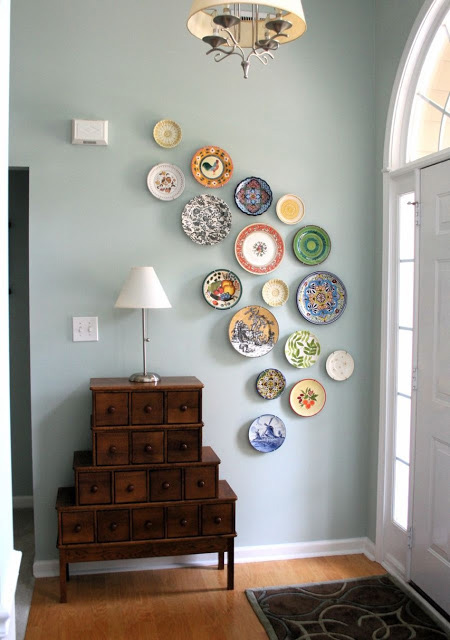 Lovely eh?  I adore this idea.  Although my supply of decorative plates is a little low at the moment.  And planning out which-plate-goes-where seems like the sort of thing that could drive an already somewhat strange girl completely batty.
I could scatter some pretty ceiling medallions across my wall.  I've admired Dave and Joi's medallion-adorned wall for a long long while now…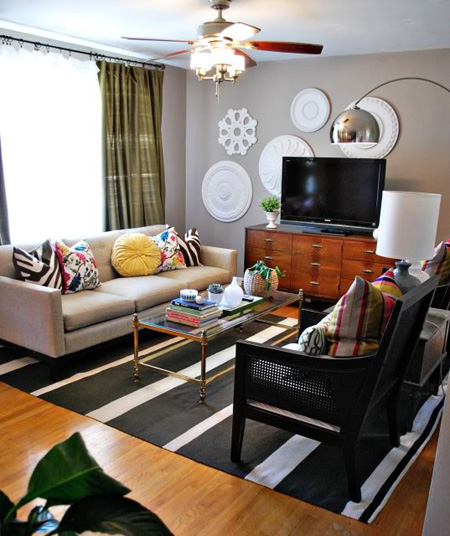 Love love love their living room!
Or I could embrace the emptiness…  This room, from my all-time most favourite designer ever Samantha Pynn (hi Sam!  You rock!), makes me think that my living room void isn't really a void afterall.  Perhaps I just need to add a lovely lamp (oooh!  And a chandelier!)…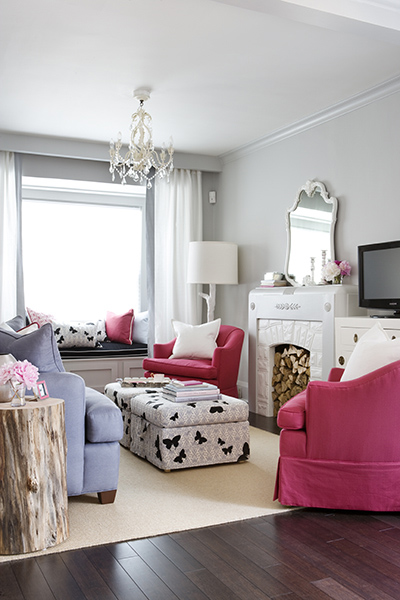 I'm not sure.  What I AM sure of is that something needs to happen.  To spice things up a little.  You know, shake it to the right (if you know that you feel fine.)
(And yep.  I just quoted Spice Girls.  Random?  Yes.  Scary?  Agreed.)
Anyhow, this debate obviously isn't over.  I'll be taping templates of some sort to my walls shortly, I'm sure.  And then the inevitable (and ongoing) template rearranging will begin.  And likely more Pinterest-ing too.
Being an indecisive commitment-phobe is a lot of work.
But yes!  Those are my quasi plans to date.  Hopefully the next time I chat about my living room walls there will be stuff strategically mounted on them.
Or, if nothing else, print/medallion/tapestry-sized paper templates.
Want something equally awesome? Check these out!: