Michaels rocks.  Can I say that?  It really really does.  (And I'm not a Michaels ambassador and they're not paying me for that endorsement, I just love them lots and lots!) (not that I'd say no if they offered…) (just saying.)  I popped into my local Michaels store the other day to pick up another ball of yarn for my ongoing scarf project (since I'm knitting like a madman over here lately) and I walked out with…
-a lovely basket I found on sale (regularly $44, all mine for $22!)
-a pretty metallic picture frame picked out of the clearance pile for $4 (happy squeal!)
-a sheet of lovely scrapbook paper that was neither on sale nor on clearance (but it's pretty and, at $0.99, it still felt like a ginormous bargain)
…and my ball of yarn (of course!)  Quite the hodge-podge-y group of items eh?  But, oh… I had plans.  All of this Michaels-bounty (minus the yarn) went toward updating my little living room and faux fireplace.
And, that all said, here's the result of lots of rearranging and tweaking and pondering and tweaking some more…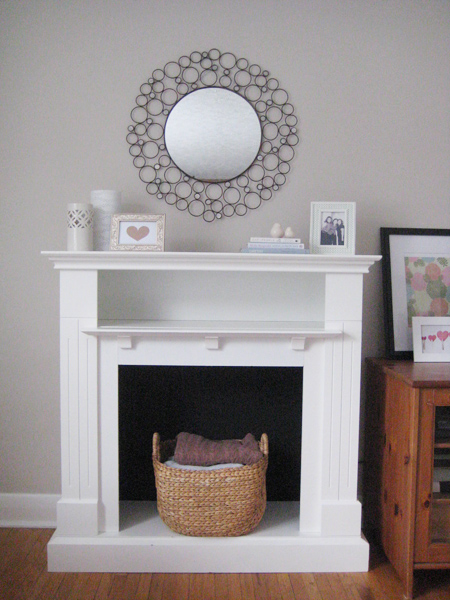 Tada!  OK.  So it's not necessarily a hallelujah moment, but I think it looks better.  :)  Here's what I did…
First…
I summoned my inner DIY-er and created the world's easiest art for inside my new (really really inexpensive!) metallic frame (which, btw, reminds me a lot of the fancy gold frames my grandmother used to have scattered around her house) (which, of course, makes me love this frame even more.)  The instructions?
-cut a 4×6″ rectangle (to match the size of the frame) from a sheet of basic white printer paper
-fold it in half and cut a heart into it (a la grade one Valentine's Day art project)
-put said piece of paper (minus cutout heart) in the frame (letting the brown cardboard backing that came with the frame peek through the cutout)
…and poof!  Instant 30 second art.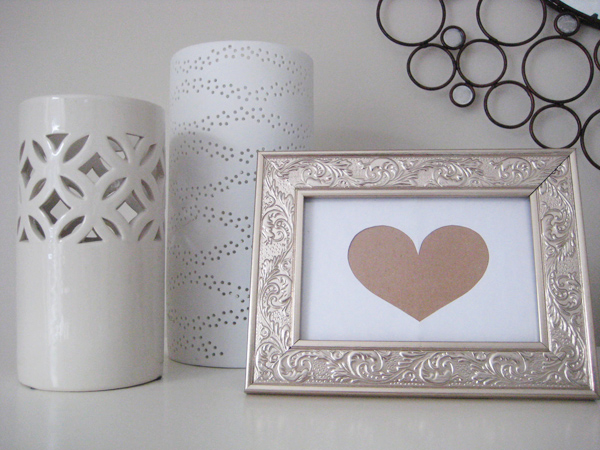 Super cute, eh?  And, almost as important, super easy!
That all said, I can't really take any credit for this project.  I first saw this idea here on House Pretty's lovely blog.  My method is a little different, but the overall end result is pretty similar.  And I don't want to be a big bad awesome easy art project idea thief!  So, House Pretty, I'm totally tipping my hat to you on this one.  :)
And then…
My second easiest-ever DIY art project?  Adding that lovely $0.99 scrapbook paper to a frame for an instant print.  No fancy instructions required, just add scrapbook paper to frame, put frame in a frame-worthy spot, and admire.  Done!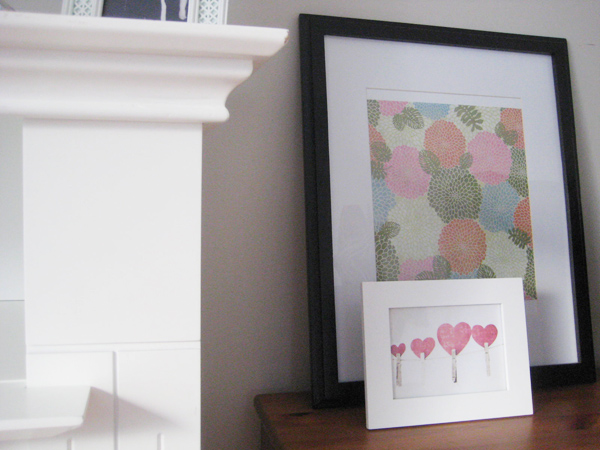 The paper I used doesn't even really fit my frame, if you want to get all technical about it.  The paper is 12×12″ I think (or whatever standard scrapbook paper size is) and the frame is matted for an 11×14″.  But it still works. Truth be told, I kinda want to wallpaper my entire house with this scrapbook paper.  So springy!  So happy!  I'm hoping to find other places around the house where I can use this pretty paper shortly (which, in turn, means another trip to Michaels – yay!)  I love it just that much.
As does Jacob.  Lesson learned: never try to take pictures of things on the floor.  When you do, this happens…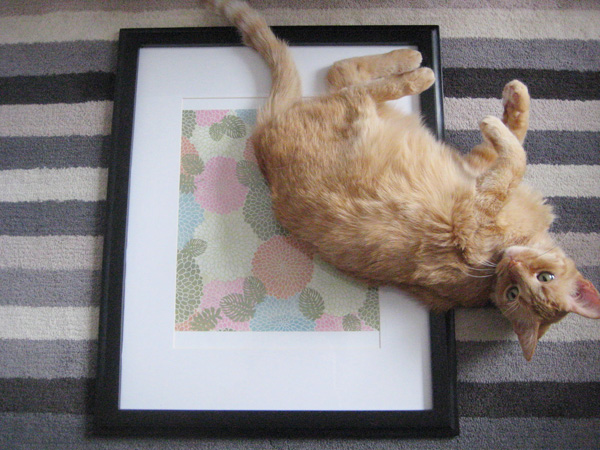 Yup.  Jacob agreed that this scrapbook paper was the prettiest he had ever seen (and, as a result, he felt he should roll around on it.)
I'm hardly a scrapbooking aficionado, but I'm guessing that cats don't make very good scrapbookers.
And last (but definitely not least) (in fact, the opposite of least… most?)…
The basket is my absolute favourite addition to the room.  I've been searching for a basket to fill the fireplace void for a while now, but baskets are crazy expensive (and I'm rather frugal.)  Which is why I did a little happy dance in the middle of Michaels when I realized that all of their baskets were marked 50% off.  Woo!  And I'm pretty sure I practically skipped out of the store.  (I tend to do that when I find a good deal.  People look at me funny, but I don't care.  Cocked eyebrows can't compare with the joy of finding a bargain.)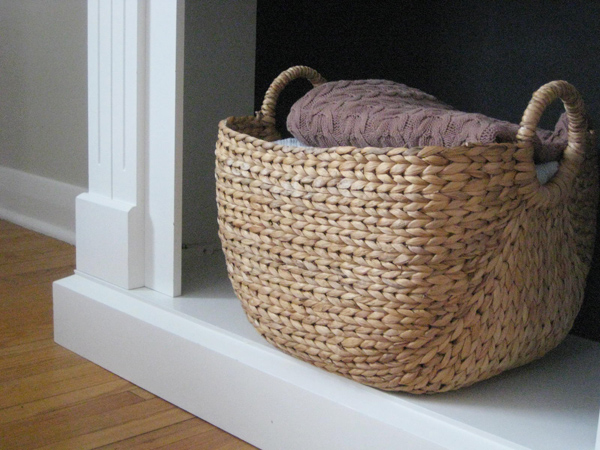 Doesn't it look cozy all filled with blankets?  Yep!  I'm ridiculously pleased with my find.  :)
In conclusion…
So there!  Those were my Michaels-inspired updates!  I made a couple of non-Michaels-related improvements too, like the framed black and white pic of me and my girlfriends from back in our university years (that I found while rummaging through our second bedroom last weekend) (we look so young… sigh!)  And I did a bit (um, a lot) of rearranging too.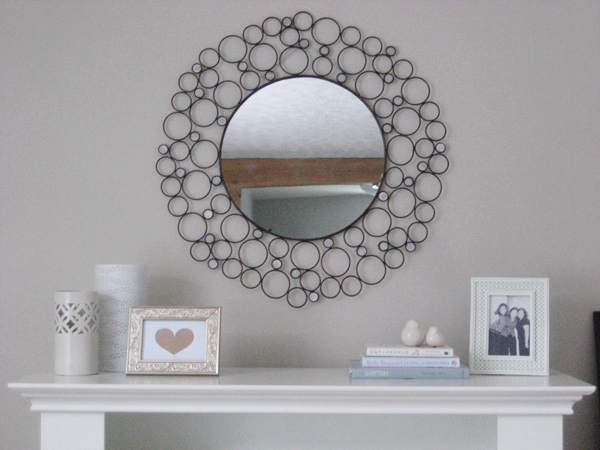 All in all, the room is coming.  Slowly but surely.  I figure by the time we decide to sell the house I'll get it right.  I still need something on the wall to the left of my pretty little faux fireplace (besides the cats' beloved scratch post, of course) but that's a whole different story (that I've already obsessed a bit about HERE) for a whole different day.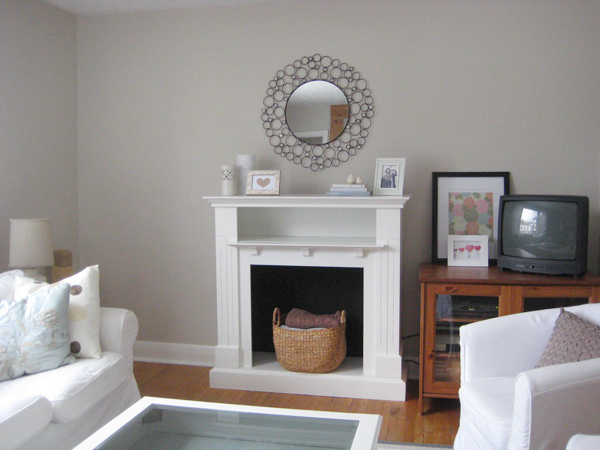 Until then, I'll likely continue rearranging things weekly-ish and posting regular fireplace-mantel updates.
Excited?  Me too.  :)
Leave a comment