Ok, I'm just going to come right out and say it…
There's too much white going on in our living room.
There.  It's out.  I've said it and I feel much better now.  Thank you!
Please don't get me wrong – I adore my white Ektorp sofa.  It's been insanely easy to keep clean given that I have an electrician hubby who comes home rather dirty from construction-ish job sites each day.  And it's valiantly held its own against our fur family of three who shed uncontrollably and occasionally decide that the sofa is an appropriate place to drop the odd hairball (despite that I've asked them several times to head toward the ugly kitchen linoleum whenever they feel queasy.)  (Unfortunately cats don't seem to understand the washability factor of solid surfaces vs fabric.)
But yes, my living room needs a little ooomph.  A little less shabby, a little less chic, if you will, with a little more cozy and a lot more colour blended in.  Because right now we're hanging out in blahs-ville.  And we're looking a little anemic.  And I'm in need of a big ol' change.
I should have seen this coming.  My absolute favourite Ikea living room set up is this one (which doesn't have a source attached to it, but given that absolutely EVERYTHING in this room appears to be from Ikea, I'm pretty sure this is an image courtesy of the good folk under the big blue and yellow sign…)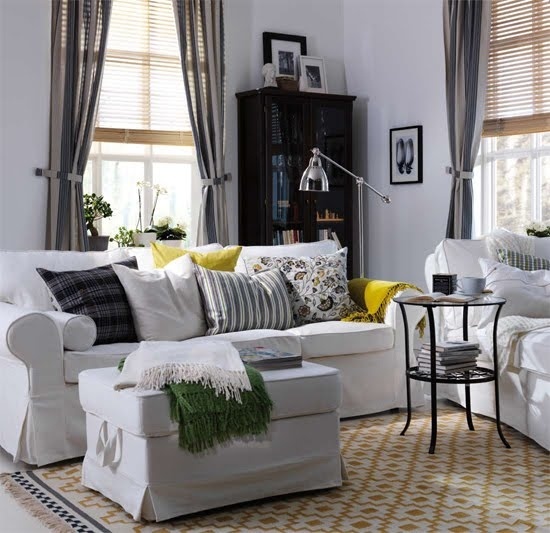 There's still a lot of white happening in that room, but the white is so nicely balanced by the darker elements (the black and white cushions, darker drapes, the black side table and bookcase) plus a little colour too.  :)
Contrast all that with my current living room…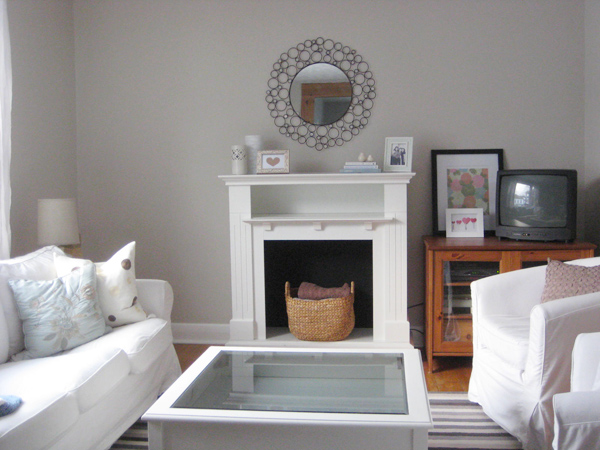 (Insert sad muted trombone womp-womp here.)  White sofa, white chairs, white fireplace, white drapes, white coffeetable, greige walls, beige lamps, light-coloured cushions…  Yawn.  I'm bored.  You?
So, with our Ikea trip for bedroom textiles still looming, here's what I have planned….
1.  We're going to swap out the curtains.  I need new curtains for the bedroom, so the white curtains currently decorating our living room will be heading upstairs to their new bedroom-y home and I'm hoping to find nice gray replacement curtains for down here.  Maybe even another pair of Ikea Ritva curtains (but this time in gray):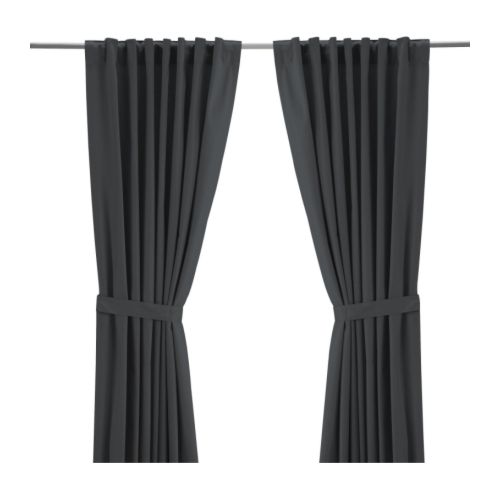 2.  I may do the unthinkable and get black slipcovers for our two white Ikea Tullsta chairs.  Maybe.  I'm not 100% sold on this idea yet (black seems so… dark), but those two little Tullsta chairs seem to get furrier and dirtier than our couch (despite that we sit on them far less) and I've never been a huge fan of white on those two chairs anyway.  They look… cheap or something to me.  (I'm not sure why.)  And plus, I found this image of a sweet little black Tullsta chair from site House to Home and realized that black might be a nice change…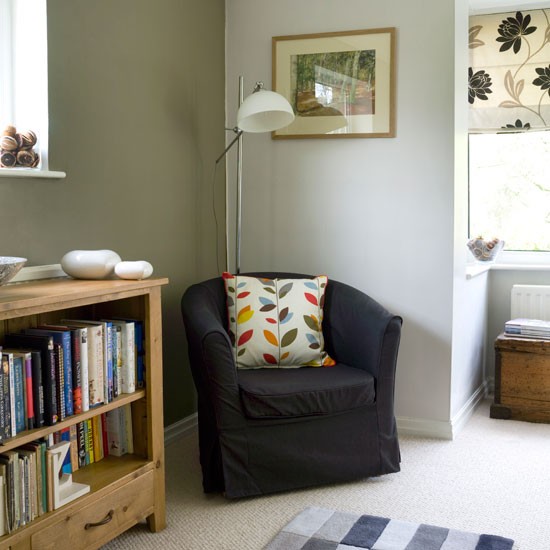 Truth be told, I'd rather slipcover them in gray than black, but the Tullsta slipcover options are a wee bit limited (so black it might be!)
3.  Last, but not least, I'd really like new pillows and throws in various grays to match our area rug, since nothing actually matches our area rug right now – a fact that I didn't realize until I read this rather brilliant post about choosing cushions for your sofa from Centsational Girl (thank you Centsational Girl!)  Here's an example I found from Varrell Home Designs that demonstrates CG's theory that your cushions should match your rug to some extent – they have a navy rug, and they've incorporated navy and blue in some of the cushions.  And, as a result, it all looks rather lovely together!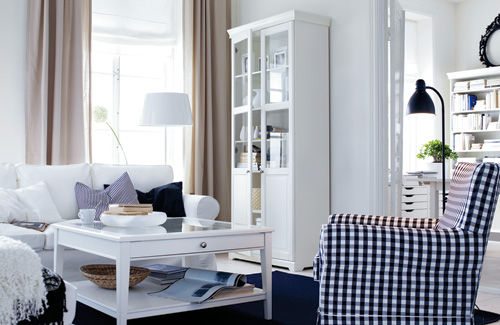 So those are my goals for now.  New drapes, possibly new Tullsta slipcovers, and definitely a few new cushions.  It's my plan of attack.  And I'm quite excited to start attacking.
And, afterwards, I'm pretty sure I'll wonder why I didn't think of this earlier.
Want something equally awesome? Check these out!: