I've been a bit unintentionally MIA for the past couple of weeks.  In all honesty, the last-week-of-workness, trying-to-get-house-ready-to-list-ishness, OMG-need-to-find-another-job-soon-ness, and all of the related stress took its toll on me last week and I sorta just wanted to curl up in a corner and sleep for a bit.
But all that is over now.  Work is done, for better or for worse.  I'm applying for jobs like crazy and hoping that a promising phone call from some nice prospective employer-person (who thinks I'm awesome and wants to pay me loads of money to come work at their fine organization) comes soon.  We're working on the house and have been in talks with our agent so we can list as soon as possible.  And we're looking at other houses and trying to make smart and solid plans for what to do next.
But, in the midst of all this chaos, I realized that I never posted my "look-what-we-did!" big reveal on our bedroom makeover.  So I thought I'd take a bit of a timeout from everything else and indulge in a quick "tada!" moment.  :)
First, let's take a looksee back on what the room looked like pre-painting/-primping/-improving, k?  Our room wasn't terrible.  At all!  But I'm not a sage green kind of girl – I'd like to be, and I like it in other people's homes, but it's just not me.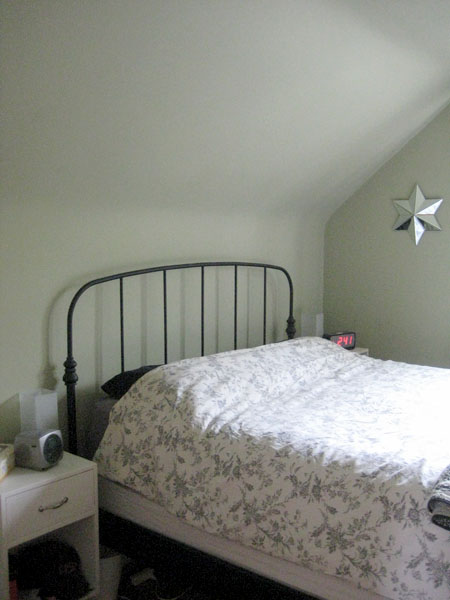 A couple coats of BM Revere Pewter later (plus a pretty pendant light, a much-obsessed-about new duvet cover and some new curtains too) and here's our lovely little bedroom now (on a mighty sunny day!)…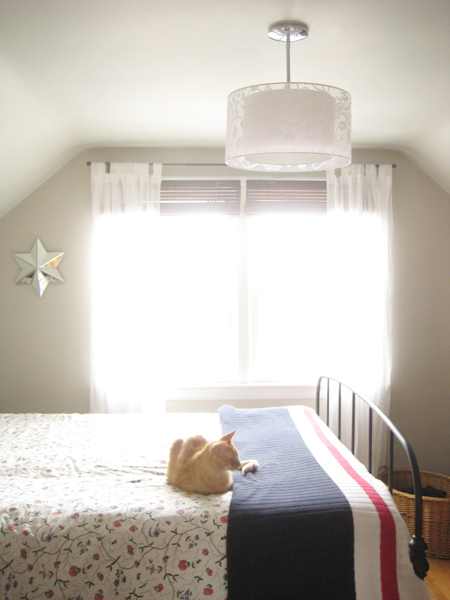 I'm particularly happy with our curtains (Matilda from the awesome curtain-making folk over in Ikea-land.)  Cheap and cheerful and sorta girly but simple.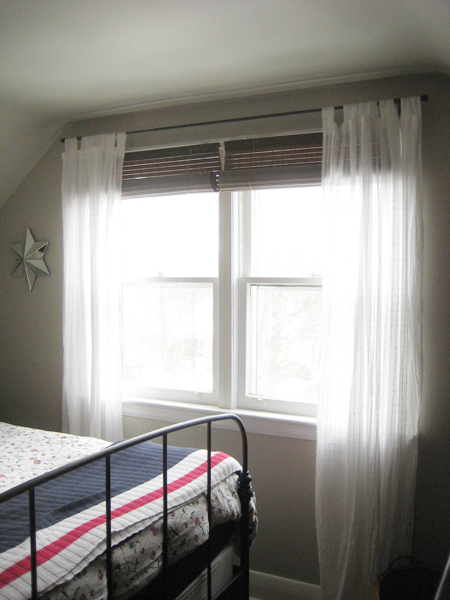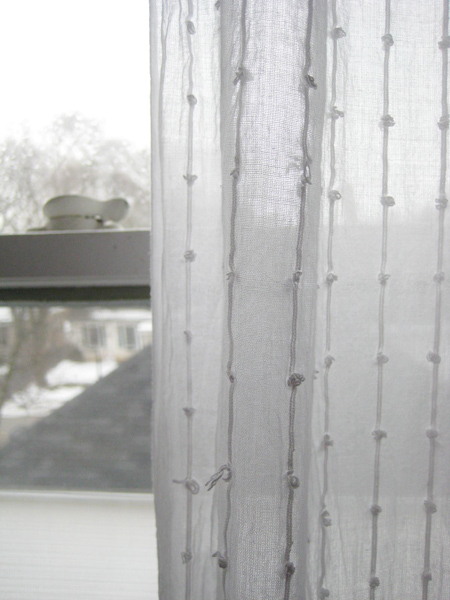 And I'm also in love with our duvet cover.  Also cheap.  Also cheerful.  Also Ikea (Alvine Orter.)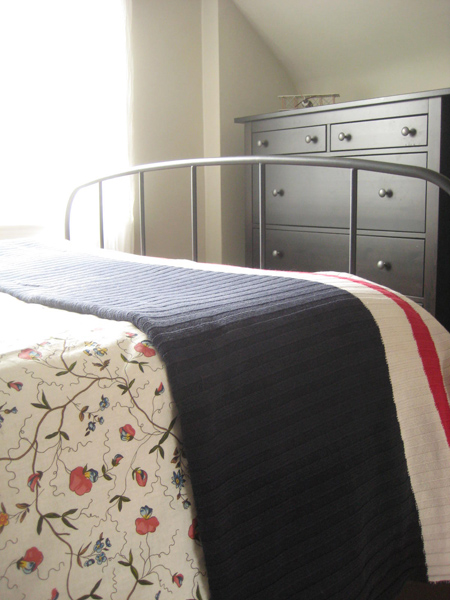 For now I've tossed (er, lovingly and carefully placed) a random navy and red striped Roots blanket that I've had for eons at the foot of the bed.  Once spring hits (weather-wise at least!) I'll likely swap the heavy blanket out for a lighter throw.  But for the time being, it works.  :)
And I'm ridiculously pleased by how nice our freshly painted walls look against our awesome black-brown Hemnes dressers.  I've been wanting to paint a room (a wall? A random piece of furniture? Anything!) Revere Pewter for years.  Mr. Benjamin Moore?  You did not disappoint!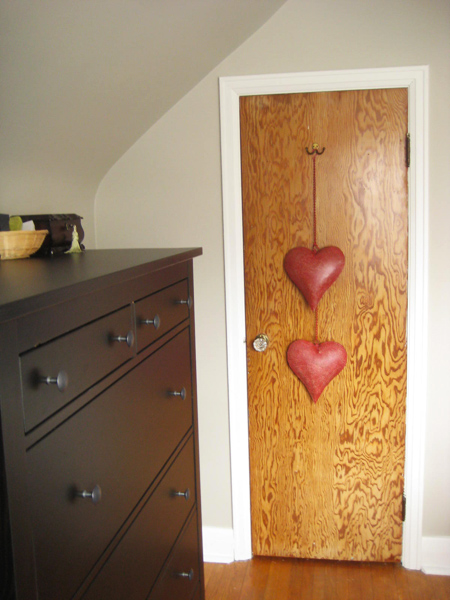 So there's your mini bedroom makeover update!  There are still a few additional plans in the works.  New colourful pillowcases, and maybe a few throw cushions too, to make the head of the bed a bit prettier.  Snazzy new bedside lamps perhaps.  Maybe even a new nighttable for Sweetie (since the nighttable cleverly and deliberately hidden on his side of the bed is archaic and rather awful looking.)  If you look really closely, the ugly nightstand (and ugly lamp and one uninspiringly beige pillow) sneakily snuck into the corner of this pic…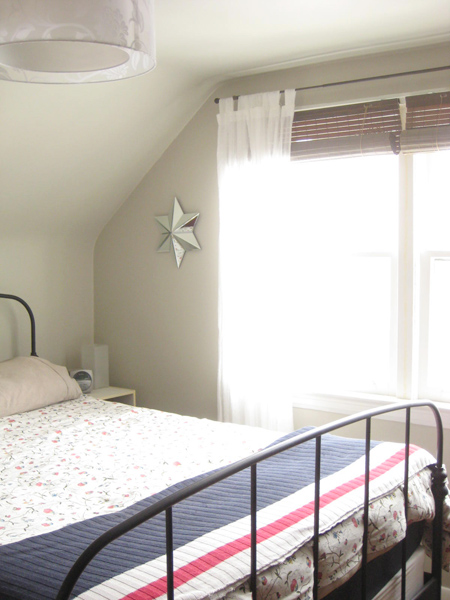 Silly photo-bombing pillow!  Updates on further updates to follow.  :)
But for now, Jacob is a really big fan of what we've accomplished to date.  So much so that he refused to leave the room (or, really, the bed) while I wandered around taking pics (hence some of the somewhat wonky angles in these images – I was working around a rather stubborn cat.)  But, really, how could I say no to this little orange face?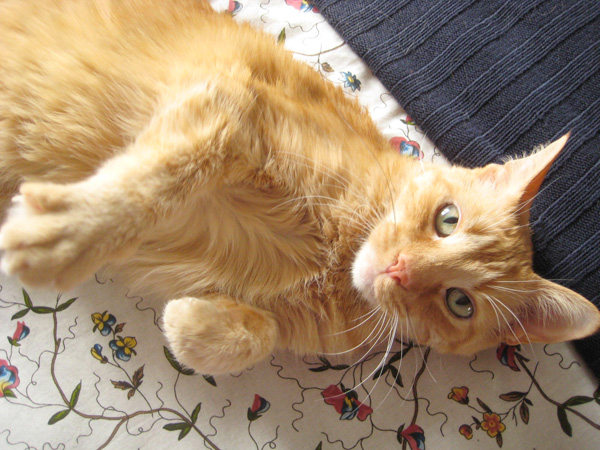 Yup.  Jacob knows exactly how to get his way with his cat-loving fur-friendly mom.  Smart boy.
Want something equally awesome? Check these out!: