In advance of actually listing our house, our real estate agent sent in his house stager to poke around just a bit the other day.  Which was awesome and exciting, but terrifying just the same (cue nervous pillow-fluffing.)  The visit started out amazingly – Ms Stager walked in, took off her boots, and declared that she absolutely loved our little living room – the colours, the pillows, the fireplace mantel, everything – and wouldn't change a thing about it.  Woo!  We were elated – a design-expert had just proclaimed that we have good decorating skills.  Big shiny gold star for us!  I almost high-five-ed Sweetie when she turned her back (but didn't – I'm really not a high-five-ing sorta girl, and Sweetie's definitely not a high-five-receiving kinda guy.)
But then Ms Stager (who, despite my grumblings, was really really nice) turned to our kitchen.  And, of course, she scowled a little while she looked at our floor and counters.  At which point, to put her obviously distressed mind at ease, I proudly brought out my little floor sample (Allure Trafficmaster flooring in Hickory), and my chosen countertop sample too (Formica's pretty Ivory Kashmire), and waited for her approval to rain over us for a second time.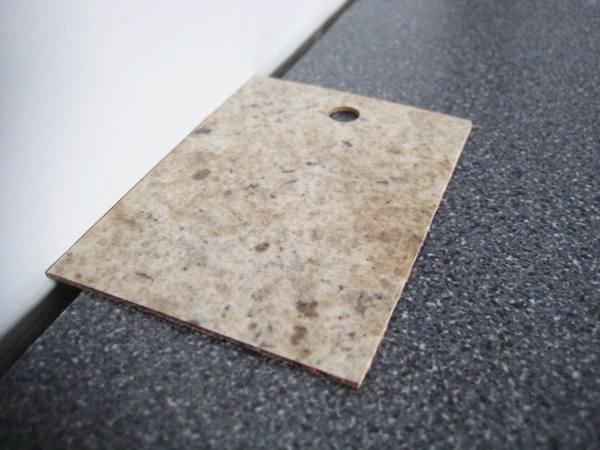 Her approval did not come.  In fact, she poo-poo-ed my countertop choice, saying it wasn't gray enough or dark enough or something equally disappointing.  We needed something with more grays or something slate-y, she said, to go with all the grays in our kitchen and living room.  We could install my beloved Ivory Kashmire granite-look Formica in our next house, she quipped, but here?  Here we needed to work on resale.
I won't lie: my heart broke into a gazillion pieces.  For anyone who knows me well, I'm decision-dysfunctional.  Committing to anything is a long and tedious process, normally involving hours upon hours of research and debate over various options and careful weighing of pros and cons and alternatives.
Yep.  Ms Stager told me that, despite my careful consideration, I had chosen wrong.
Sigh.  I was sad.
So I wandered back to the drawing board with her tips fresh in my head.  I visited all the big box home stores in our area for ideas and inspiration.  And, after much deliberation, here's what I've come up with…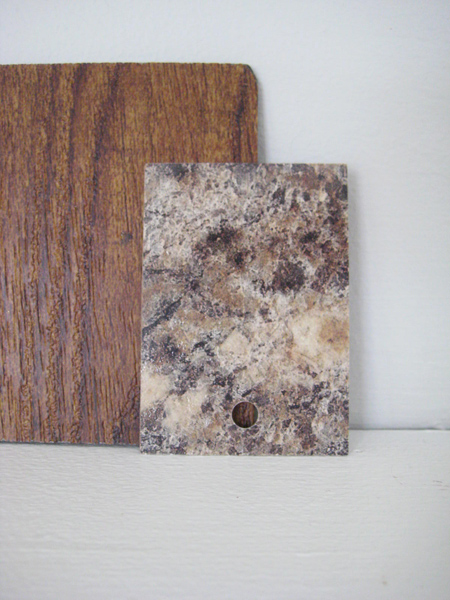 …our same Allure flooring choice in Hickory (just because I love it so much, and also because it should be easy for me to put down on my own some day while Sweetie is at work) and Jamocha Granite laminate countertops from Formica.  It's not EXACTLY what I wanted for my pretty little kitchen, but it could work.  And I think it could even, possibly, look really nice.  Perhaps Ms Stager was right.
So, there's your update on where things are so far!  How fitting to find ourselves once again standing in the kitchen, trying to make decisions.  Hopefully this time we've got it right.  :)
Want something equally awesome? Check these out!: