After months (well, YEARS, technically) of deliberation and debate and ongoing ponderings over the virtues of THIS floor versus THAT floor and what about THIS option over here and hey – why don't we just cover the whole darn floor in PLYWOOD and just paint the stupid thing once and for all…  I officially have a new kitchen floor.
And it's not blue.
And there are no giant ugly gouges marring its loveliness.
And it looks clean and fresh and sparkly and new.  :)
See?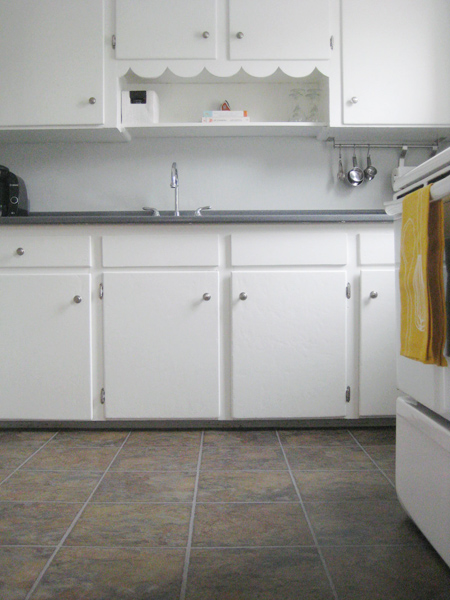 Sigh.  Yep.  I'm a happy girl.  Despite taking nearly THREE whole afternoons to lay (Dear Allure flooring folk: while I adore your product, it's not necessarily as easily installed as you claim for those of us who are a tad OCD and really want all the seams to line up all nice and neat and such) and despite that it's not my much adored hickory-look floor (oh, how I wanted that hickory-look floor!) it's still way better than the 1980′s era flooring-monstrosity that hides underneath.
And, most importantly, it's not blue.
Should we do a quick Before and After?  Likely.  Just because I'm super ridiculously proud like that.
The rather depressing BEFORE (with ugly 1980′s peel and stick blue tiles and a whole lot of ickiness)…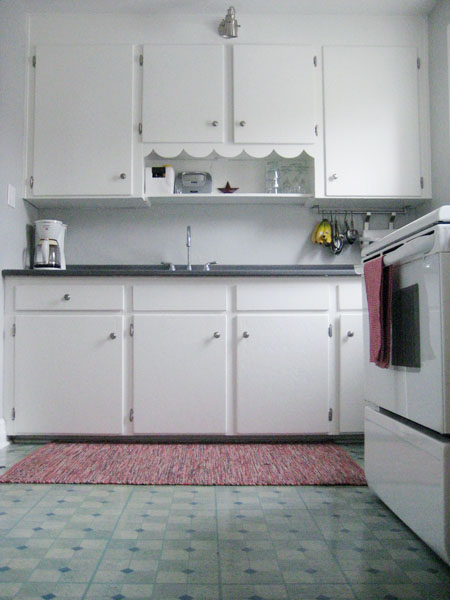 AFTER (pretty and clean and NOT BLUE)…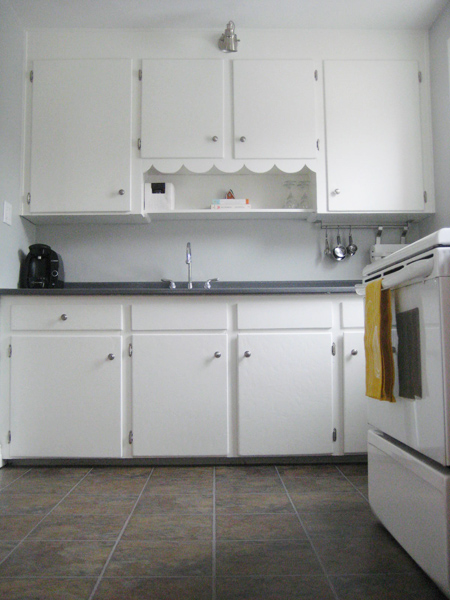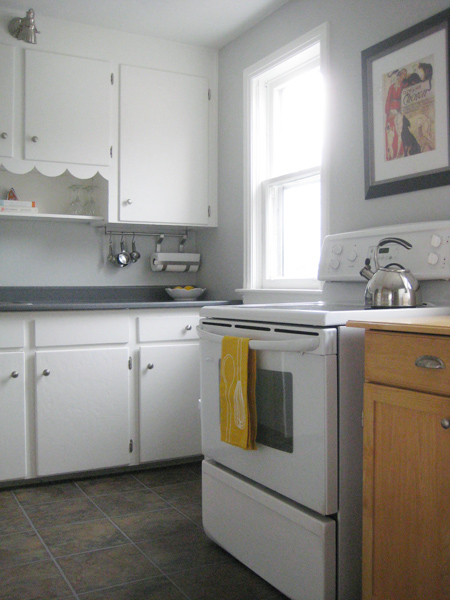 What's that you say?  Why yes – that IS a pretty new yellow tea towel (thank you for noticing!)  I'm quite sure that Galen over at President's Choice made that specifically for me because he knew yellow would look nice with my amazing new floor (and I think he was right.)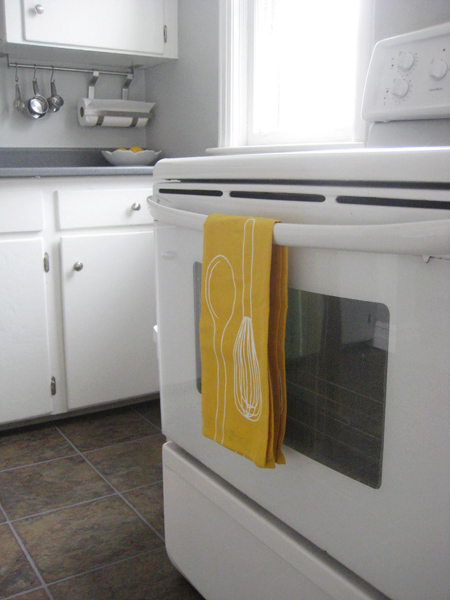 And see that bowl of lemons?  Yep.  That's me practicing my fancy-pants house-staging tactics.  Snazzy eh?  Because I would never randomly just leave a bowl of fruit sitting out on my counter like that (since, well, I don't eat much fruit, and it'd likely be all moldy and gross by the time I actually remembered it's there.  Which would make me sad.)  (Unless we're talking bananas here.  Bananas are always a countertop fruit.  But they don't look nearly as pretty as lemons do in a bowl.)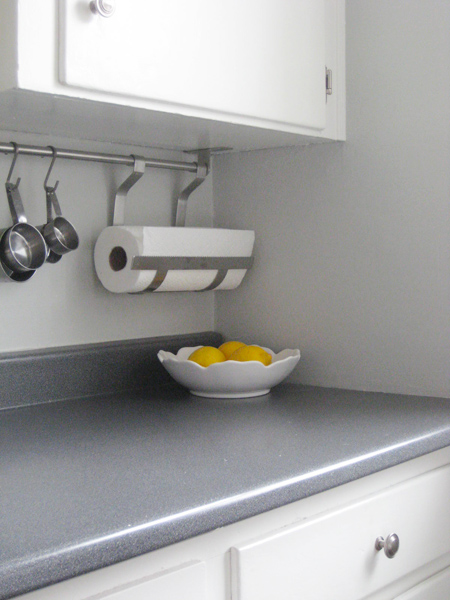 So what's missing?  Quarter round.  That goes on next (thanks to Sweetie's stellar carpentry skills.)  And then the floor drama will officially be over.  Forever.  Hooray!  Tada!
Or at least until the next house.  (Teehee.)
Leave a comment