Look!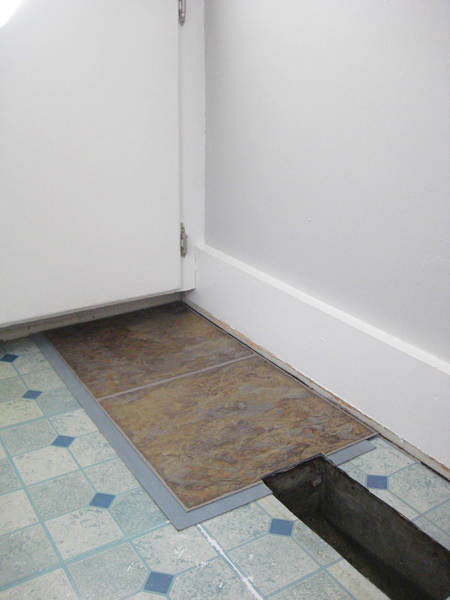 That there is my new kitchen floor going down.  Finally.  Fiiiiiiiinally.  (Insert big huge ridiculously silly happy dance HERE.)  It's amazing how the rush to get your house listed for spring (aka prime house-selling season) will suddenly move any much-deliberated but never-initiated projects into fast-forward mode.  Yep – two and a half years of griping about our ugly kitchen floor (and much ongoing debate over what to replace it with) later, and we're finally making 'er pretty.
Progress rocks.  :)
Sweetie removed all the quarter round for me last weekend…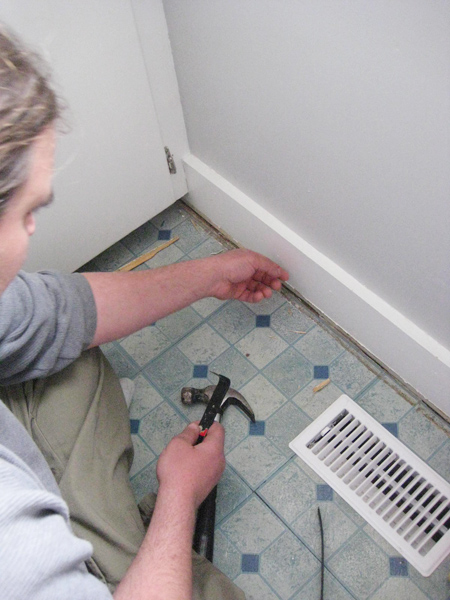 And then I patched the icky holes in the old peel and stick tiles…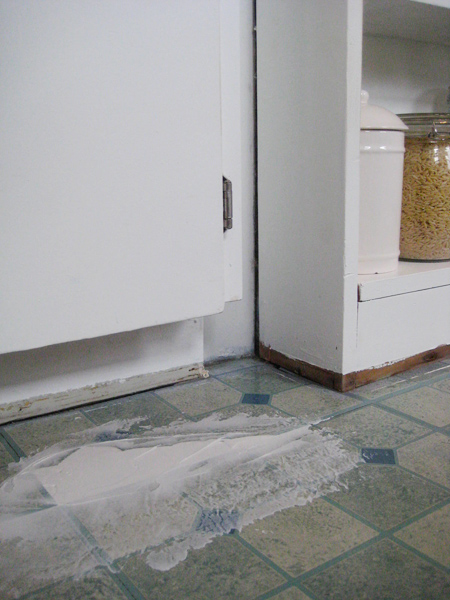 And then floor-laying officially began!  I started yesterday with this…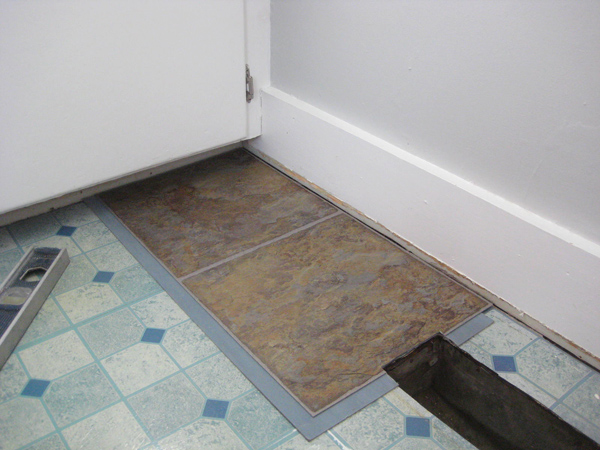 Which then grew into this…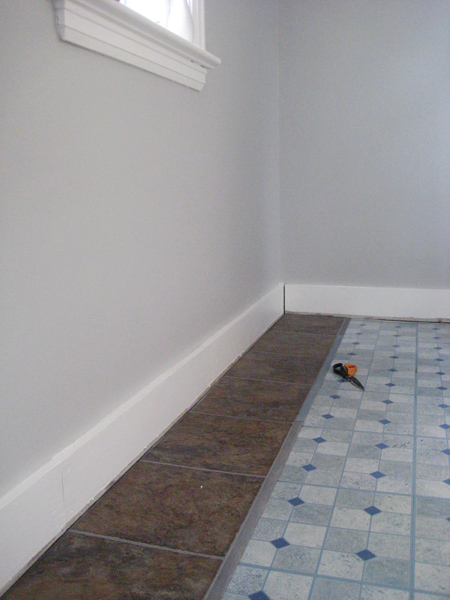 And then eventually became this (much later in the day and under ugly artificial light)…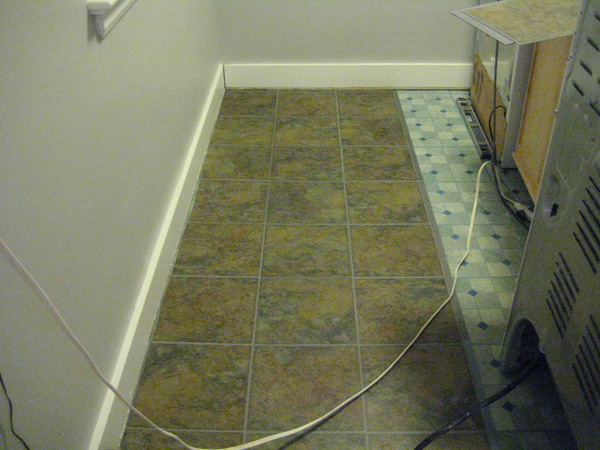 I finally called it a night when I had enough flooring down that I could move the appliances back into place.
If you've been following my (ongoing) floor drama at all, you might notice that this isn't the floor I originally wanted.  Like, at all.  I had big lovely hickory-look flooring plans.  However all that quickly changed when I found a batch of flooring on clearance.  Yep – I went cheap and cheerful on my resale-bound floor.  Regularly $47 per box (with each box covering 24 square feet) I found four boxes of this particular floor (Allure's Resilient Flooring in Patina) in Home Depot's clearance pile for $30 each.  And even after supplementing my clearance boxes with one additional box at full price (since four boxes would have given me exactly enough to do the floor without any extra for errors or weird cuts or things like that) the whole floor will cost about $170 in the end (plus a whole lot of elbow grease), which seems pretty darn reasonable, if you ask me!  It's not exactly what I wanted (and if we were planning to stay in this house, I would have committed to my beloved, but pricier, hickory-look floor) but for resale?  It'll do.  :)
Assuming I give it a good solid effort, I'll likely (hopefully!) have the rest of the floor down today.  While it's not quite as easy to put down as the good folk at Allure would like you to believe, it's not particularly difficult either.  It's just time consuming.  And a little finicky when it comes to making sure the seams are all tight.
Looking very (very!) forward to finally (finally!!!) checking "make kitchen floor look much much prettier and way less blue" off my to-do list.  Next pre-listing project in line: countertops.  :)
Want something equally awesome? Check these out!:
4 comments on "
Kitchen floor progress (yep, I finally took the kitchen floor plunge!)

"