In a rather shocking turn of events, my front porch finally got its facelift.  Poof!  It was a last minute pre-listing omg-the-porch-looks-like-crap kind of moment that spawned this project.  I woke up on Monday morning, opened the door so the cats could look outside through the screen, and declared (to my cats – now that I'm home by myself every day we chat quite a bit) (yep – I'm that crazy cat lady who has full conversations with her cats) that it was a porch painting sorta day.
And it looks so much better.
Truth be told, I had really good porch-painting intentions all last summer and fall, but my painting plans were constantly thwarted by rainy-forecasts and too-hot days.  Selling (and a string of lovely-spring-weather days) was the kick in the tooshy I needed to get this project done.
Here's the really ugly before (-ish – I forgot to take a real before shot, so this was a couple hours into painting) (but it still shows just how awful-looking my wee little porch had gotten):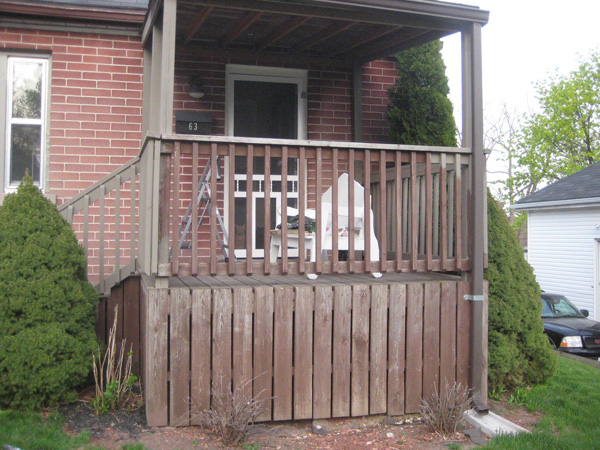 (See the little furry faces peeking through the screen door?  I had quite the porch painting audience.)
After!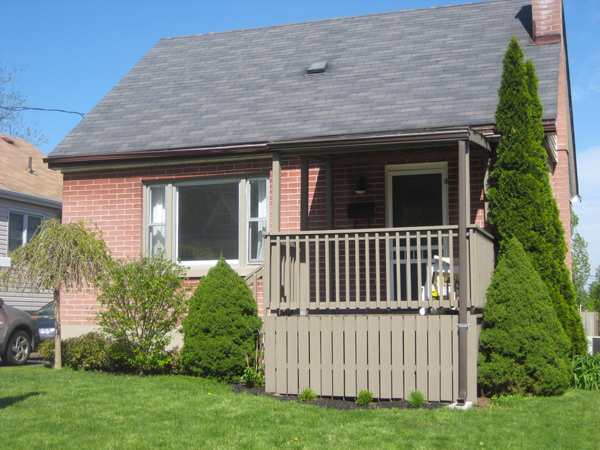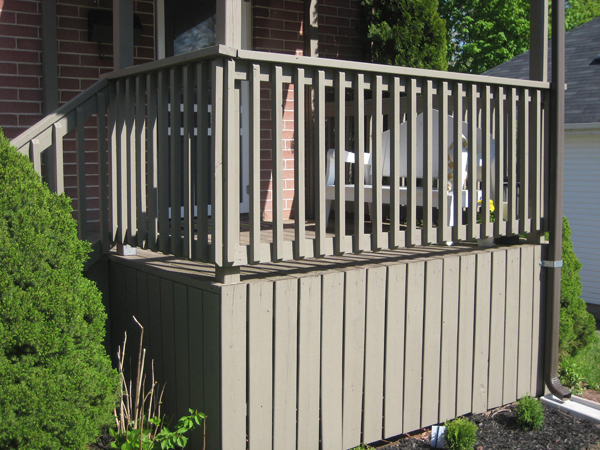 So.  Much.  Better.  Eh?  I went with paint rather than stain – staining (according to the nice lady at my local Benjamin Moore store) would have required sanding.  I don't like sanding.  And that all seemed like a lot of work.  However paint, she said, could just be plopped right on top of the old finish.  Given that this was one of a gazillion projects I had on the go, I was sold.  The colour I bravely chose (since exterior house colour choosing is hard!) is Benjamin Moore's Stampede.  It seems to match some of the little stones that live in our brick.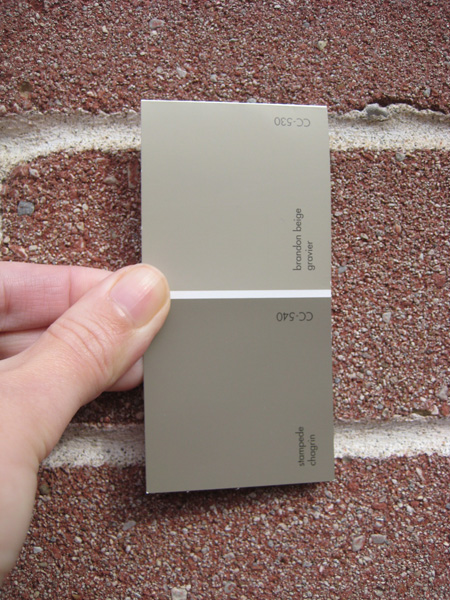 Sweetie removed the sad-looking (and, well, dead) bushes that sat in front of the house and planted those tiiiny and rather adorable globe cedars for me.  They'll get bigger.  Eventually.  And they need a bit more mulch and my front flowerbeds in general need a lot more love.  But, in the meantime, I think those little green balls of cedarness are pretty darn cute.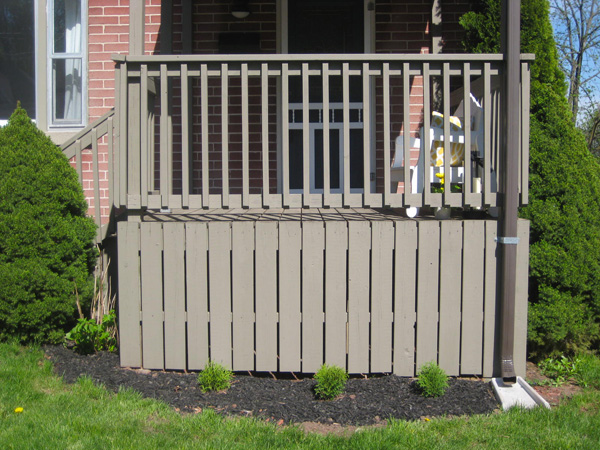 And my front bench got a little fancying up too with a pretty new pillow and a potted yellow gerbera daisy…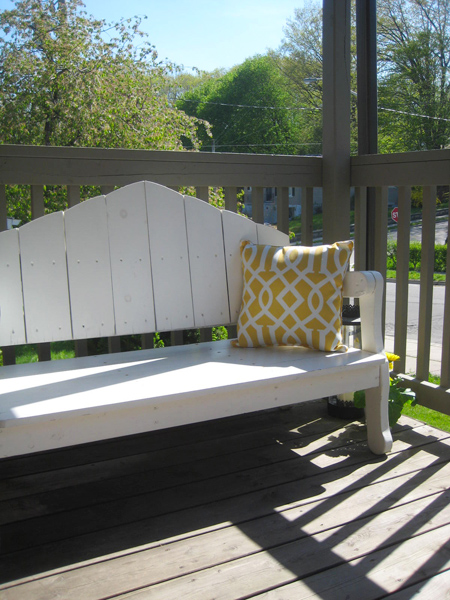 It screams "Buy me!  Buy me!  You could sip wine here!" no?  Hoping so!
All in all, porch painting was not fun.  It took me two days (I thought it would take a couple hours) and three quarts of paint (I figured it would take one.)  But I'm pretty sure it was a worthwhile effort.  Here's hoping a bit of curb appeal will go a long way in enticing house shoppers to fall in love with our happy little home.  :)
Leave a comment