I'm going to miss my kitchen.  A lot.  Yep, that's right – we haven't yet sold our house and I'm already getting all nostalgic for the room that caused me so much grief and cost me so many hours while I lusted over other people's kitchens on Pinterest and planned and researched and obsessed.
But I now love my cute little kitchen.  The floors are no longer blue.  The countertop is all sparkly and clean, and I finally got my double sink.  I adore the Stonington Gray-painted walls, and my fresh clean-looking Snowfall White cabinets.  Plus all the other little things I did to make our kitchen feel like "us."  I worked hard to make it pretty!  It's now my happy place – many batches of brownies and cookies and other yummy things (made for the people I love) have emerged from this room.  And it's where Sweetie and I convene each night after work, discussing our days while sitting across from one another at the island.
Let's reminisce just a little, k?
Here's where we started (image courtesy of the original house listing, not me!) with an ugly and rather greasy chair rail, ridiculous light fixtures, dirty cream coloured cabinets, strange gray trim, and a blue peel and stick floor…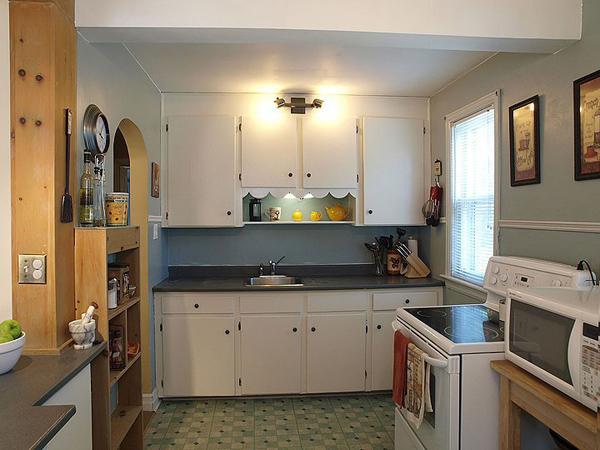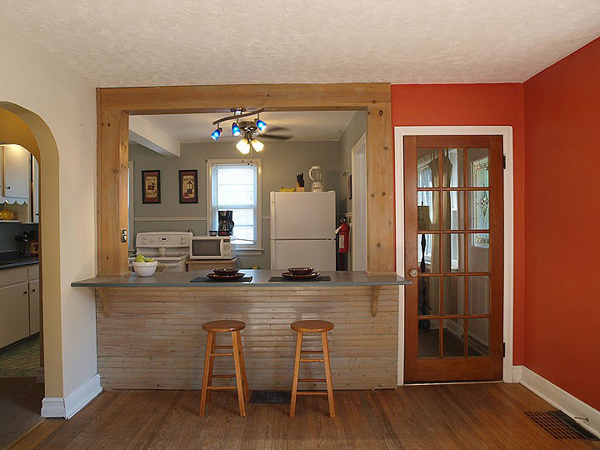 Sweetie removed the rather random chair rail, and I painted the dickens out of my wee kitchen and we swapped out all the hardware and the obnoxious light fixtures, leaving us with this…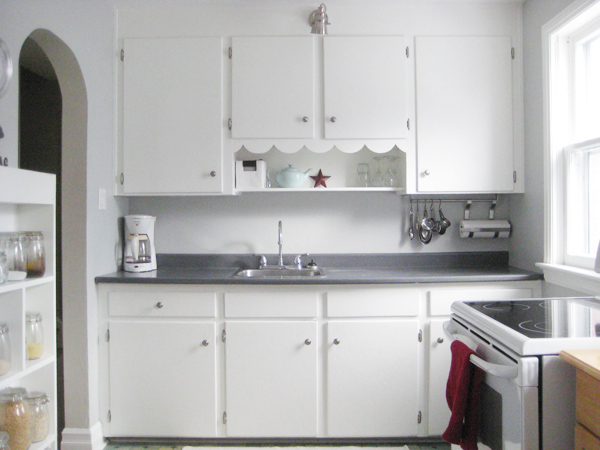 …which we lived with for quite a while (while I crazily stalked other people's kitchens and planned and planned and planned some more.)
Then – happy day! – I laid a new kitchen floor.  Best.  Day.  Ever.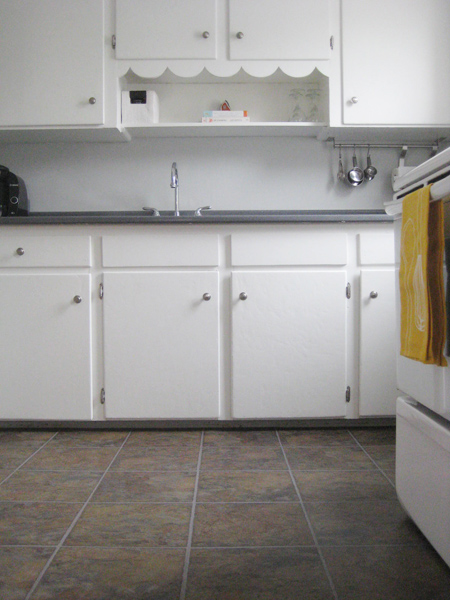 …and then (then!) we added new countertops and the fancy new double sink. Leaving us with our current happy (and pretty!) little kitchen…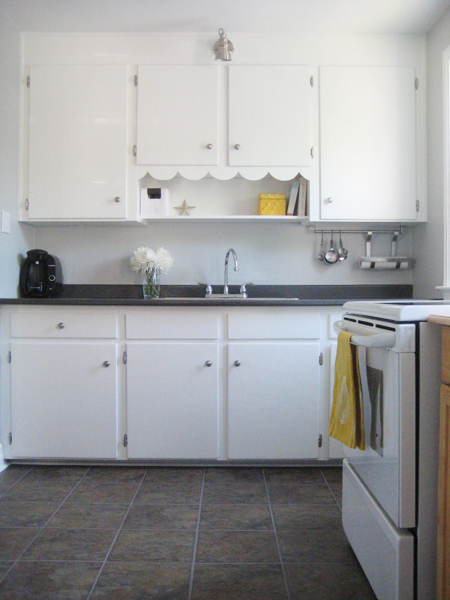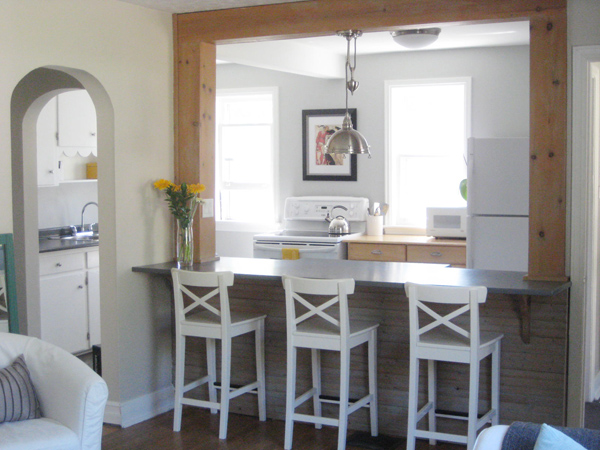 Happy sigh.  :)
If we were planning to stay in the house longer, I would have put in a backsplash, probably in marble of some sort.  I've always adored FrecklesChick's lovely little kitchen, and I think a similar tile backsplash would have looked snazzy here.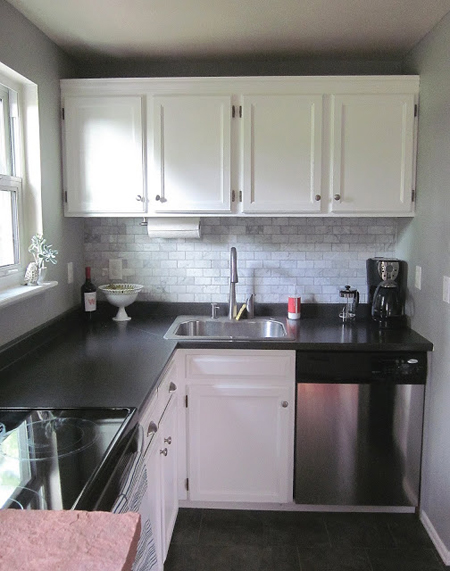 But perhaps we'll save all that for the next house.  :)  While I'm hoping that our next kitchen won't be quite as disasterous as this one was when we moved in, we tend to buy houses with ugly kitchens.  It seems to be our (not at all intentional) "thing."
So, just to recap (because I love a good Grand Finale!), this…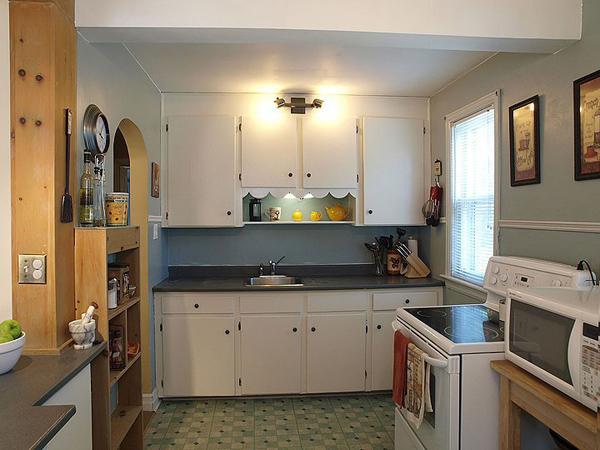 …became this…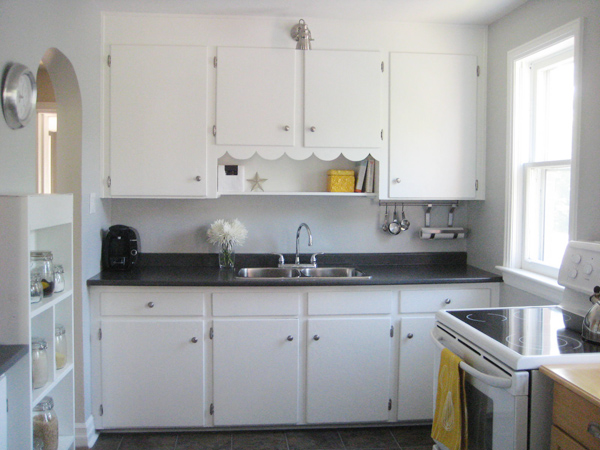 …and this…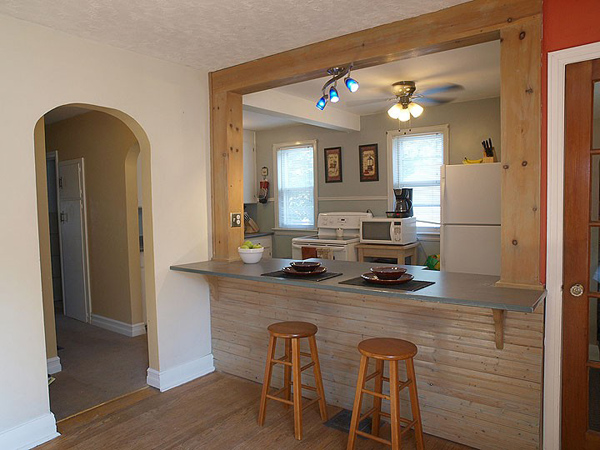 …turned into this…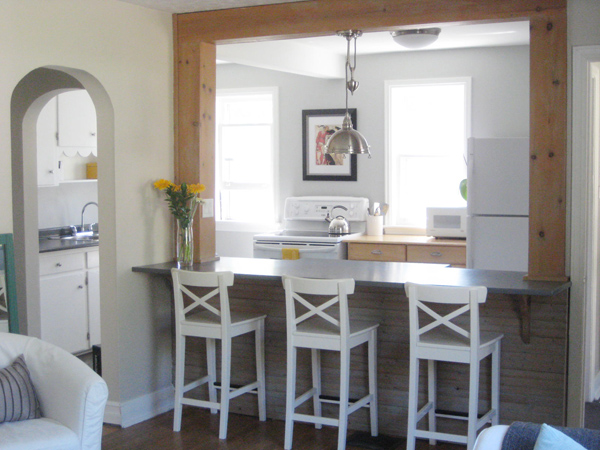 Better eh?  I'd say that's definite progress.  Here's hoping the next family who lives in this house loves this little kitchen as much as I do!
And here's looking forward to having a new kitchen to obsess about and pretty-up at our next home, wherever that may be.  Although I could really do without a blue floor this time.  (Just saying.)
Want something equally awesome? Check these out!: