It happened.  We've moved into the old mauve house.  We're officially home owners once again.  And we're officially elated.
Our move wasn't without its fair share of drama, of course.  Our second floor bannister was rather ruthlessly torn apart by the previous owners at some point during their departure (likely to facilitate the removal of a box spring or an elephant or something equally awkward and obnoxious.)  And there was the discovery that all of our upper-level window screens are missing (so we've been left with a rather stuffy second floor – and while we could open the windows upstairs, we'd likely end up with a house full of wasps.)  (And wasps are like little scary flying nightmares, if you ask me.)  And there was an ongoing and very frustrating struggle with the past owners who were still slowly removing their possessions from our front lawn more than 24 hours after we'd officially taken ownership of the house, and who didn't actually return for their final load until a full week after our closing date had passed.
Drama indeed!  But it's done now.  And we're in.  And we finally have a house of our own again.  And we're absolutely thrilled and happy and giddy and all sorts of silly.  It's pretty awesome.
And our move wasn't without its triumphs.  Remember how the house used to look like this?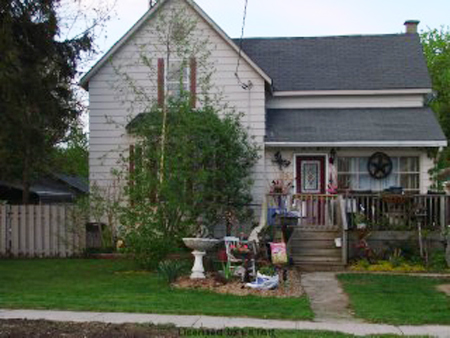 Thanks to some crazy awesome, heroic and rather epic let's-make-a-good-impression-on-the-new-neighbours gardening, courtesy of my mom and dad (hi mom and dad!), our house now looks like this…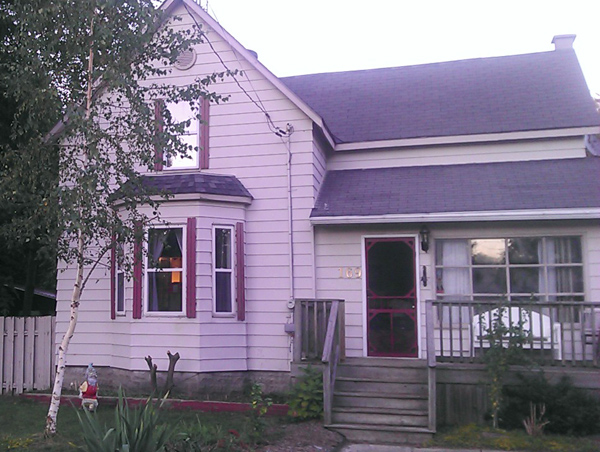 It looks so much better!  (Thanks mom and dad!)  There's still a lot of work left to do, of course, but the house now looks like a real house.  And a not too shabby house, at that!  One might even call it a cute little old mauve house with character and potential and lots of happy moments destined to happen within.
And, yes, that is a random garden gnome that you see there in our yard.  The previous owners left him behind.  I call him Harold.  :)
We're now faced with the seemingly monumental task of unpacking what appears to be no fewer than a gazillion boxes.  In a house with very few hiding places.  Yep – apparently little old mauve farm houses don't come particularly well equipped with coat/linen/storage/anything closets.  Did people in the early 1900s own winter coats?  I'm guessing so.  But perhaps they were "casually hang it on the back of the chair" sorta peeps.  Or nudists.  I'm not sure.  Needless to say, I'm already scouring Kijiji for cute (paintable!) wardrobes to fill this gap.
And, regardless of the boxes, the wasps, the drama, the ill-fated bannister, and all of the forthcoming work that'll be required, we're in.  We're in!  It's ours, squishy floors and tiled countertops and screenless-windows and all.
And I love it.
Leave a comment