So it was only a matter of time before I started nattering on about my kitchen.  You knew it, I knew it…  it was inevitable, really.  Kitchens are my thing.  I don't know why.  I'm not an especially good cook (although I excel at brownie making, and I can whip up a mean batch of soup when I put my mind to it.)
This time, I don't hate my kitchen.  Really.  I pinky swear.  Yes, there are many MANY areas that desperately need improvement (since squishy floors are a tad annoying) but all in all my kitchen features a fair bit of awesomeness.  I love the layout.  I love the window over my kitchen sink (my first window-adorned kitchen sink ever.)  I love my dishwasher (I feel truly grown-up now that I can mechanically clean my cutlery.)  I adore my beadboard walls (nothing screams "super cute farmhouse in a tiny little rural community" like a wee bit of beadboard here and there.)  And I'm even growing to love my tiled countertops (trivets for hot stuff?  Heck no.  We don't need no stinking trivets!)
(The rather random movie reference above is from UHF btw, and involves badgers, not trivets.  But the overall message is the same.)
Here's what I've got…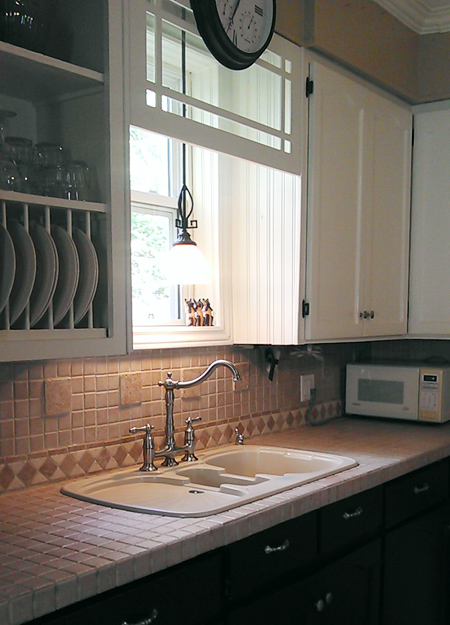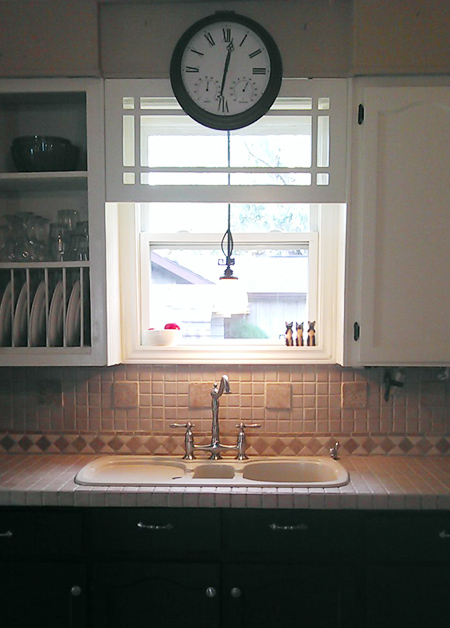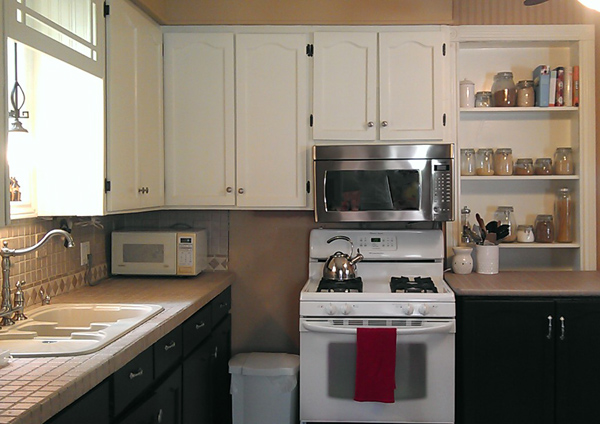 See?  Not terrible.  Perhaps even sorta cute.
What needs improving?  Despite my overall quasi-happiness about my kitchen, sadly, there is a lot that should change.
There are the aforementioned squishy floors.  Apparently, when you add layer upon layer of linoleum and laminate and such to a floor (without ever reinforcing said floor, or, you know, removing a layer or two of the existing flooring along the way) the result is a certain amount of squish.  How do we know we're dealing with a lot of layers?  Check this out.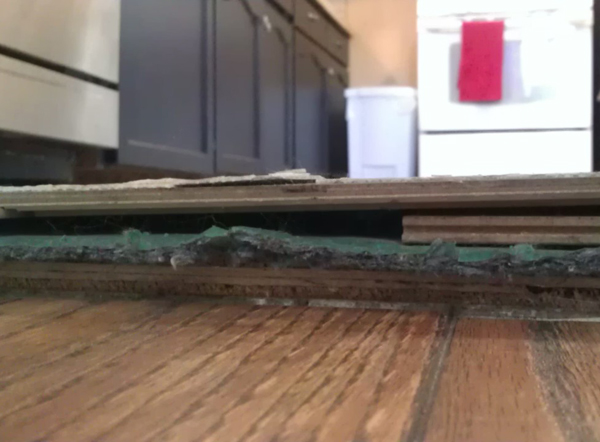 Yep.  That's right.  Due to the (obviously) lacking transition strip from the dining room into the kitchen, we can see the many (many!) layers of flooring that make up our kitchen floor.  That represents at least 25 years of flooring, I'm guessing.  Those layers?  They're all going away.
And then there are the countertops.  Yes, I know.  I just said that I like them.  And I do.  Sorta.  But I can't seem to shake that feeling that they're never ever fully and totally clean.  And, if we remove the countertops, we could also remove the odd, plastic, cream coloured sink.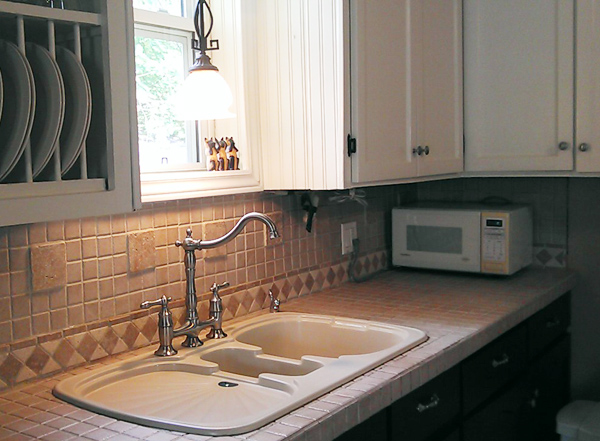 That sink might be the deciding factor.  It's a little…  strange.  (Although I LOVE my faucet!  Swoon!)
Then there's the colour.  Admittedly, the colour isn't awful or obnoxious or anything like that.  But it's very…  gold.  And it's just not ME.  I like pretty, peaceful-coloured kitchens.  Like my bluey-gray-ish Stonington Gray kitchen at our little 1940s house.  Or the lovely and fresh mint-coloured kitchens that I've been most recently happily lusting over.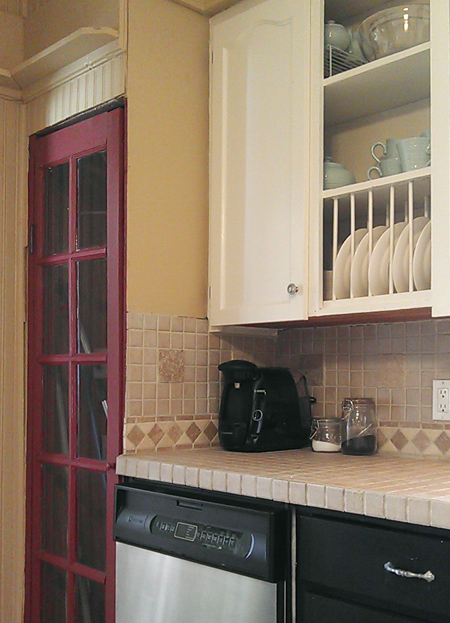 Yes.  I have future projects.  Lots and lots of future kitchen projects.
But first, I must finish unpacking.  And pre-winter gardening.  And the living room should really take painting priority (since there are no fewer than a gazillion nail holes in the walls and the paint colour there is rather putrid dark-ish mossy green.)  Sigh.  Yep, I'm guessing my kitchen may not have its hot date with a can of paint until sometime around next April.  And it'll be quite a while before we complete our other kitchen projects too.
Until then, I'll remain ever joyous about our dishwasher.  And window.  And countertops.  Sorta.
And, just in case you've never seen the movie UHF (complete with big 80s hair, a whole lot of silliness, and a little Weird Al Yankovic too) here's a short clip about badgers…
Yes, it's absolutely ridiculous, but it's such a funny movie.  :)
Happy Monday!
Leave a comment