You know how when you move into a new house, and the previous owners have left the existing curtains, and they're ok for the time being (because, really, who has the time or money to buy all new curtains immediately upon moving into a new house), and you say "oh, I'll change them soon", but then three months later you're still living with the same bright white tacky-silver-swirl-adorned too short too ugly gross sheer curtains and it suddenly dawns on you that you should really swap those things out asap?
Yeah.  That's me.
And when I say that our curtains are too short, I'm not exaggerating: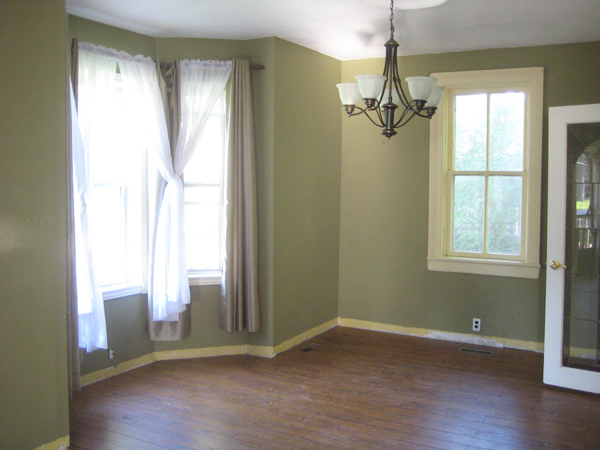 Yep.  We have flood-ready curtains.  And no baseboards in our dining room (for some unknown reason.)  (But that's a completely different story for a completely different day.)  And this picture is obviously from the day we moved in (I promise!  Our house is now fully furnished.  We're not extreme minimalists!)  But just look.  Look at those curtains!  I'm not an interior decorator, but I'm pretty sure I speak somewhat accurately and knowledgeably when I say: that's not how you hang curtains.
Ugh.
In our little 1940s home (oh, how I miss our little 1940s home!) we hung Ikea's Ritva curtains in the front window.  And they looked lovely (and apparently lulled a very cute orange cat – who we miss very much – to sleep on our sofa the day I took this picture.)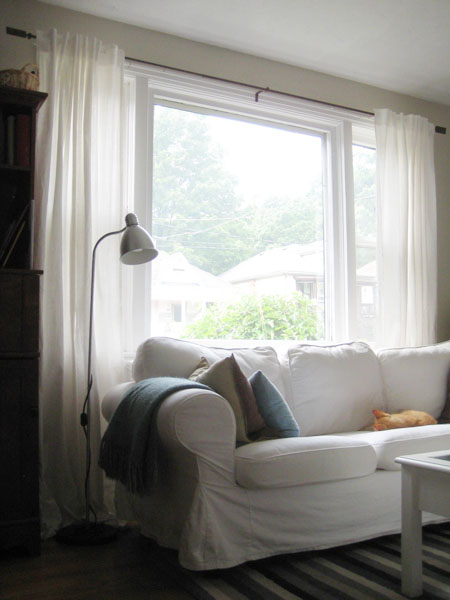 My only criticism of those Ritva curtains?  They were wrinkly.  Like, mucho messy wrinkly.  They were definitely not wash-and-wear sorta curtains.  Nope!  A whole lot of ironing went into making sure that anxiety-inducing wrinkly-frumpiness was kept at bay.
So is pulling out my iron each time I wash my Ritvas a deal breaker?  I really really do hate ironing.  A lot.  A whole lot.  But, as much as I hate ironing, I do truly love Ritva.  The curtains have a linen-y texture that makes them seem far more expensive than they really are (since Ikea drapes are as delightfully cheap as they are cheerful.)  And Ikea's long-length curtain panels will definitely be appreciated in this old mauve house, since our dining room ceiling height is quite high (Sweetie says 9-ish feet, but it seems way higher to me.)
Oh Ritva, you sneaky devil.  You really do have a hold on me.  You may be once again forcing me to dust off my iron.  But you're worth it.
Queue forthcoming curtain-collecting Ikea trip.  Woo!  I heart Ikea.  :)
Want something equally awesome? Check these out!:
2 comments on "
Window woes (someone needs new curtains) (me!) (and new baseboards) (but that's another story)

"