I adore Samantha Pynn.  I really do.  Call it a bit of a designer-crush, but I think she's amazing, and super talented, and I love everything she does.  (And, she's a fellow Canadian to boot!)
So imagine my delight when she posted pictures of this kitchen in her regular National Post column…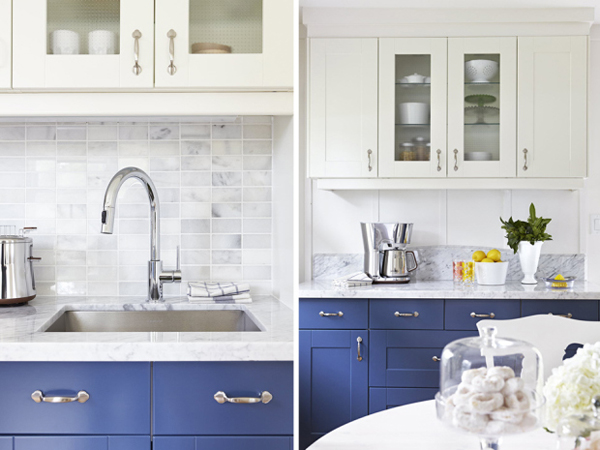 And imagine all the swooning (from me) that followed shortly thereafter.  That blue – it's perfect!  That marble (or a close lookalike!) countertop – how lovely.  The whole kitchen screams the word "fresh!"  I seriously want to cook in there.
And now I'm seriously rethinking my kitchen plans.
Our kitchen currently features cream-coloured cabinets on the uppers, with dark navy lower cabinets.  I didn't paint these (the house came like this) and while the two-toned look has grown on me, I've always found the combination a little dated and dark (despite that two-toned cabinets seem to be very in style right now!)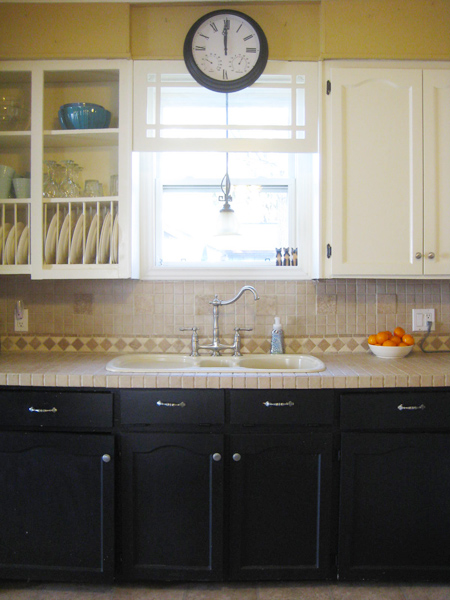 I've always planned to repaint both the uppers and lower cupboards in a crisp off-white, Benjamin Moore's Snowfall White, to be exact.  We painted our last kitchen's cupboards this colour, and it was the perfect bright white, with just a hint of creaminess to take away any overt starkness.  It was lovely, and made me very very happy.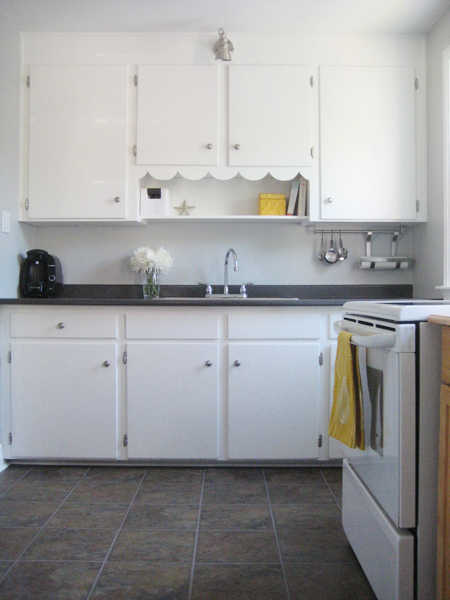 But now I'm changing my mind just a little.  The upper cabinets will still get a good-sized dose of Snowfall White, of course (since the existing cream-colour is just so… dark) (if cream can be dark?  I think it can…) but I'm now second-guessing my bottom-cupboard intentions.  How pretty would a little electric-ish blue be?  My answer?  VERY.
We'll see just how brave I'm feeling come kitchen-painting time.  I'm a bit of a kitchen cupboard painting chicken, truth be told.  Kitchen cupboards take a long time to paint, so it's one of those tasks where I've always returned to my safety-zone hues (since I can't imagine having to repaint all my kitchen cupboards for a second time.)
Here's hoping that kitchen-painting time comes soon!  Only 743 other projects to finish up first….
Leave a comment