When Sweetie and I got married (which now seems like a gazillion years ago) we decided to divide our honeymooning time between Paris and London England.  And while I realize that honeymooning overseas sounds rather posh and quite expensive, we definitely traveled as cheaply as we could.  Our hotel rooms were very basic (but clean!), we feasted on baguettes and cheese while lounging on park benches each day at lunchtime (bliss!) and visited street vendors for food nearly every night, and we thoroughly enjoyed and experienced both cities (but in a rather non-fancy and exceedingly thrifty sort of way.)
Sweetie did make one food related splurge, however.  When we wandered into a small pub one night down some random narrow cobblestoned street in London, Sweetie spied something on the menu that he really really wanted to try.
Steak and ale pie.
Yep.  Steak.  Plus beer.  In a pie.  It was love.  English hospitality-style culinary love.  And, five years later, Sweetie still speaks fondly of the best meal he had during our two weeks overseas.
So when a coworker (hi Laura!) recently mentioned that she'd found (and successfully tried) a very simple recipe for Steak and Guinness pie (courtesy of the wonderful and amazing Mr Jamie Oliver), I knew what I had to do:  I had to make Sweetie a spectacularly yummy and special Valentine's Day supper, featuring (of course) Steak and Guinness pie.
(Laura has an awesome blog over at The Cozy Project btw. Definitely check her out!)
I won't completely rewrite the recipe here – it was quite easy to follow (despite a few English-isms that I interpreted along the way.)  Instead, to keep things super simple, here is the link to the (delicious!) recipe…
The Fantastic Jamie Oliver's Steak & Guinness Pie
And here's my Steak and Guinness pie, all steak-y and Guinness-y and good.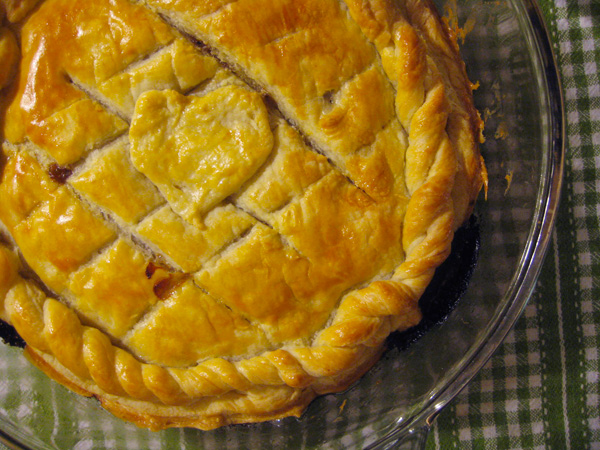 In the end, it actually turned out rather impressive-looking, if I do say so myself (especially considering I'd never ever worked with puff pastry before.)  I had a bit of pastry left over after covering the filling, so I improvised with a twisty rope border thingy (technical baking term) around the edge, and (being Valentine's Day and all) I even added a (admittedly, kinda sad-looking) little puff pastry heart on top.
It was cute.  And tasty.  Yep, all in all it was a very successful English-honeymoon-nostalgia-filled Valentine's Day meal.
And now I really really really want to go back to England.
Sigh.
But, regardless of whether we're honeymooning overseas, or stuck in the midst of a gray, snowy, cold, miserable, seemingly never ending, O-M-G-will-spring-just-hurry-up-and-get-here-already Canadian winter, at least we have pie.  Wonderful steak and Guinness pie.
Thank you Jamie Oliver!  (And Laura too!)  :)
Want something equally awesome? Check these out!:
One comment on "
A post about a whole lot of deliciousness (and beer) (and steak) (and England!)

"