I am officially 22 weeks pregnant today.  Twenty-two!  How the heck did that happen?  It seems like I just finished a very nauseous weeks 8 through 12, and now, all of a sudden, I'm over half way to the finish line.  It's so exciting!  But, honestly, so overwhelming at the same time.  There are registries to prepare.  There are maternity leaves to schedule.  There are no fewer than a gazillion cloth diapering systems to decipher (yep – call us crazy, but we're going to give the wild and wacky world of cloth diapering a shot!)  And there are strollers and baby baths and car seats and boppy pillows and cribs and carriers and all sorts of foreign (to us not-yet initiated future baby-club parents, at least) stuff to research and plan and obsess about.
But my favourite pastime at the moment?  Nursery planning.  I know: swoon!  The colour options.  The decor.  The accessories.  Where the crib will go.  Mobile or bunting or both.  Sigh.  There are so many happy possibilities for the room that will one day contain someone so tiny but so important and so very very loved.  With about 18 weeks (insert panic attack HERE) left to go until my official due date, here's the nursery inspiration pic (from blogger She Walks in Beauty) that I can't stop looking at…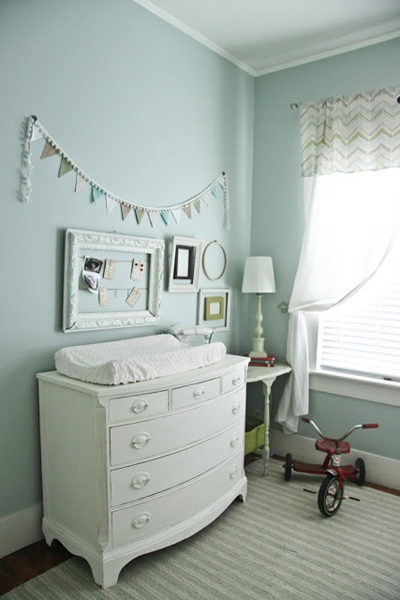 So peaceful and lovely.  I absolutely adore this colour scheme.  A-DORE it.  We're still undecided on whether we'll find out the sex of little Baby in advance of the big day, but this soft teal-based colour scheme fits perfectly for either a little girl or a little dude (in my humble opinion, at least.)
Once baby makes his or her arrival, we can then add in some gender-specific colours to the mix, if we want.  Maybe a little navy and/or some bright lime-ish green if the bump turns out to be a boy, like this nursery from Spearmintbaby…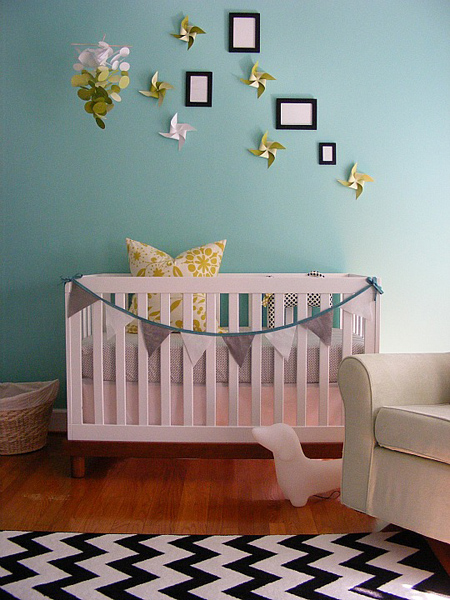 …or some coral-ly pink and yellow (like in this gorgeous nursery from CraftinessIsNotOptional) if I'm currently housing a baby girl.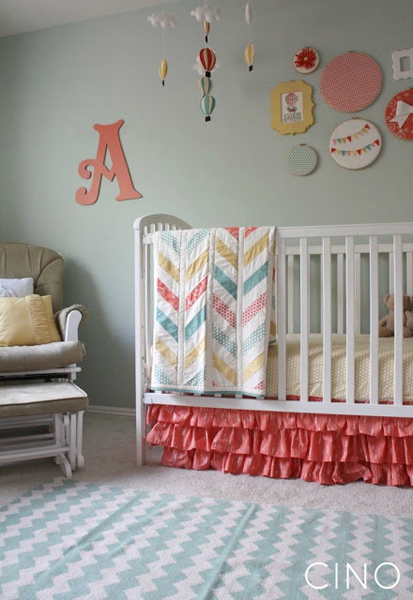 Either way, I can't wait to get started.  Can't wait!  And that's probably where Part Two of this (likely drawn out due to indecisiveness) nursery natterings series will go.  Regardless of everything else that ends up in the nursery (and all the decisions yet to be made), teal is one of my absolute favourite colours.  I'm hoping that Baby (boy or girl) will really like it too.  :)
Want something equally awesome? Check these out!: