It's spring!  Well, sort of.  I'm still wearing a winter coat on some mornings (albeit a very tight one due to my ever-growing and beloved baby bump.)  And I'm keeping my toque and mitts and scarf close at hand.  Just in case the weather turns wintery.  Again.  Since, you know, Mother Nature has cursed us with a never ending winter this year.  (Dear Mother Nature…  I love you, and you're awesome, but you're being completely irrational this year.  Stop it.  Please.  Thank you!)
And while I despise the ridiculously cold snowy winter we've had this year, I despise my current window coverings even more.  The previous home owners (being the insane awesome people that they are!) left us a plethora of flood-ready bright white sparkly-swirl sheers for our windows.  An intended act of generosity?  Perhaps.  But regardless of motive, the result is the same: the curtains are making me a crazy person.
Enter: Ikea.  Yep.  My beloved and dependable go-to for window coverings.  Their curtains are cheap.  They're very cheerful.  They come in really long lengths (for those of us who prefer to set our curtain rods a tad higher than the average population.)  And their curtains come in pairs (which seems to be a bit of a rarity anymore.)  (But really, how many people only need one curtain?)  (Cough, cough, rip off, ehem…)  During an Ikea trip about a month ago I purchased no fewer than six (much needed) new drapery sets along with the accompanying curtain rods and hardware and doodads and such.  After a second Ikea trip a few days later (because a certain someone with a wee bit of baby brain forgot a few crucial curtain rod components…) we finally got everything up last weekend.
Here's my front living room window before (with its icky swirly silver sheers all aglow):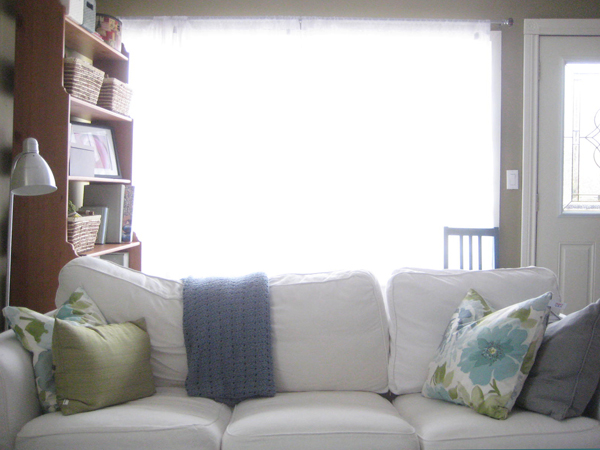 (Here's a closeup of the sheers' sparkly swirls, just in case you're interested.  Snazzy, eh?)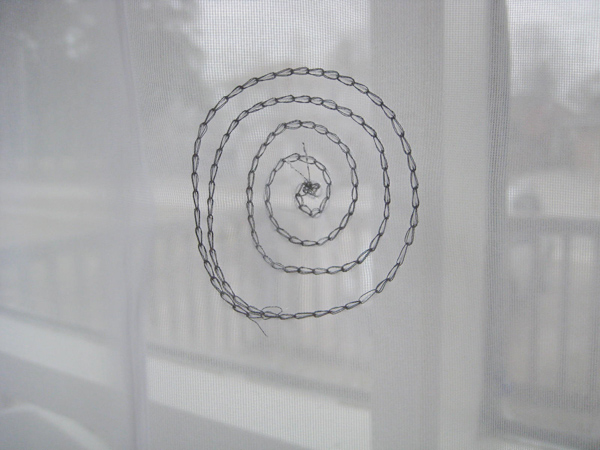 And here's the after, featuring my all-time favourite front window drapes (Ikea's Ritva) and a set of soft-ivory sheers (Ikea's Teresia).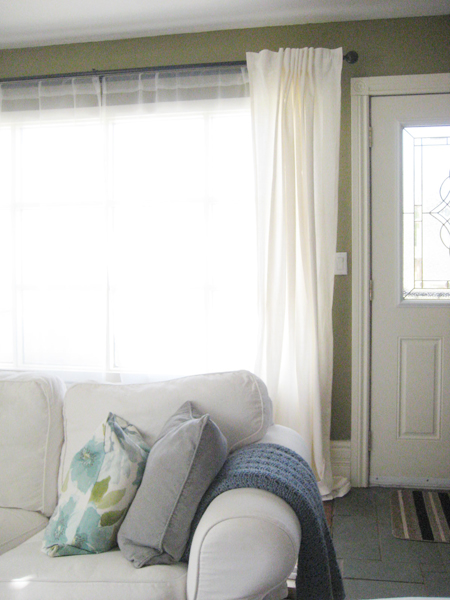 I'm a happy girl!  But why did we get another pair of sheers?  The glass panes in this window are no longer sealed properly (one of the hazards of buying a fixer-upper with archaic windows) so there's condensation and dust between the panes and this window always appears dirty from the street (despite that – I promise! – it's very very clean!)  The sheers help mask that a bit, which means we'll likely be sheer-people until we replace that entire front window (which, sadly, will be a very expensive venture) (which, also sadly, means it's pretty far down on our list of priorities right now.)
The Ritvas are waaay too long right now (I'm all for little drapery puddles, but this is a little silly) and will likely require shortening.  Tip I've learned?  Wash and dry Ikea drapes a couple of times before shortening them.  They sometimes shrink.  A lot.  Whenever they've accumulated enough kitty fur to require a trip through the laundry (which, sadly, will likely be soon) I'll get around to making them a bit shorter.  For now, however, I'm just happy that they're not sparkly.  Or swirly.  Or bright white.
Next up?  Here's the before of my dining room window…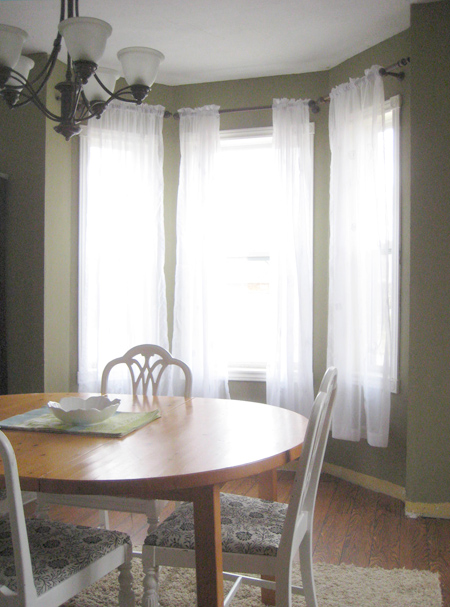 Apparently the previous owners weren't bothered by the too-short panels (or, um, lack of baseboards) but I think the windows look much lovelier now that they're dressed with a few Borghild panels from Ikea…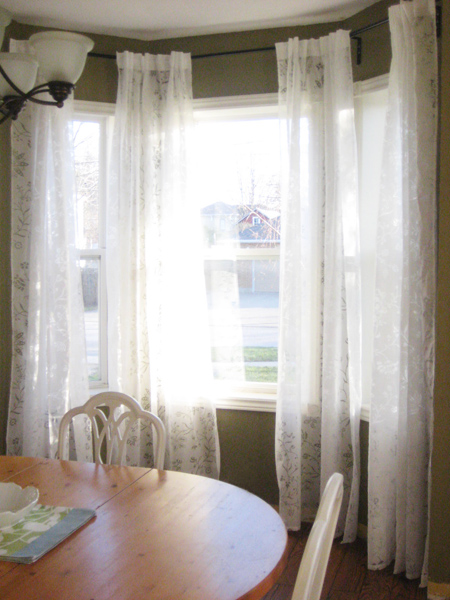 And we added the same curtains to this previously un-adorned window at the end of our dining room too.  Here it is pre-curtaining…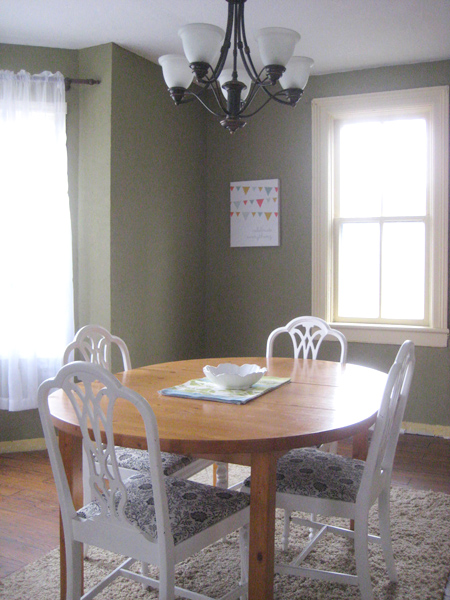 …and here's the much improved after…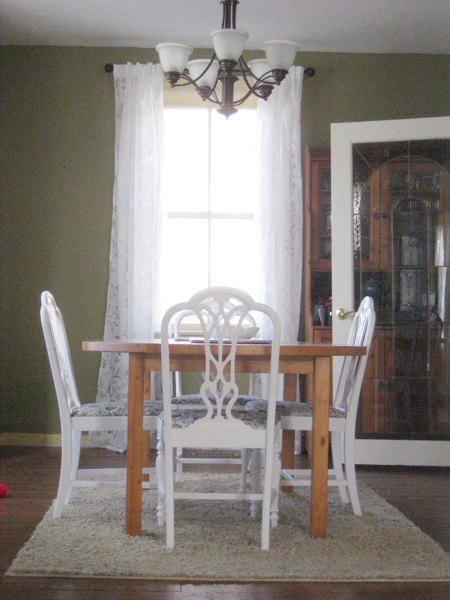 All of which makes me a very happy girl.  :)
The last set of the six sets of curtains I purchased is earmarked for the baby's room (should we ever get around to starting the nursery) (hello?  Ambition?  You should probably kick in about now…)  If they don't end up used in the nursery, we'll hang them in our bedroom (since a certain black kitten has pretty much destroyed our bedroom drapes.)  (He thinks bedroom curtain-clawing is a really fun pastime.)  (Particularly at 5am.)  (It's a good thing he's cute.)
And now, for your viewing pleasure (and a little post-title clarity), here's a little Drapery Safety Dance from Men Without Hats…
…because, well, it's really, really weird, but so fun.  :)
Leave a comment
Little by little we're starting to put a nursery plan in place.  With only fifteen-ish weeks to go until my due date (eek!) (seriously – where did my second trimester go?) we're at the point where we need to start making decisions and purchases and moving forward with this space that'll one day be home to someone so completely and utterly adored.
A couple weeks ago, I mentioned that the nursery will be a light teal-ish colour (which I see as very gender neutral – once baby is born we can add a bit of coral and yellow if we have a little lady, or navy and green if the bump is currently housing a little gent.)  Here is our (ok, well, my – Sweetie has sorta given me free-reign on this whole nursery decorating project) inspiration pic (from The Farmer's Nest)…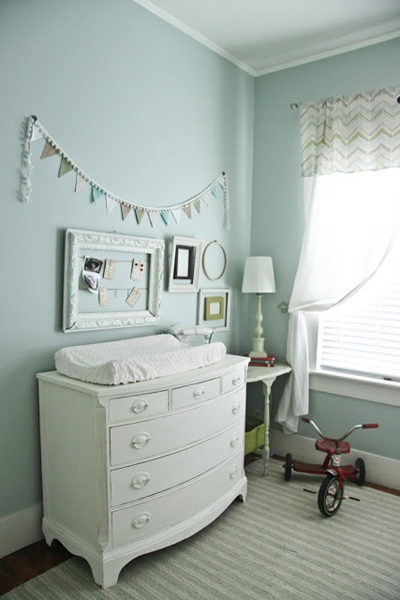 Happy sigh.  Prettiest nursery ever.
And here's what we I have planned to date…
Rocker
Remember the rocker from our staged quasi-nursery at the last house?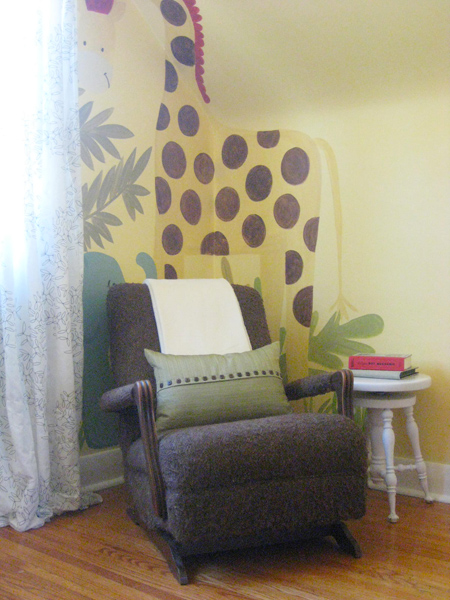 This chair once belonged to my grandparents, and my mom (hi mom!) has sweetly offered to have it reupholstered for our nursery here.  The room that'll be our nursery is quite a tiny little space, and this rocker is small but super comfy.  And I love that it once belonged to my grandparents who, while no longer here, were such an important part of my life growing up.  Having this rocker in the nursery is a little like having them be part of Baby's life, and I absolutely love that.  :)
Mobile
Have I ever mentioned that I love sheep?  I love sheep.  Weird?  Likely.  But there's something so awesome and peaceful about those grass-munching field-frollicking balls of white fluff that makes me insanely happy.  So when I stumbled upon this mobile (courtesy of Etsy-seller GiftsDefine) I was sold.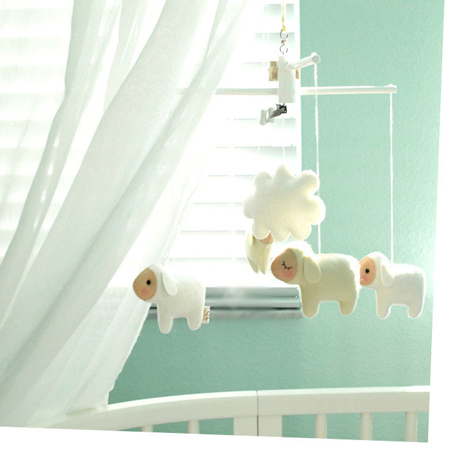 Oh, lamby sweetness.  I love everything about it.  I haven't yet hit the purchase button, but I plan to very very soon.
Bunting
Yep!  I may fall into the whole mobile-PLUS-bunting (how decadent for baby, eh?) category, mostly because (surprise surprise!) I can't decide between the two.  The mobile will likely float above the crib, and the bunting will likely hang above the change area.
This one is my current fave for a little girl…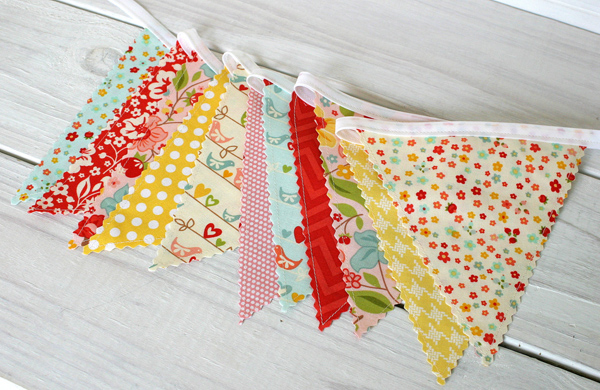 And I love this option should we have a little man…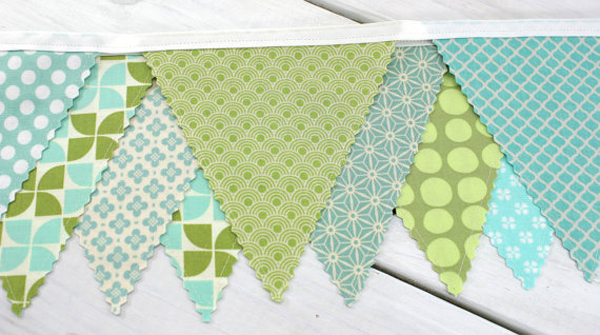 …both from the awesome Etsiers at The Spotted Barn.
Pretty little things
Have you ever noticed that Chapters has the absolute best stuffed animals?  They really do.  I've adored the super soft, squishy stuffed creatures from Chapters since way before Sweetie and I had baby-thoughts.
My favourites are the ridiculously adorable bashful lamb…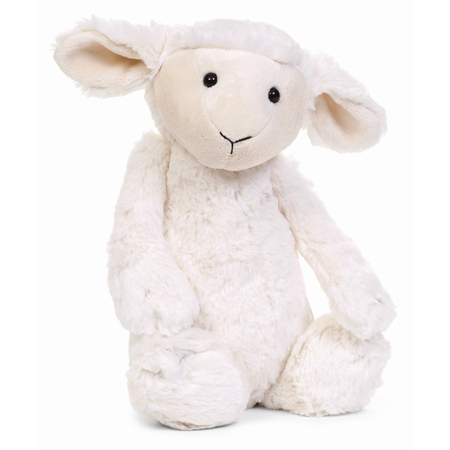 And the ever so sweet bashful bunny…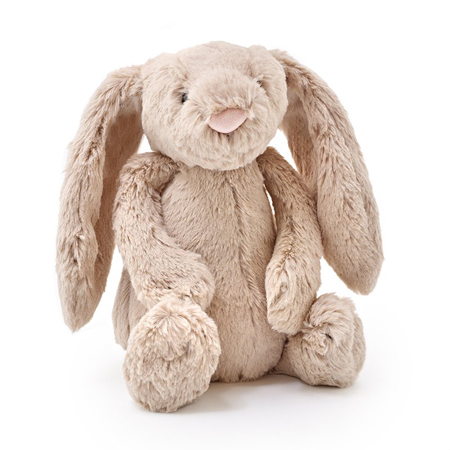 So much cuteness.  So much.  Like, an immense amount.  (I'm seriously swooning over here.)  Here's hoping that Baby loves them as much as his mom does.
And then there's all the other (far more important) stuff
And then there are the bigger, scarier, expensive-er, non-decorative purchases: the crib, the dresser (that'll double as a change table), a bookshelf of some sort for stuffies and books and such…  THESE are the items that I need to make decisions about soon.  Very soon, in fact.  I have a couple of friends who've had their babies far earlier than their due dates over the last few weeks, and I'm starting to get a wee bit nervous.
Let the nursery decorating frenzy officially begin!  :)
Leave a comment
This post was supposed to be a rather celebratory "the evil white sheers are gone!" sort of post about my new drapes.  My six (six!) packages of wonderful, lovely, much-adored, space-transforming new drapes, to be exact.  However sometimes things don't quite work out as planned.  Like, for instance, when you buy all the hardware pieces needed to assemble a curtain rod for a big bay window, and you excitedly prepare to hang everything one sunny Sunday afternoon and then realize (dun dun dun) that you've forgotten a critical component way back at the store.  Which, unfortunately, is 1.5 hours away.
Yep.  That happened this weekend.  I was so sad.
Luckily, I have another trip to Ikea planned for the not-so-distant future (since baby needs a dresser/change table for his or her little room, and handsome Hemnes seems to fit the bill) so we'll pick up the remaining (and sadly missed) drapery hardware bits during that dresser-buying mission.  In the meantime, however, my bay window looks rather naked.  (Although the cats are pretty happy with the curtain-less and completely unobstructed view – cats don't really understand, or care for, drapery.)
But the weekend wasn't entirely filled with drapery doom and gloom!  While staring (woefully) at my naked dining room windows, I noticed that a piece of our (quite shoddily installed) laminate flooring had at some point come loose.
So I gave it a wee wiggle.  And it moved.  And, in fact, it came completely out.  And look (look!) what I found underneath…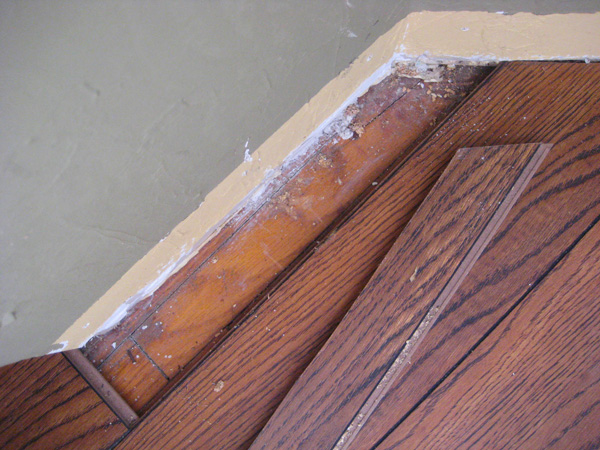 Yep.  That, there, is hardwood.  Not original-to-the-house beautiful 100 year old wide-plank-holy-awesomeness-pine-or-mahogany-or-something-equally-amazing hardwood, of course, but hardwood nonetheless.
I did a little happy dance.  In front of my naked big bay windows.  At the exact same moment that my neighbour walked by with his dog, of course.  (I'm pretty sure the neighbours think we're a bit odd.)
So our newest question?  How far does the flooring extend?  Is there hardwood under all of the laminate flooring in our living room/dining room?  Or only under part?  With the house being quite old (and without knowing what the original floorplan here looked like) the laminate could very well be hiding big ugly scars from walls that were removed and additions that were additioned over the years.  Afterall, why else would you cover hardwood flooring with laminate?  If it's simply scratched up, hardwood can be refinished.  And I'm not at all afraid of a few scratches.  We've had this sort of narrow-plank hardwood flooring in both of our previous homes, and age-related scratches and dings just add a little character (if you ask me.)  They scream "This house was well-loved in past years by families blessed with excited children and lively dinner parties."  If we reveal an expanse of hardwood underneath the laminate, regardless of the shape it's in, I'll be one happy girl.
Now, the hard part.  Finding the courage to start ripping all of the existing flooring up.  It's one of those jobs that once started, can't be stopped.  It's also one of those jobs that'll require a really quickly executed Plan B if it turns out that the flooring underneath isn't usable for some reason.
Maybe we'll save that for another (much braver) day.  In the meantime, I'm leaving that one small piece of laminate flooring pulled up as a reminder that something really amazing could be hiding underneath all the ugliness.  Afterall, it was that same hope of hidden beauty that convinced us to buy our old mauve house in the first place.  :)
Leave a comment