This post was supposed to be a rather celebratory "the evil white sheers are gone!" sort of post about my new drapes.  My six (six!) packages of wonderful, lovely, much-adored, space-transforming new drapes, to be exact.  However sometimes things don't quite work out as planned.  Like, for instance, when you buy all the hardware pieces needed to assemble a curtain rod for a big bay window, and you excitedly prepare to hang everything one sunny Sunday afternoon and then realize (dun dun dun) that you've forgotten a critical component way back at the store.  Which, unfortunately, is 1.5 hours away.
Yep.  That happened this weekend.  I was so sad.
Luckily, I have another trip to Ikea planned for the not-so-distant future (since baby needs a dresser/change table for his or her little room, and handsome Hemnes seems to fit the bill) so we'll pick up the remaining (and sadly missed) drapery hardware bits during that dresser-buying mission.  In the meantime, however, my bay window looks rather naked.  (Although the cats are pretty happy with the curtain-less and completely unobstructed view – cats don't really understand, or care for, drapery.)
But the weekend wasn't entirely filled with drapery doom and gloom!  While staring (woefully) at my naked dining room windows, I noticed that a piece of our (quite shoddily installed) laminate flooring had at some point come loose.
So I gave it a wee wiggle.  And it moved.  And, in fact, it came completely out.  And look (look!) what I found underneath…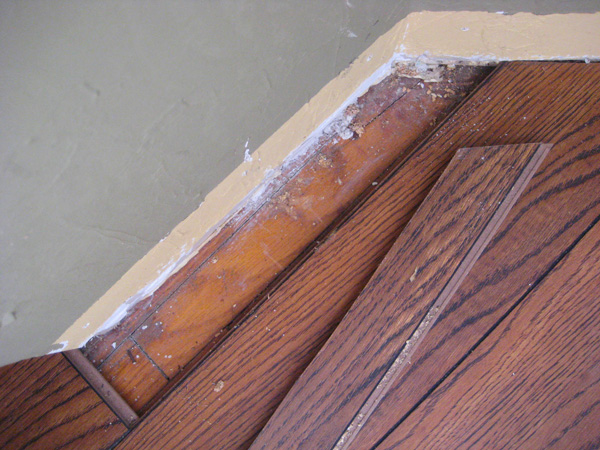 Yep.  That, there, is hardwood.  Not original-to-the-house beautiful 100 year old wide-plank-holy-awesomeness-pine-or-mahogany-or-something-equally-amazing hardwood, of course, but hardwood nonetheless.
I did a little happy dance.  In front of my naked big bay windows.  At the exact same moment that my neighbour walked by with his dog, of course.  (I'm pretty sure the neighbours think we're a bit odd.)
So our newest question?  How far does the flooring extend?  Is there hardwood under all of the laminate flooring in our living room/dining room?  Or only under part?  With the house being quite old (and without knowing what the original floorplan here looked like) the laminate could very well be hiding big ugly scars from walls that were removed and additions that were additioned over the years.  Afterall, why else would you cover hardwood flooring with laminate?  If it's simply scratched up, hardwood can be refinished.  And I'm not at all afraid of a few scratches.  We've had this sort of narrow-plank hardwood flooring in both of our previous homes, and age-related scratches and dings just add a little character (if you ask me.)  They scream "This house was well-loved in past years by families blessed with excited children and lively dinner parties."  If we reveal an expanse of hardwood underneath the laminate, regardless of the shape it's in, I'll be one happy girl.
Now, the hard part.  Finding the courage to start ripping all of the existing flooring up.  It's one of those jobs that once started, can't be stopped.  It's also one of those jobs that'll require a really quickly executed Plan B if it turns out that the flooring underneath isn't usable for some reason.
Maybe we'll save that for another (much braver) day.  In the meantime, I'm leaving that one small piece of laminate flooring pulled up as a reminder that something really amazing could be hiding underneath all the ugliness.  Afterall, it was that same hope of hidden beauty that convinced us to buy our old mauve house in the first place.  :)
Want something equally awesome? Check these out!: