So hear me out for a second k?  No judgy-judgy…  Just trust me on this for a moment.  I have an announcement:
I might paint my front door pink.
(Let's pause briefly while that all sinks in…  You ok?  K.  Let's continue.)
Yes, I've lamented for months now that our house is mauve.
And yes, I've previously stated that perhaps a muted plum door would tone down the pinkness of the siding on our house while still looking sophisticated and coordinated.
And yes, I've even mentioned (several times) how much I'd really really like to repaint our old mauve house and be rid of the pink altogether.
But (this is where my anti-mauve plans go a bit awry), then I noticed this…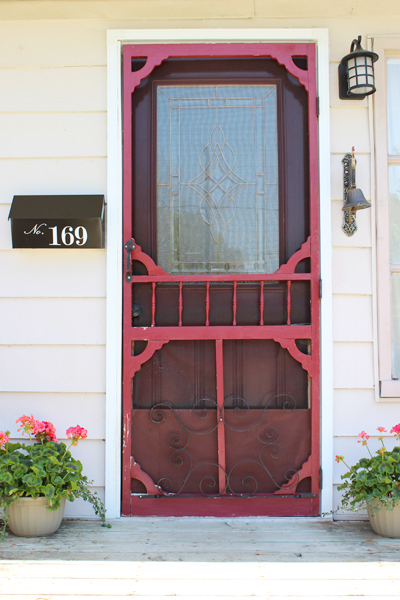 See those geraniums slyly photobombing this pic of my front door (and my beloved new house numbers?)  They're coral.  And they're pretty.  And see how nice they look against my (much despised) mauve siding?
Dear Mother Nature: you sneaky fox.  You've coyly inspired me.  Big pat on the back for you, missy.  Nicely done.  :)
So I might paint my front door a corally-pink.  It's absolutely mind boggling, I know.
And don't get me wrong: we're not talking fuchsia here.  (Random diatribe: FUCHSIA might, in fact, be the oddest-spelled word in the entire English language.  It always takes me at least three or four attempts to type it out correctly.  FUSHIA looks right, but it's not.  Fuscia could even be correct, but, strangely, is not.  Nope.  Fuchsia is indeed one of those words that makes me yearn to have a stern conversation with the good folk at Miriam-Webster and ask them what the heck they were thinking when they decided to add so many miscellaneous letters to a rather simple, two syllable colour.)
(Thank you for letting me rant.  Carrying on…)
Nope.  We're talking a corally pink.  Like this (via ByStephanieLynn)…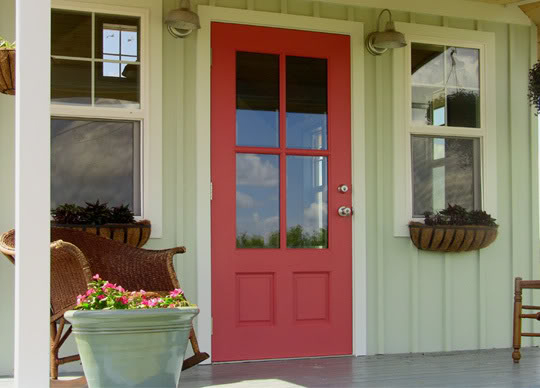 Or like this cheery door (courtesy of Marty's Musings)…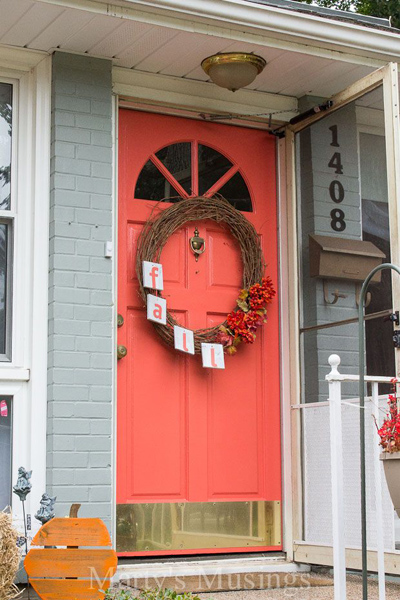 Or even this (the top paint chip is Benjamin Moore's Glamour Pink, and I THINK it could work, although it's a bit more pink-ish than coral-ly.)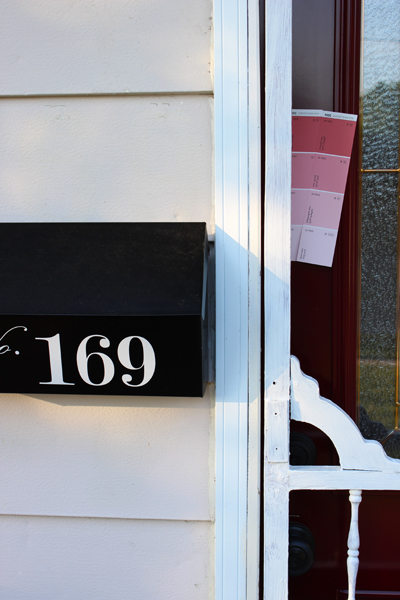 Please ignore the partially painted screen door – that's a whole other project for a whole other post.  (But I need it to stop raining first.  Once the rain stops, the door will be painted.  Until the rain stops, it'll stay splotchy.)  (Sorry neighbours!)
So yes.  This is my new plan.  A coral door for my mauve house.  Who would have thunk it, eh?
Mind you, Sweetie and I haven't discussed this yet.  He might have issues with the words "pink" and "coral", so I may call it a "muted light reddish-slightly-orange colour."  Or perhaps even just "geranium," since I'm doubting he'd know which flower I'm describing.  Sweetie isn't much of a flower guy.  But give him some rare weird variety of tomato plant and he's all over that like ants on an apple.  :)
Want something equally awesome? Check these out!:
4 comments on "
My fantastic front door plans (prepare yourself – this could be shocking)

"