Today is my due date.  TODAY.  It's wonderful and unbelievable and crazy and scary and exciting all at once.  As of last week's OB appointment, Baby hadn't yet made much of an effort to join us out here in the real air-breathing world, so I'm guessing that he or she is still feeling comfy cozy in there.  Which, truthfully, is rather fine by me.  That said, I'm very aware that time is now ticking away quite quickly and that Baby could make an appearance at any moment.
And I'm also very aware that I'm ridiculously ginormous…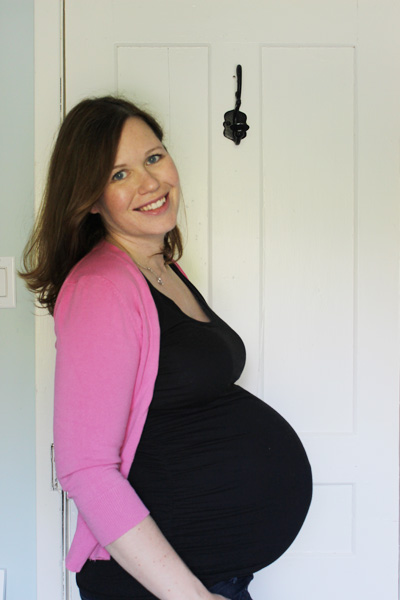 Crazy eh?  I'm still not entirely sure how I manage to stay upright.
Last week, with nesting instincts in overdrive, I put a few last minute touches on the nursery.  Curtains were hung, art was placed up on walls, the more-complex-than-anticipated baby monitor got installed, and I fussed over silly little details (would bashful bunny look better here?  Or here?)  And, with Baby overdue as of tomorrow, I'm happy with the rather peaceful teal, gray, white and mustardy yellow space that this nursery has gradually morphed into.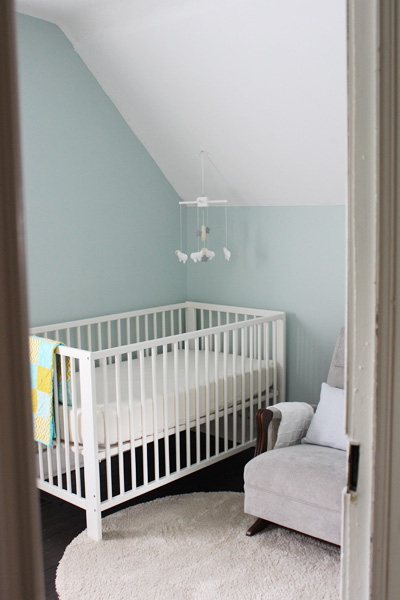 My dad found this metal wall hanging at a street art fair.  I added the ribbon and hung it from the door.  It's perfect in every way.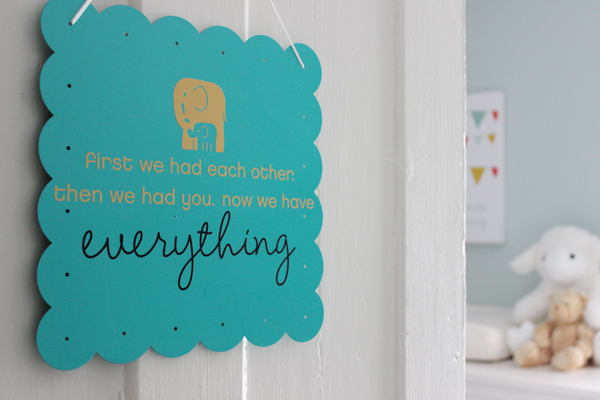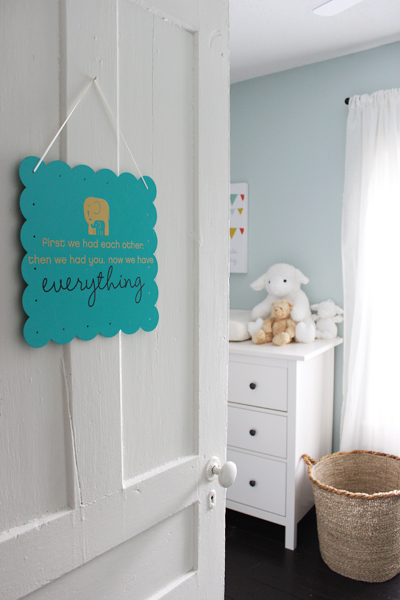 We're using Ikea's Hemnes dresser as our change table: it's a good height for both normal-sized me and super tall Sweetie, it has lots of room for the change pad and diaper related stuff, and (most importantly) it's rather lovely-looking.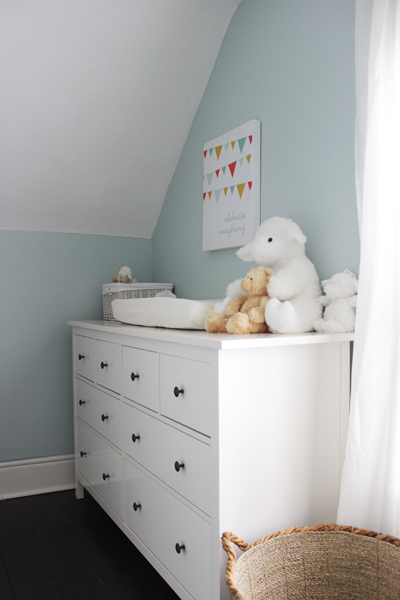 (Unfortunately it was also rather difficult and time consuming to assemble.  But that's a whole other blog post for a whole other day.)
The Celebrate Everything canvas was a HomeSense purchase (on clearance, no less!) made a couple of years ago, long before Baby and nursery planning had ever started.  Again (and again and again): I heart HomeSense.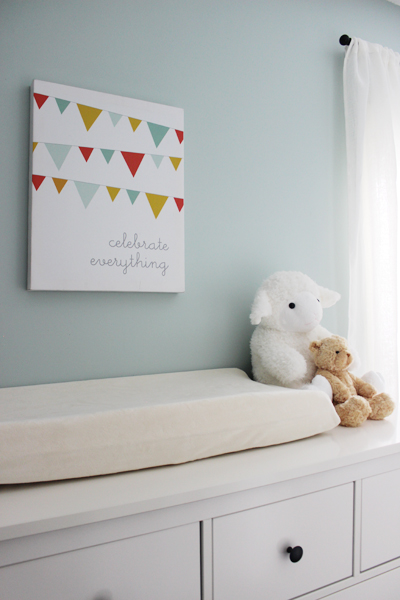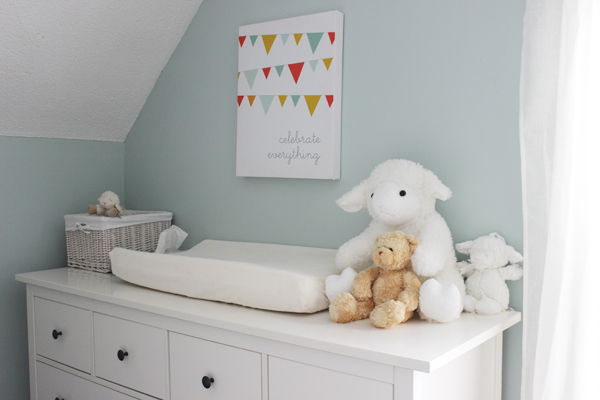 And this trio of friendly stuffed animals will eventually be relocated to a shelving unit of some sort (I'm still in search of the perfect bookshelf for this room.)  I'm hoping to find something fairly small, but still very functional.  Until then, these three will bravely stand guard over the change table.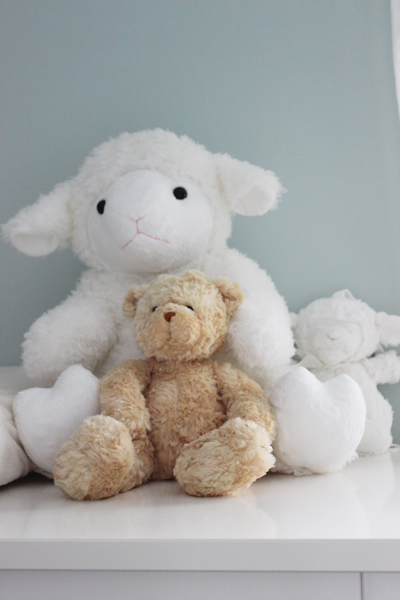 Because the nursery is fairly tiny, we didn't want a crib that felt large and bulky (as so many of them do.)  Enter: Ikea.  Of course.  We fell in love with Gulliver (and hopefully Baby will too!)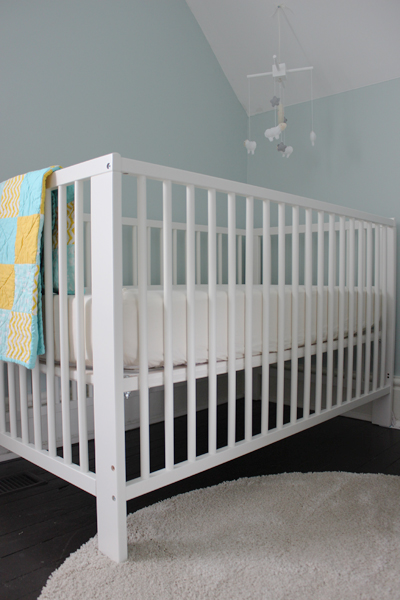 My friend Nadia (we've been friends since Grade Nine) (which means we've been friends for… um… many many years) made Baby this gorgeous yellow and teal baby quilt.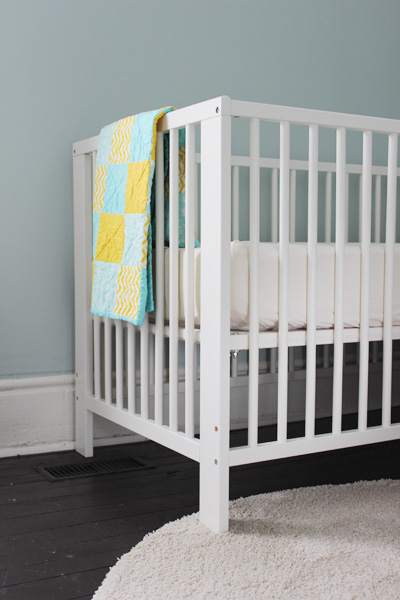 And the small vintage rocking chair, that long ago belonged to my grandparents, was reupholstered by my mom and dad as a gift to Baby.  It's the perfect size for this little space.  And I love knowing that I'll be rocking Baby to sleep in a chair that once belonged to people who, while no longer here, were such an important part of my life growing up.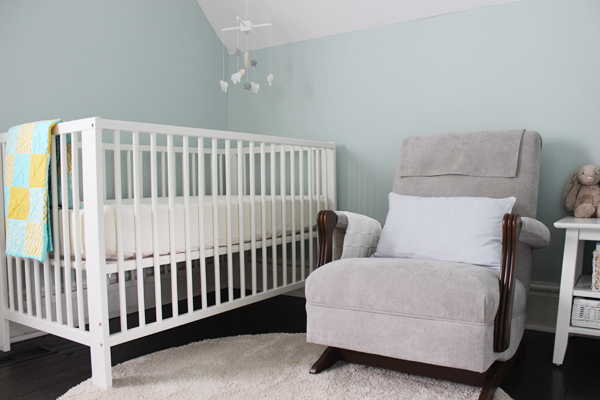 Keeping watch over everything from beside my beloved rocker is the ever adorable bashful bunny (along with his good friends the happy hedgehog and hilarious hare.)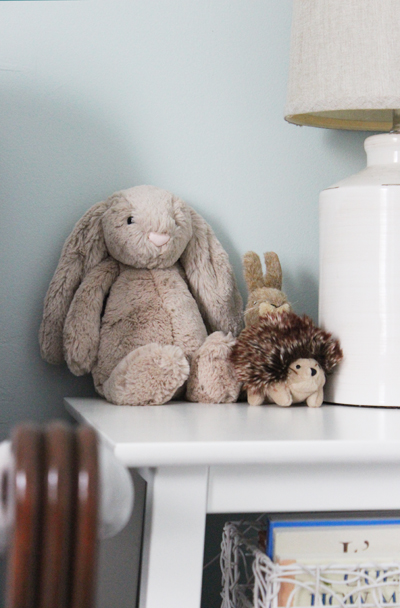 But my absolute favourite part of the nursery?  This sheep mobile from amazing Etsier (and fellow Canadian) TheMemis…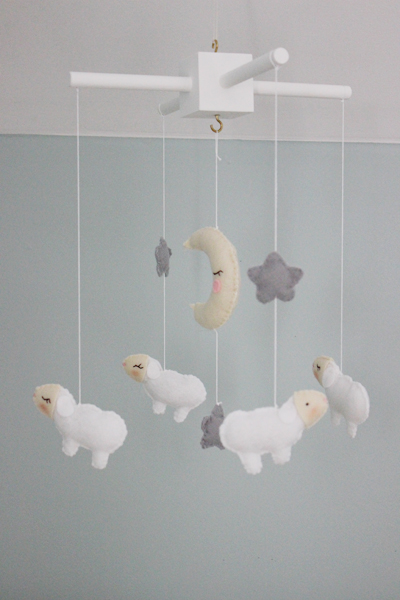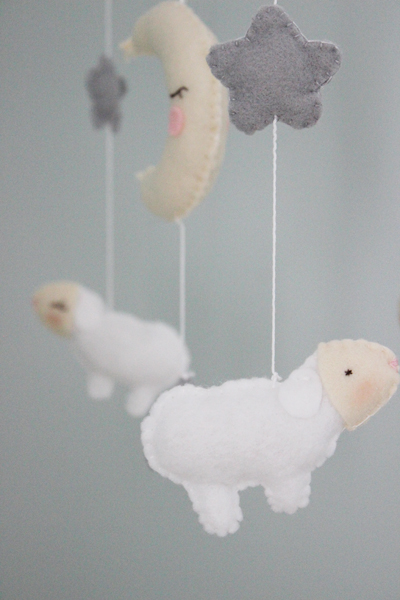 Each little sheep has a different expression on its face.  It's absolutely perfect, and I can't say enough good things about Emi at TheMemis. :)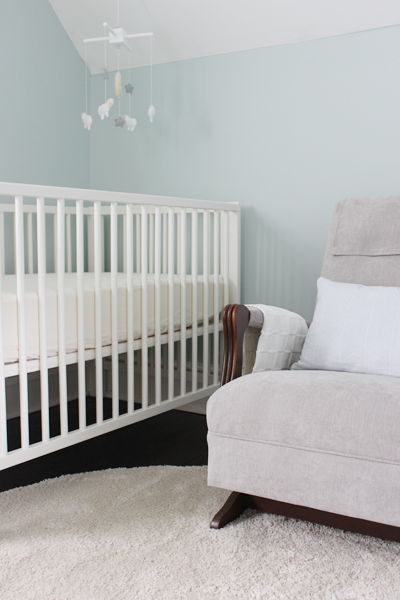 So there you have it.  Our sweet and peaceful (and gender neutral) little nursery.  I'll likely continue to add to it as time goes on – I have lofty gallery wall plans for the wall opposite the crib, I still need to find that bookshelf for stuffies and books and toys and nicnacs and such, and I'd love to add a little more coral (if Baby is a girl) or greens and navy (if this belly-wiggler is a wee boy) once Baby arrives.  And my friend Shawn (who I've been friends with pretty much since forever) has commissioned a baby blanket for me as a gift for Baby from another mutual friend (Sheilagh) who is an amazingly and incredibly talented quilter (you can see some of her work over at her site, Lay it on Me Baby) – I'm so excited about planning the blanket with her once Baby is born!
But for now I absolutely adore this serene little space, just as it is.
Let's hope that Baby does too.
Whenever he or she decides to make a big appearance.
Want something equally awesome? Check these out!:
12 comments on "
Nursery natterings (part four: the grand-ish tour of our sweet little nursery)

"