Remember when I chatted a bit about painting my bedroom (here)?  That seemingly simple project took weeks.  WEEKS.  Truthfully, months.  Not because it was a particularly difficult project.  In fact, due to the coved ceilings and (rather obnoxious and eventually to be removed) faux fireplace and the various doors/windows in the room, there wasn't a great deal of actual wall-space to be painted.  And, the delay wasn't due to my (admittedly notorious) indecisiveness either.  I boldly chose a paint colour lickity-split-ishly and rushed out to buy the paint before I could question my colour choice (since, once paint is purchased, you're committed) (because if you buy paint from the good Mr Benjamin Moore like I do, painting is a bit of a financial commitment.)
Nope.  The delay was caused by this…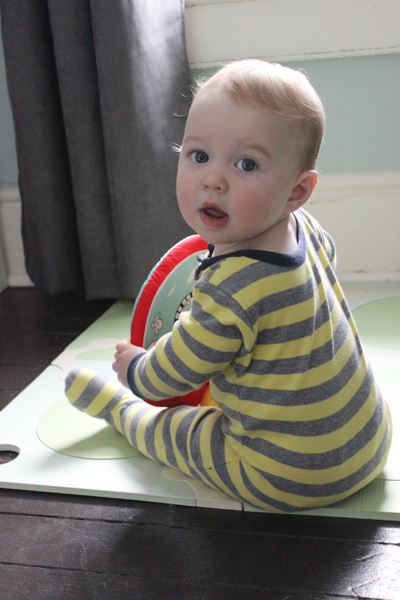 Yup.  An adorable squishy active smiley drooly nine month old.
Best reason for a delay ever.  :)
However, the lack of painting progress seriously started to wear on me a bit.  You see, that same ridiculously cute little man isn't a particularly predictable napper.  Sometimes he naps for a glorious two hours.  Sometimes he barely shuts his lovely long-lashed eyelids and – poof! – he's well-rested and ready to play again.  This lack of predictability made it super difficult to get much done on the painting front.  The days where I'd predict a lengthy nap were the days that I'd dip my virgin paintbrush into the paint and – bing! – he'd wake up.  On the days that I assumed he'd take a quick little cat nap, he'd sleep for hours.
Yup.  It's hard to paint with a baby.
So, defeatedly, I called in the reinforcements: my parents.  Mom (happily!) looked after Squishy while dad and I tackled the paint job (thanks mom and dad!)  And I'm thrilled to have this project done.  Thrilled!  And I'm (almost) equally happy with the results!
Here's what I started with…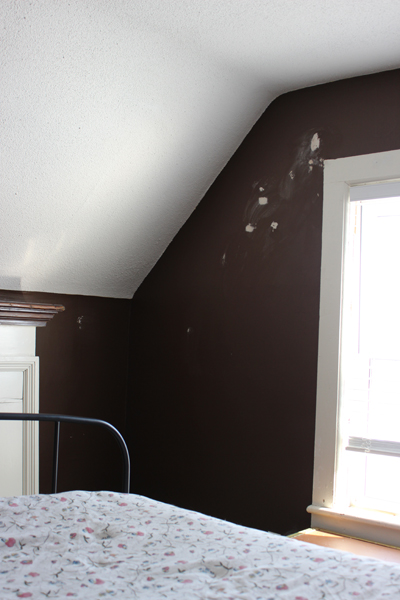 And here's the room lovelied-up with a wee bit of BM Copley Gray…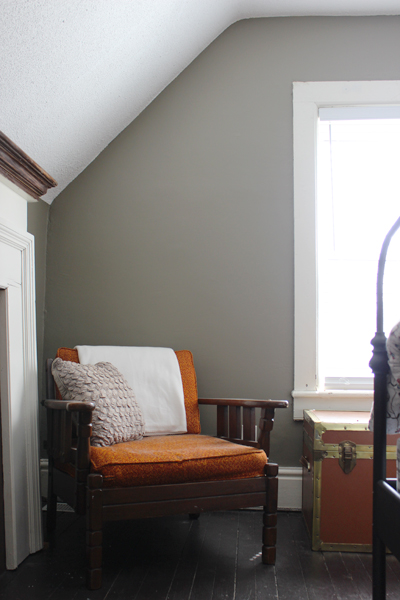 A full gallery of after shots is pending (there are curtains to go up and a mirror to hang and a few other to-do's that I'd like to to-do before officially announcing the room DONE) but for now the painting part of this bedroom mini-reno project is complete (can I get a big ol' yay for progress?)  (Yup – YAY!)
What's that you say?  You thought I'd decided on Revere Pewter?  I thought I had too.  But it just seemed a little too predictable.  I painted our bedroom at our last humble abode, our happy little 1940′s house, in Revere Pewter and I loved it, but I wanted to try something different.  I've been eye-ing up Copley Gray for a while now, and I decided to take the slightly bolder paint-colour plunge.
So am I happy?  Mostly.  Admittedly, it's greener on my walls than I'd hoped.  At some points in the day, depending on the light, one might even call it (cringe…) sage.  But at other times (and, really, most times) it's a lovely gray/brown/green that is super cozy and warm and rustic (can a colour be rustic?  If so, this one is definitely rustic.)  And it's far (far!) better than the poop-ish brown that adorned the walls when we bought this house, so I'm a happy girl for now.
And if, in a few years, I decide to repaint, hopefully Little Squish will be old enough to help?  Or at least stay occupied for a bit while mommy paints?
Wishful thinking, I know.  :)
Want something equally awesome? Check these out!:
2 comments on "
I took a risk (surprised? Me too!)

"