My baby turned one a couple weeks ago.
Yep.  It happened.  Cue happy/wistful/omg-stop-growing-and-please-stay-little-forever-but-omg-look-at-all-the-amazing-things-you're-learning-I'm-so-proud-of-you tears.
He's not a little baby any more.  He can almost walk, he can say Mama (or, rather, MomMom, which is so ridiculously cute and makes my heart happy every single time those two syllables escape his lovely little lips), he can play independently and clap and wave and do all sorts of things that seemed so impossible a year ago when he was this small squishy helpless little being who merely slept and ate and pooped (and filled my heart with so much love.)
Sweetie and I celebrated his first birthday surrounded by close friends and family.  There was cake and singing and so many amazing gifts and lots of happiness.  Patrick was admittedly a bit overwhelmed by all the people (I may have a budding introvert on my hands… he might be just a tad like his mommy and daddy like that), but he had lots of smiles for people too (from his secure perch in my arms) and loved his birthday cake (and scattered it around for the kitties to sample too.)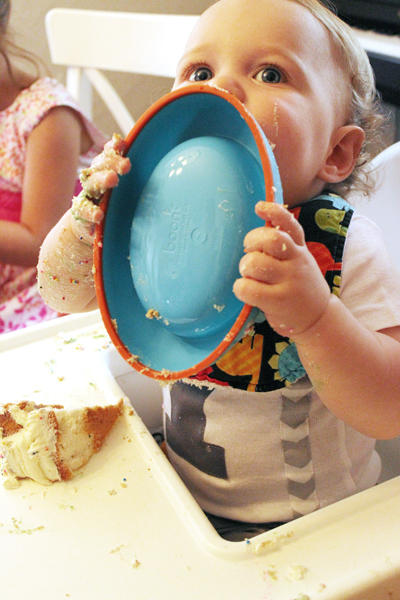 It was such an absolutely lovely special wonderful day.
And where did I go to find touches to make his birthday extra special (and especially cute?)  Etsy.  Of course.
Patrick's bowtie onesie came from an awesome vendor out of BC called Handsome Baby.  And he did indeed look handsome!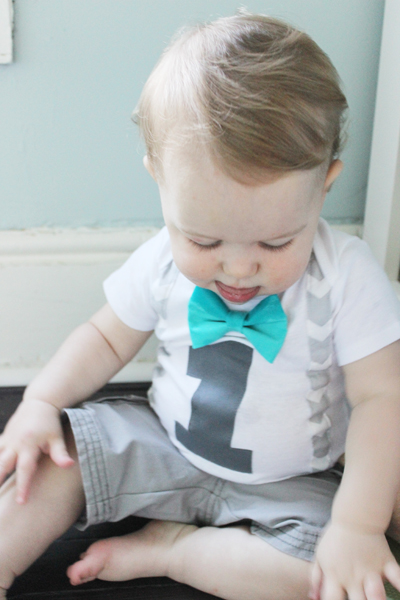 I have big plans for follow-up bowtie onesies.  I foresee a Handsome Baby Christmas bowtie onesie in his future.  And maybe an Easter one too.  And a second birthday onesie for sure.  And, honestly, he might need something with a green bowtie for St.Patrick's Day (because of course he does.)
Yep.  Me and Melissa over at Handsome Baby are going to become really good friends, I think.  :)
And then there was Patrick's first birthday board…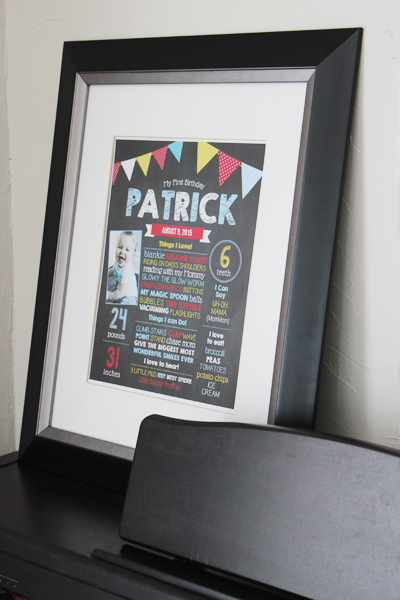 I agonized over birthday boards (there are, admittedly, a gazillion of them available on Etsy.)  I fell in love with this one (put together by amazing Etsier MsFit Designs) because of the colours (which I then turned – loosely – into the colour theme for Patrick's party – red, yellow, and pale blue.)  (Or, I suppose, for those of you who support Captain Obvious, primary colours.)
And, with a few quickly fluffed tissue paper puffs here and there, that was about it for my party planning.  This was not a Pinterest-worthy party, I'm afraid.  I had big decorating plans that I'd planned to execute in the days leading up to Patrick's party.  Patrick, on the other hand, had big playing with mommy plans.  The latter won out (and I wouldn't change that for a thousand carefully made colour coordinated Pinterest-inspired birthday bunting flags.)
Nope.  It was a simple party with just a few simple decorations and a whole lot of celebrating Patrick's first year.  And it was perfect for my little guy.
Although next year there might be bunting.
Because I do love me some bunting.  :)
Want something equally awesome? Check these out!: