I'm going through a little bit of painting withdrawal, I think.  It's been almost TWO WHOLE MONTHS since I've painted anything around here.  Shocked?  Me too.  I'm pretty sure that's a new record.  (For me at least.)  (For everyone else, that's called "being normal.")
During our weekly marathon phone date the other day, my friend Jess (who blogs over at Little Townhome Love) asked me what on earth could possibly still need painting in this house (since it does indeed seem like I've been painting since the day we moved in, like, two+ years ago.)  Let's just say I'm a methodical painter.  I take my time.
In fact, my typical painting process looks a bit like this…
Day 1: Patch the walls and caulk every seam in the room.  Time consuming?  Yes.  Annoying and messy?  Omg, yes.  But totally worth it?  Yes.
Day 2: Prime.  You know, since there's nothing like watching mystery stains left by the previous home owners seep through your lovely new paint job.  Yep.  Love that.
Day 3: Paint ceiling.  (Have I ever mentioned how much I hate painting ceilings?  I do.  I really really do.)  Try to keep paint from flying everywhere and damaging hardwood.
Day 4: Paint ceiling again to cover up thin spots from previous day's painting.  Swear just a bit.
Day 5: Paint walls.  Do an awkward little happy dance in celebration that wall-painting day has finally arrived!
Day 6: Paint walls again (since that whole one-coat-coverage concept never seems to work for me.)
Day 7: Admire how awesome walls look, then begin painting trim.  Tape everything off first (since despite about a gazillion hours spent painting over the past few years, painting in a straight line is still very very hard.)  Sigh and grumble about how much I hate painting trim.
Day 8: Slap a second coat of paint on trim.  Grumble some more.  But!  Then remove all painters tape and squeal a happy little squeal of joy at the results.  Jump up and down a bit.  Have a celebratory glass of wine.  Or two.
Day 9: Spend far too much time standing in the centre of newly painted room staring and admiring.  Bring cats in and make them admire too.  Find Sweetie and ask him multiple times if he thinks it looks nice.  Pout just a little when he gets tired of exclaiming, for the gazillion-th time, that it looks awesome.
So yep, there – painting a room is about an eight day process for me.  Which is probably longer than most people, but I'm a tad nit-picky and obsessive over things like caulking baseboards and trim seams to the wall and priming and those sorts of things.  And, well, I can only paint on weekends (and only on those weekends on which we don't already have other plans) so I work in little bursts.  A weekend here…  a weekend there…  an entire room probably takes me about a month-ish (maybe a little more) to fully finish up (from ceiling to walls to trim – when I paint a room, I paint EVERYTHING.)  (Woo!  Go big or go home!)  So while I may not be the fastest painter on the block, the job gets done.  More or less correctly.  Eventually.
This weekend I will pick up my beloved paint brush once again, and (FINALLY!) begin working on my bedroom (which I chatted a bit about HERE a while back.)  I finished up Step 1 a long time ago (like, months ago) and my walls have been pleading with me for paint ever since (since now they're all patchy and rather ugly.  Which is pretty darn embarrassing if you're a wall.)
Yep.  By the end of the weekend all this will be covered up…
…in lovely Benjamin Moore Revere Pewter-ness.  I can't wait.  :)
Jacob is pretty crazy excited too.
Irwin and Erik?  Not so much.
Happy Friday!
Leave a comment
So I'm skipping a room.  The back/sun room is all ready for paint (and already had its own "Befores" post HERE.)  The walls have been patched, the ceiling has been painted, and lovely (I hope!) dark Chelsea Gray paint has been purchased.  It's just begging for a good rolling!  However, that room is currently hosting two very cute (and not yet Jacob-approved) recently adopted kitties (the very kitten-like Erik, and his BFF, the oh-so-sweet Irwin.)  SO, while they're vacationing back there for another few days (hoping for a full-fledged kitty-introduction this week) I'm moving right along to the second floor.  Specifically, our very green bedroom.
The colour isn't terrible.  It's pea soup green, alright, but it's not offensive pea soup.  It's just not me.  Plus there are some big ol' cracks in the plaster that need patching, and I don't have the name/make of the current colour, so I've decided to use all that as an excuse (not that I've ever needed one) to paint the whole room in a colour that feels more us.  (That's my logic at least.  :)  The room will probably either end up being either Stonington Gray (the same colour I already love in our kitchen) or the next colour down/darker on that same paint chip, Coventry Gray (which apparently reads quite blue, but I'm ok with that – I rather like blue-grays.)
Here are a few befores for you (note: our bedroom is tiny!  Most of these are taken either with my back up against the wall or standing out in the hallway.  Yup.  It's small.  But we spend the majority of our day in the rest of the house, so a tiny place to sleep is a-ok with us!)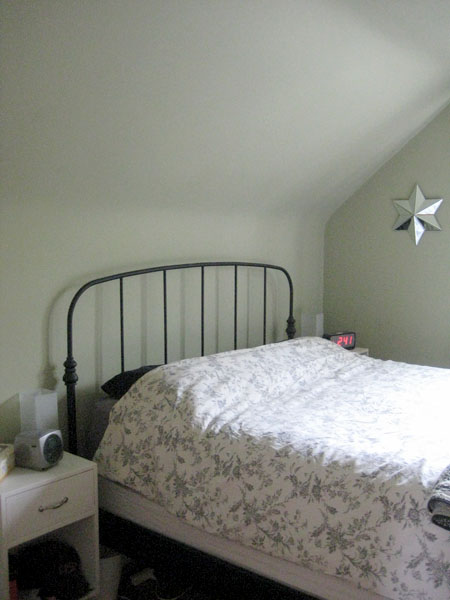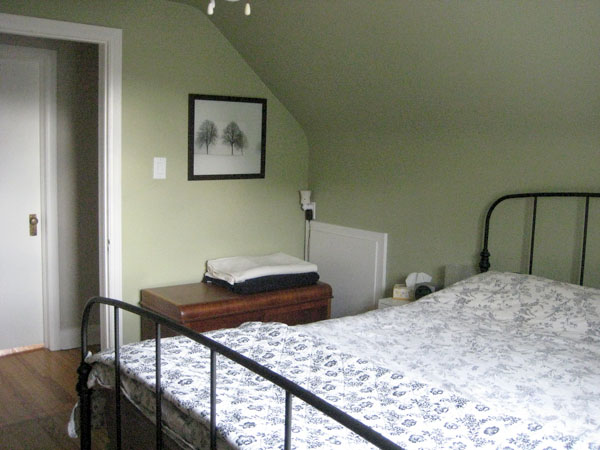 (See the hope chest in the corner?  That's the one I'm not allowed to paint LOL.)  (Not that I would anyway…)  The little white attic door behind the hope chest is getting painted as well in whichever wall colour I choose.  While it's super quaint having attic access behind the knee wall, I wouldn't necessarily call that door a feature worth highlighting.  (Although the previous owners obviously did!)
And see that little wood door?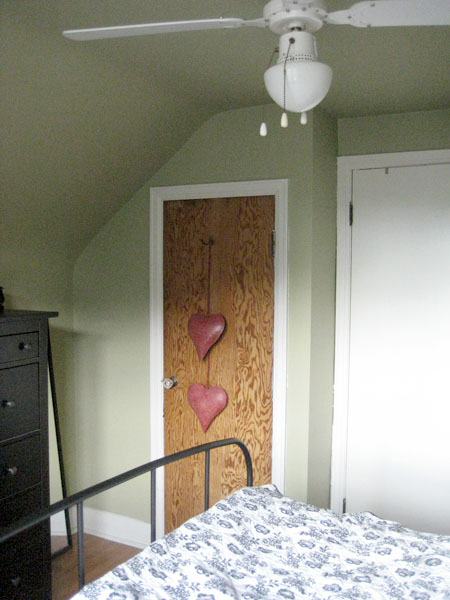 That there would be our closet.  Please note: the closet is about 3 feet wide on the inside.  In total.  And there is no walking-in.  Nope.  None at all.  Sigh.  The closet door will be getting a coat of Snowfall White paint (I painted the also-once-orangey-wood bedroom door when I painted the hallway and it's sooo much better.)  I wish painting the door also meant more closet space…  At least it means prettier closet space, I suppose.
(Oh!  And the ugly white ceiling fan is getting swapped out too.)
Due to our (very) limited closet space, we bought big huge Ikea Hemnes dressers last summer.  (Remind me, some day, to tell you how much fun Sweetie had assembling these!)  Admittedly, they're massive, but for some reason they don't look out of place in our little room.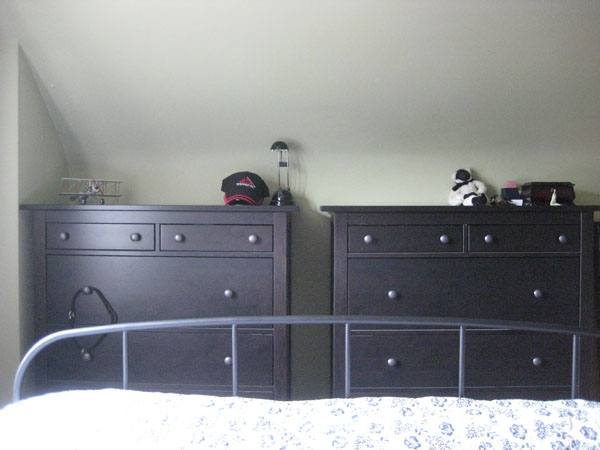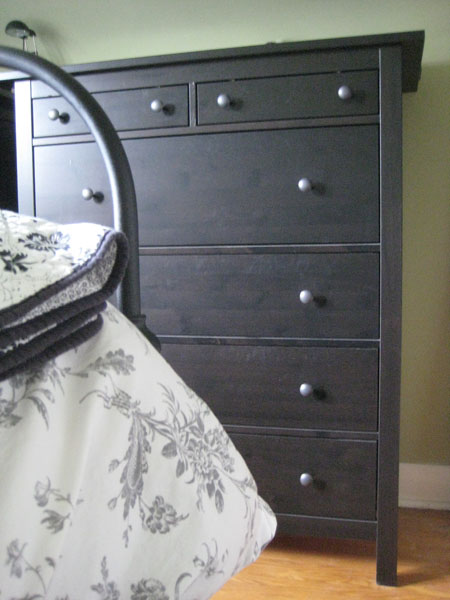 I'll probably swap out the rug once the walls are repainted (this is an old beige shag rug I threw down when we moved, but I think it might work better in our dining room.) (Can you put a shag rug in your dining room?)  And the curtains will go (far far away.)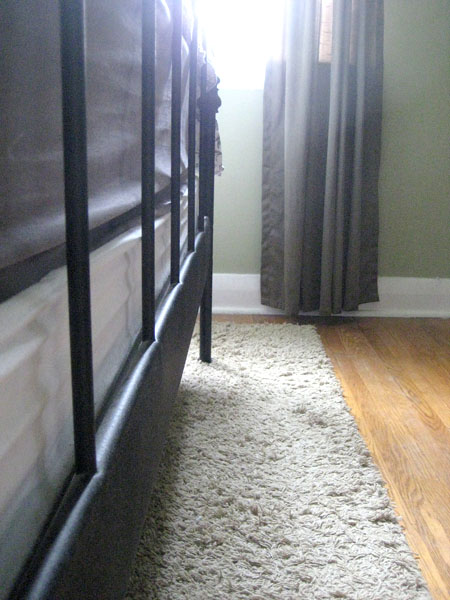 Of us all, I think Jacob is most excited about the room being painted.  While orange cats do look lovely in green rooms, he's partial to gray, I think.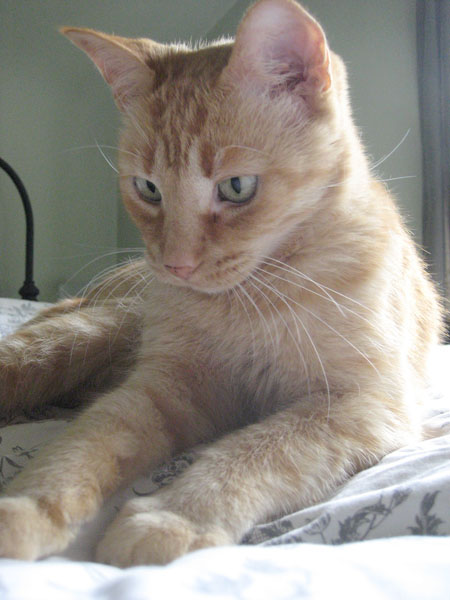 (Actually, I'm guessing he doesn't really care.  So long as there's a big comfy bed in the room, he's a pretty happy cat.  Cats are kinda wishy-washy like that about paint.)  (I wish I was – it would mean a lot less painting for me.)  (Sigh…)
Leave a comment