Ok, I'm just going to come right out and say it…
There's too much white going on in our living room.
There.  It's out.  I've said it and I feel much better now.  Thank you!
Please don't get me wrong – I adore my white Ektorp sofa.  It's been insanely easy to keep clean given that I have an electrician hubby who comes home rather dirty from construction-ish job sites each day.  And it's valiantly held its own against our fur family of three who shed uncontrollably and occasionally decide that the sofa is an appropriate place to drop the odd hairball (despite that I've asked them several times to head toward the ugly kitchen linoleum whenever they feel queasy.)  (Unfortunately cats don't seem to understand the washability factor of solid surfaces vs fabric.)
But yes, my living room needs a little ooomph.  A little less shabby, a little less chic, if you will, with a little more cozy and a lot more colour blended in.  Because right now we're hanging out in blahs-ville.  And we're looking a little anemic.  And I'm in need of a big ol' change.
I should have seen this coming.  My absolute favourite Ikea living room set up is this one (which doesn't have a source attached to it, but given that absolutely EVERYTHING in this room appears to be from Ikea, I'm pretty sure this is an image courtesy of the good folk under the big blue and yellow sign…)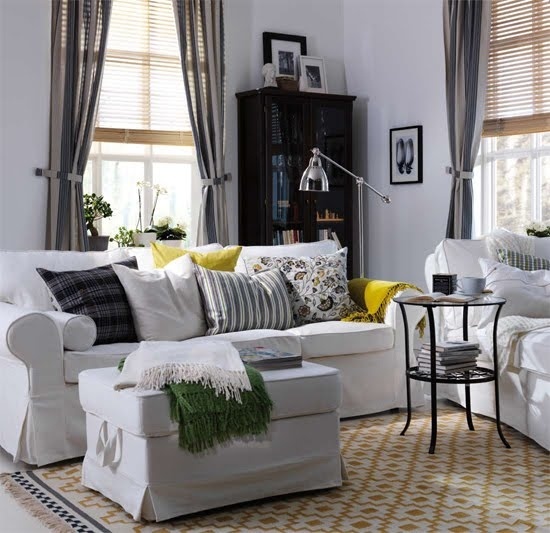 There's still a lot of white happening in that room, but the white is so nicely balanced by the darker elements (the black and white cushions, darker drapes, the black side table and bookcase) plus a little colour too.  :)
Contrast all that with my current living room…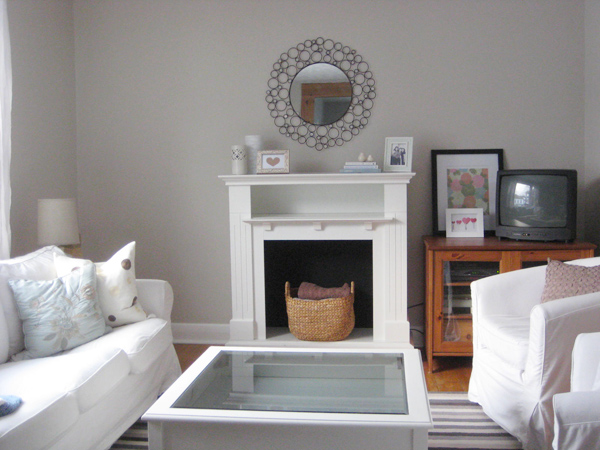 (Insert sad muted trombone womp-womp here.)  White sofa, white chairs, white fireplace, white drapes, white coffeetable, greige walls, beige lamps, light-coloured cushions…  Yawn.  I'm bored.  You?
So, with our Ikea trip for bedroom textiles still looming, here's what I have planned….
1.  We're going to swap out the curtains.  I need new curtains for the bedroom, so the white curtains currently decorating our living room will be heading upstairs to their new bedroom-y home and I'm hoping to find nice gray replacement curtains for down here.  Maybe even another pair of Ikea Ritva curtains (but this time in gray):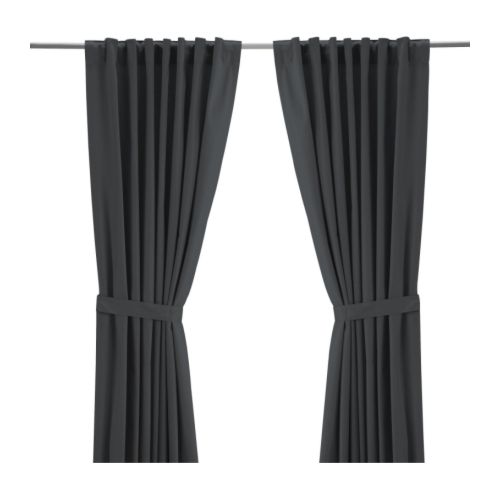 2.  I may do the unthinkable and get black slipcovers for our two white Ikea Tullsta chairs.  Maybe.  I'm not 100% sold on this idea yet (black seems so… dark), but those two little Tullsta chairs seem to get furrier and dirtier than our couch (despite that we sit on them far less) and I've never been a huge fan of white on those two chairs anyway.  They look… cheap or something to me.  (I'm not sure why.)  And plus, I found this image of a sweet little black Tullsta chair from site House to Home and realized that black might be a nice change…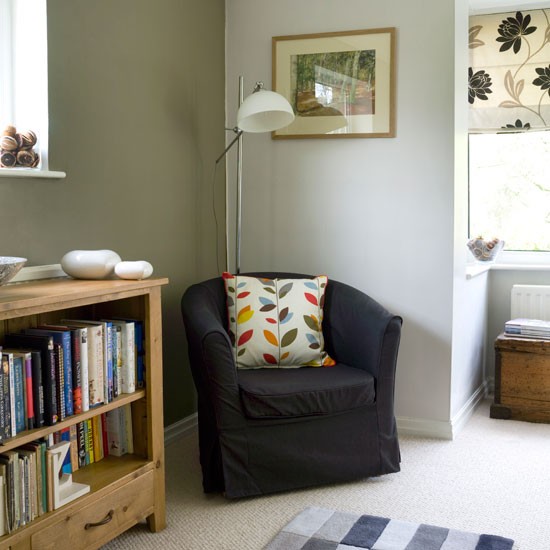 Truth be told, I'd rather slipcover them in gray than black, but the Tullsta slipcover options are a wee bit limited (so black it might be!)
3.  Last, but not least, I'd really like new pillows and throws in various grays to match our area rug, since nothing actually matches our area rug right now – a fact that I didn't realize until I read this rather brilliant post about choosing cushions for your sofa from Centsational Girl (thank you Centsational Girl!)  Here's an example I found from Varrell Home Designs that demonstrates CG's theory that your cushions should match your rug to some extent – they have a navy rug, and they've incorporated navy and blue in some of the cushions.  And, as a result, it all looks rather lovely together!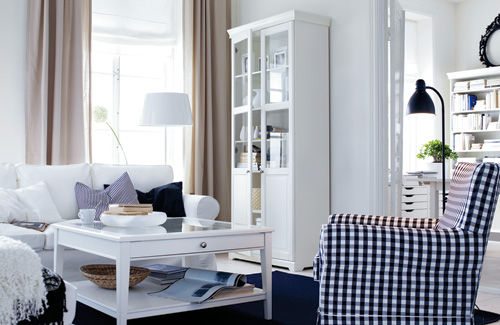 So those are my goals for now.  New drapes, possibly new Tullsta slipcovers, and definitely a few new cushions.  It's my plan of attack.  And I'm quite excited to start attacking.
And, afterwards, I'm pretty sure I'll wonder why I didn't think of this earlier.
Leave a comment
I seem to be alllll over the place with projects lately.  I may, in fact, have decorating-ADD.  There's my very unfinished (due to newly adopted cat occupation) sunroom project.  And my bedroom?  It still needs paint (although the walls are all patched now, so she's all ready to go!)  (once I, um, decide on a colour…)  So, while we're in project-limbo for the moment with those two tasks, let's just move right along to the next item on my list, shall we?  :)
And what would that be?  I think I need a gallery wall.  Actually, I know I need a gallery wall.  You see, there's a big empty wall (temporarily being quasi-under-filled by a rather random green star) that's begging me for frames.  Just look…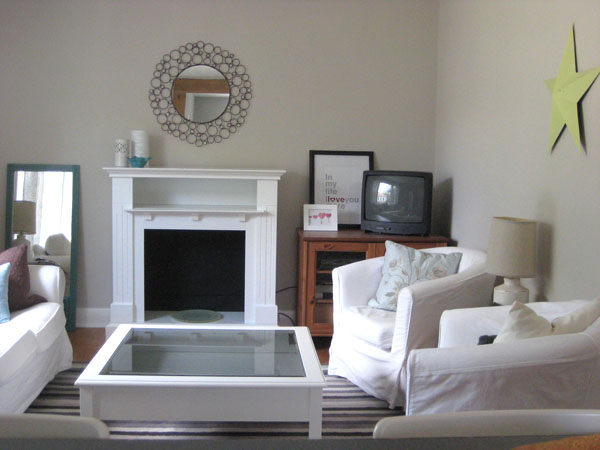 Or, more precisely…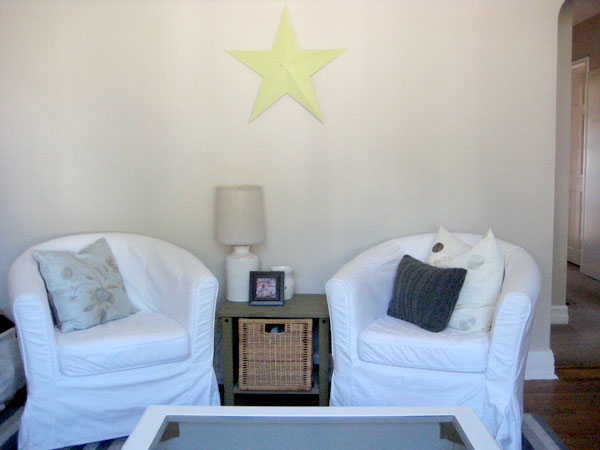 (For the record, I'm not sure why the walls look positively peachy in that second picture.  That's a little odd…  I promise – they're most definitely a lovely shade of Edgecomb Gray griege.)
I didn't notice the abysmal blankness so much when the living room was in its previous configuration.  But now that it's all (awesomely!) rearranged, you see that wall from the couch (where we most often sit in the living room) and the walls are seriously starting to plead with me for substance.  And, never one to say no to a wall, I'll obviously oblige.
Sadly, I'm not one of those people who can ingeniously lay out frames of several sizes/shapes and – poof! – have the whole shebang look brilliant once up on the wall.  Truth be told, this sort of approach kinda stresses me out (although it looks lovely when other people do it!)  (Yet another example of things I love in other people's homes!  LOL.)  Nope.  I crave simplicity, a) because I'm too lazy to be bothered with anything more complex than straight lines and identical sizes and b) I have a plan in my head, and it looks just like this (via the good chaps at decorpad)…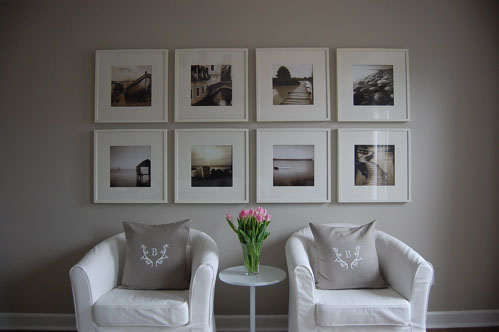 Please note the chairs (oh!  Look.  I have the same Ikea Ektorp Tullsta white slipcovered chairs.)  Please notice the configuration (side table between the two chairs?  Why, yes.  I have that too!)  And do you see that wall colour? (Benjamin Moore Revere Pewter, you say?  Golly, my walls are the next shade lighter on that same paint card.  What a coincidence!)  Yep.  This may as well be in my living room.  (Minus the pink tulips.  I'd actually really love some pink tulips please.)  Yes, if there was ever a sign that a gallery wall was meant to be in my little living room, I think this would be a big neon flashing florescent yellow one.  (This also might be a sign that I should paint my little green side table too.)  (I'll add that to the list.)
For this project, I'll obviously need a trip to Ikea (yay!)  From what I've read so far (and, yes, gallery-wall research is super important) the Ribba frames work particularly well for gallery walls.
And then, the big question?  What to include in those frames.  The obvious answer would be pictures of the cats.  Of course.  :)  And cats may indeed end up in a few of the frames.  Cats, and perhaps a few pictures from our wedding – it makes me a wee bit sad that we haven't put up any pictures from our wedding yet.  (Um, almost four years later…)
So yep!  That's the next project in queue.  To officially begin whenever we make it to Ikea next.  Which could be a ways off still (although I'm always looking for an Ikea-excuse!)  Regardless, it's good to plan ahead, no?  "Glorious gallery wall", you are officially on my to do list. :)
(And little green sidetable?  Consider yourself due for a paint job shortly too.  Blame decorpad for that one.  :)
Leave a comment
Have I ever mentioned how much I love having slip covered furniture?  I love having slip covered furniture.  With two cats, a Sweetie who works in construction, and my bad habit of "working from couch", our furniture gets a lot of abuse love.
So, about once a month, I wash our furniture.  And furniture washing day is an exciting day indeed!  I usually reserve furniture washing for bonus days off (holidays, snow days, birthdays…  that sort of thing.)  (Yes, I'm JUST that much fun!)  Often I'll just wash the cushion covers (since that's where most of the wear-and-tear takes place.)  And then, about twice a year, I'll really roll up my sleeves and tackle it all (getting the base slipcover back on the sofa is quite the ordeal, let me tell you, so I save washing the whole kit-and-caboodle for days when I'm feeling particularly spunky.)
Here's what furniture washing day looks like chez Sweetie and Joy…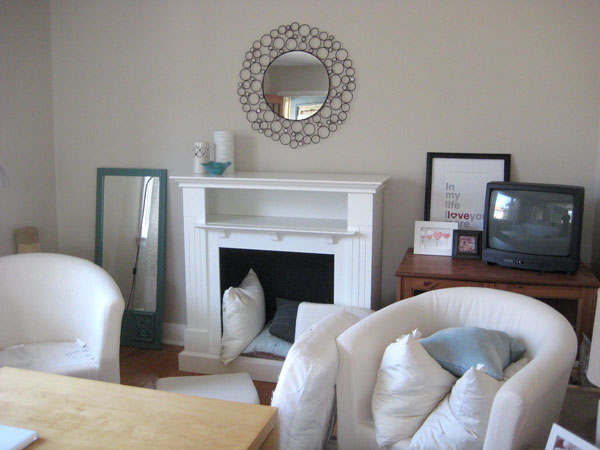 Loki is a huge help, of course.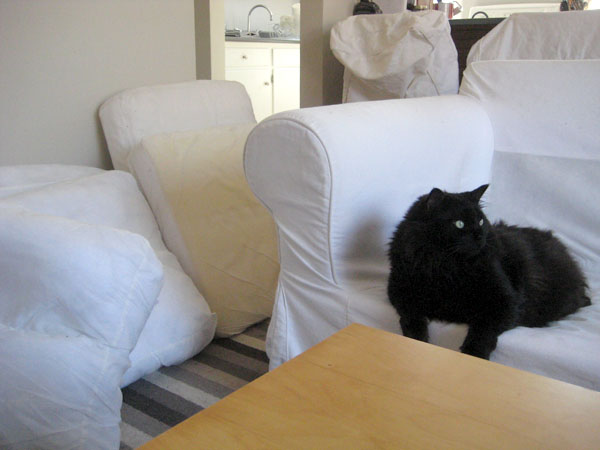 And our bar stools become cushion-cover drying stools.  (I'm a wee bit terrified to put the covers in the dryer.  Did that once.  Things have been a little snug ever since.  Never again!)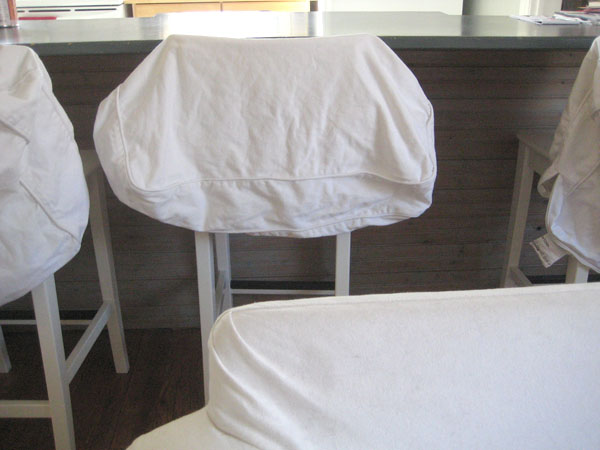 Yup.  That's right.  Furniture washing day creates cushion chaos in our living room. But it's so worth it when everything dries.  Ah, hello, clean sofa.  :)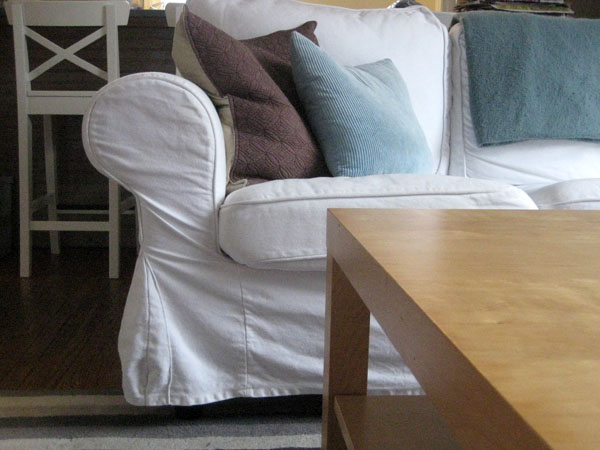 And hello clean chairs.  Yes, don't worry, I love you too.  :)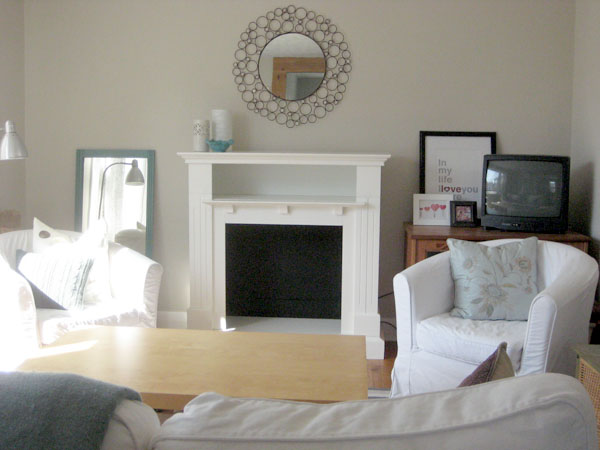 So yes.  Ikea people?  Thank you for giving me the option of a) having white furniture and b) washing said furniture.  I emphatically give Ektrop a hearty two thumbs up!  White furniture is the scariest kind, but, because of you, I'm no longer afraid.  (Although spaghetti sauce near the sofa still makes me a bit twitchy…  I may no longer be terrified of white furniture, but I'm not that crazy.)
Leave a comment