When we moved into this house, Sweetie was quite opposed to having a tv in our living room.  The living room is the first room you see once you've stepped through our front door (well, if you look left it is at least – if you focus straight ahead, like I suppose most normal people would, you see our kitchen) (but if you happen to have a weird crick in your neck when you visit, you might see our living room first) and he said he wanted the living room to be for relaxing and visiting with people.  He didn't want the focal point of the room to be the television.
I fought him on this, and won.  :)  I do most of the cooking, and our house is quasi-open from the kitchen to the living room, and I wanted the option of having tv noise in the background while cooking/doing dishes/puttering around the kitchen.
But, he was right.  We've rearranged our living room a couple of times, and still the focal point of the room is the tv, surrounded by a big blank wall.
Not pretty eh?  The room looks…  unfinished.  And a little silly.  And very tv-centric.  Even if the cats don't seem to care.  I've pondered adding a gallery wall around the tv.  I've tried grouping the tv with other things (oooh!  Maybe a big green star will cleverly camouflage the telly!), attempting to make it stand out less.   But, alas, the tv is, and has remained, the focal point in the room.  :(
Enter: inspiration.  While taking a random chatter-break at work one day (because it's the only way to stay sane sometimes) Clint (friend and coworker extraordinaire) suggested putting a fireplace on the end wall of our living room.  BRILLIANT.  (I have rather smart friends.)  A fireplace would surely become the focal point in the room.  And, importantly, a fireplace would also give us a much better place to hang our stockings at Christmas (we currently hang them from the tv stand) (it's sad, and rather pathetic, but true.)  (Don't tell.)
So, after a wee bit of searching, a fireplace I found, via the fine folk at Kijiji.  :)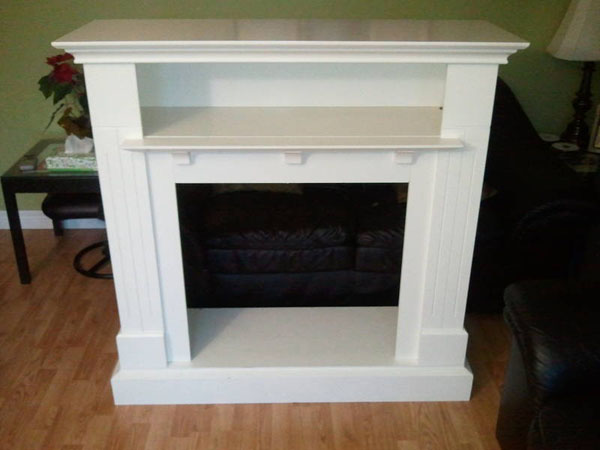 It's not a functioning fireplace (in case the sparkly white insides weren't a tip-off.)  Just a mantel with a non-functioning fireplace hole (technical term.)  But I love it.  And I pick it up tomorrow.  :)
And so, with fireplace purchase imminent, I've proceeded to Get My Pinterest On.  Of course.  Which has yeilded so many brilliant ideas for what to do with that non-functional fireplace hole.
I could fill it with pretty vases and the odd bloom…
I could get Sweetie to chop me some wood and fill it with artfully placed log-ends (as found through Brunch with Darling):
I could go simple and chic, and just add a pretty basket, like the brilliant folk at The Lettered Cottage did:
And then maybe switch things up for the seasons (so clever, and so easy!) like they did here:
Or, maybe I could go the classic route, and fill my fantastic fireplace hole with simple white pillar candles, a la Young House Love:
Or I could just rotate all of the above (and really keep the cats on their toes.)  :)  There are SO many different and lovely options!  (Can you tell I'm excited?)  (Yep – I'm super excited!)  Where will the tv go now?  I'm not sure.  It'll probably end up on SOMETHING in the corner behind one of the tub-chairs, receding somewhat into the background (I hope.)  I'm hoping to find a little refinished dresser or something like that to use as a super cute (and non-pine) tv stand (queue additional scouring of Kijiji ads.)  Or perhaps Sweetie will build me some built-in-like shelving on either side of the fireplace.  Ah!  So much potential for my once sad looking tv-centric living room.  It makes me happy.  I'll keep you posted. :)
Want something equally awesome? Check these out!:
0 comments on "
Is it getting warmer in here? (The art of creating a non-tv-centric living room)

"
Pingback: My faux-fireplace focalpoint (the big reveal!) | Sweetie & Joy