I love my kitchen (I think this might be the third post I've started with that same exact statement.  I guess that means it's true.)  (Or just that I'm very repetitive – also quite possible.)  But… I lust after others.  I won't deny it – it's true.  I know, I know: the grass is always greener on the other side of the gas range.  But I can't help it – I want more.  Maybe it's my icky peel-and-stick-tiled floor or my navy-laminate chipped countertops that make me long for others.  Maybe if I had a dishwasher or a double-sink I'd feel differently.  Maybe my relationship with my kitchen isn't as faithful and strong as I want others to believe.
Pinterest hasn't helped.  Oh no!  Pinterest has enabled this wandering.  Giving me snapshot after snapshot of what I'm missing.  What I could have.  What I need.  Lovely countertops.  Goosenecked pull-out faucets.  Stainless steel appliances.  Tiled floors (oh, glorious tile!)  Open shelving and spectacular backsplashes.  Ample storage.  Sigh.  Yes – if kitchens are my weakness, then Pinterest is my pusher.  I want to stop looking at others, but I can't.  I'm addicted.  I need more.
So, setting all shame aside, here is a peek at those kitchens I long after.  I suppose they're not so different from my own.  Just slightly improved.  Like a puppy who's been house-trained AND brings you your slippers when you walk through the door.  My kitchen is that house-trained puppy, but my feet are still rather chilly.
Here is the kitchen that originally fueled my love for IKEA butcher's block countertops…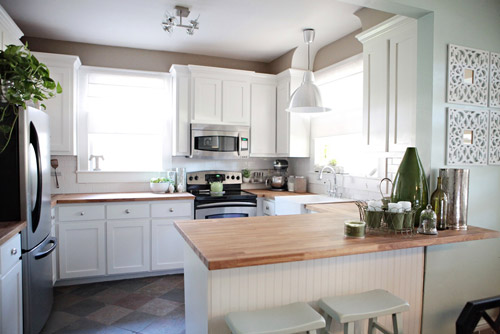 …posted by Young House Love here in one of their Reader Redesign posts.  (Pretty eh?)
And then I saw this post by Dave and Joi from Nuestra Vida Dulce and I fell in love with their dark walls, white cupboards and lovely pink and green accents…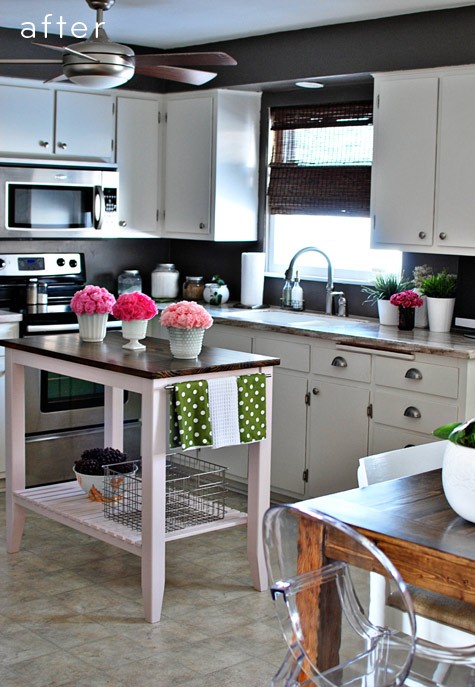 …sigh…
This kitchen doesn't appear to link back to anywhere in blogland (if this is your kitchen, let me know!) but I love everything about it…  The butchers' block countertops, the faucet (ooh!  That faucet!), that these lucky kitchen owners have a dishwasher (says she with pruny dishwater hands)…  And it makes me want to go out and buy pink tulips, like, right now (completely irrelevant, I know.  But just sayin.)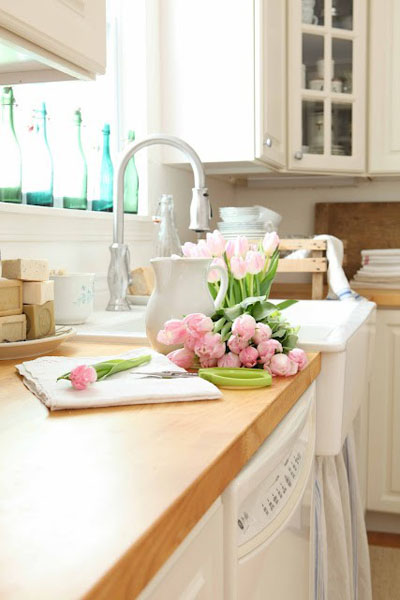 This kitchen via House of Turquoise makes me want to do some totally teal backsplashing…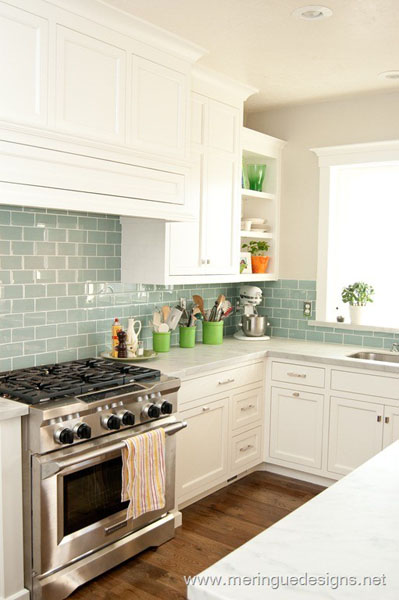 …(it also makes me really really want a big ol' gas stove.  Adore!)
And a farmhouse sink, butchers' block countertops AND open shelving?  Yes please.  :)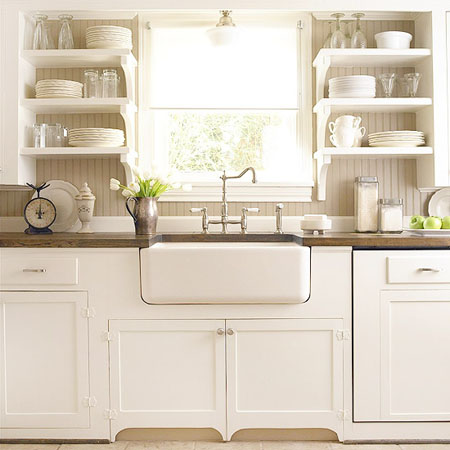 (Again, not sure of the exact source, but pretty sure it came from somewhere here.)
Then there's this kitchen from Modern Jane…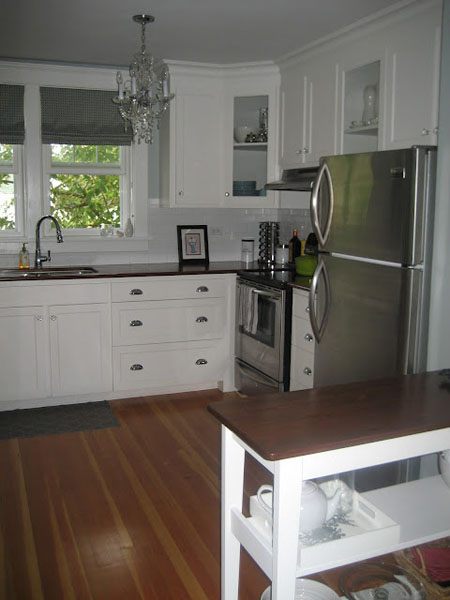 …because I desperately need a chandelier in my kitchen (true story.)  And sparkly glass door pulls.  And a pretty white subway tile backsplash.  :)
And this one…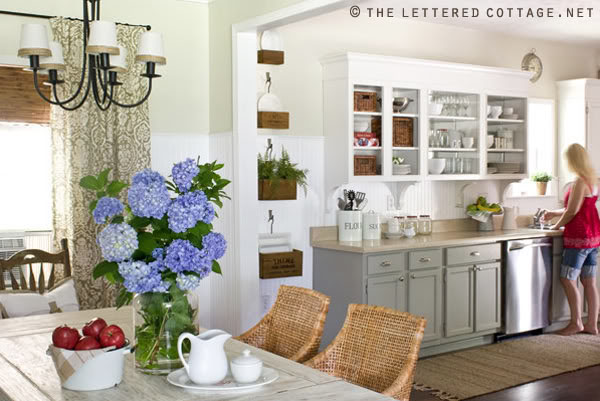 Absolute loveliness from the folk at The Lettered Cottage.  Makes me want to tear off my cabinet doors, install some corbels and beadboard, and paint my lower cabinets gray.  Like, RIGHT NOW.
And there are many many many more. Yes.  I'm lusting over many kitchens.  At the same time.  Does that make me a bad person?  Nooo…  Does that make me love my kitchen less?  Absolutely not.  It just makes me want to tweak my kitchen ever so slightly.  Add a pretty backsplash here.  Replace the countertops with amazing butchers' block tops there…  Maybe add a dishwasher and big double sink and a fabulous new faucet.  Yes – I want to change my humble little kitchen, but these changes will only help it become a better, more fantastic version of itself.  I want to help it develop into all that a little 1940s kitchen can be.  And, maybe one day, with just enough tweaking, it will even bring me my slippers when I walk through the door.  :)
Want something equally awesome? Check these out!: