I know we haven't yet chatted about my bathroom (oh, little loo – how you frustrate me so), so I apologize for skipping the requisite introduction-post, but suffice it to say (if you hadn't already figured it out) that, like the rest of our house, it's small.  Like, really small.  Tiny.  Minute.  Itty-bitty.
Whenever I watch home-buying shows (you know, House Hunters, Property Virgins, Urban-Suburban…) I always laugh (guffaw, if you will) whenever prospective home buyers walk into a bathroom and emphatically declare "oh.  It's a little small."  Guaranteed, ours is likely smaller.  But, it's functional.  It is 5×6 feet (including the tub) of perfectly-planned space intended to suit the 1940s family (and I'm sure it served the original owners of this house just swell.)  And it suits me and Sweetie just fine as well.  There is a tub.  There is a sink.  There is even a toilet squished into the corner (and some cupboard space to boot.)  Can we both be in there getting ready at the same time?  Well, no.  But we've adopted a morning-routine staggering approach that works just dandy for us.  :)
With a tiny little loo comes very little space for extra… fluff.  I've always longed after those bathrooms with the gorgeous ruffled shower curtains a la the Flamenco curtain from Antropologie, or the lovely and appropriately named Ruffle curtain from the brilliant folk at Pottery Barn.  But when space is at a premium, extra rufflies and layers just take up additional room.  Hence, I've always opted for the basic (and less sought after) PVC shower curtain.
I know.  Gasp.  There are lots of people who believe that vinyl shower curtains should only be used as liners.  There are many who feel that they're tacky and passe and reminiscent of bad 1980s decor.  To these folk, I nod in agreement and hang my head just a little in shame.  However, when you're faced with a 5×6 foot loo, one must do what one must do, and just make the best out of the situation.  I have done all that.  I have found Joy.
I actually located Joy several years ago when we were still in our first house.  It too had a tiny little loo.  I found her at Zellers one afternoon while wandering the bath aisle, and squealed just a little (being the big geek that I am, I'm always instantly drawn to anything bearing my name.)  I purchased my first ever Joy shower curtain that day.  I've purchased several more since then.  And I purchased two yesterday – with my beloved Zellers-store soon to be transformed into a Target, one can never have too many reserve Joy shower curtains.  You know, just in case of the inevitable (and unthinkable): discontinuation.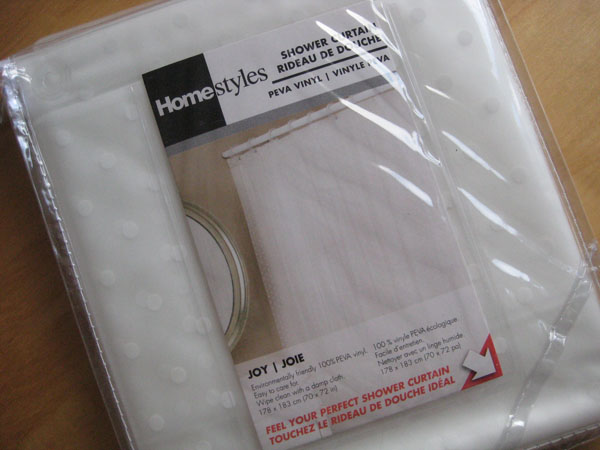 Joy is everything I'd expect her to be.  She's semi-transparent (perfect for a tiny, badly-lit little loo.)  And she's spattered in happy white polka-dots.  She's simple, but pretty, and a little bit of fun.  If I can't have a Flamenco-ruffled-pretty-flowy fabric shower curtain, Joy is the next best thing.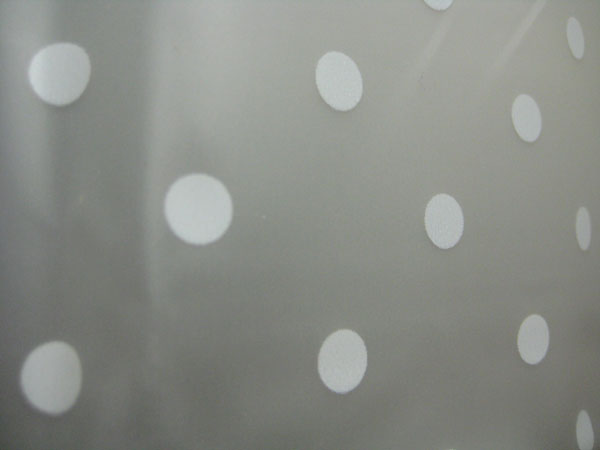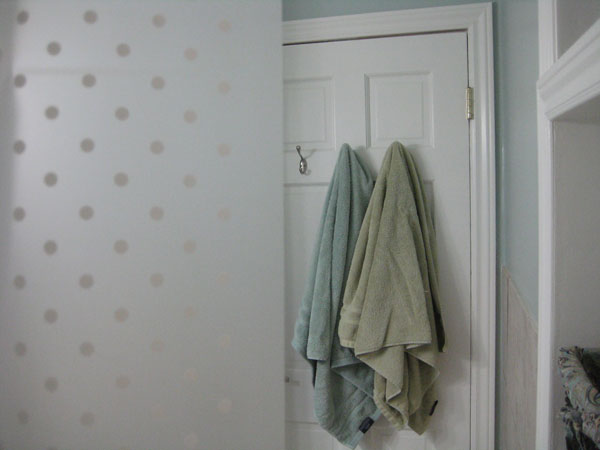 And, in the early morning, when I'm staggering into the loo semi-blinded by the first light of day, Joy does make me happy.  Joyful, perhaps.  Or at least as content as one can be at 6am on a Monday morning.
Want something equally awesome? Check these out!: