First admission: our sunroom isn't really purple.  I'm pretty sure it's supposed to be gray.  But at certain points in the day (ie: about 75% of the time) the walls have a definite lavender look.  I'm not against lavender, per se.  Lavender can be really really pretty in some spaces (I've threatened to paint our bedroom lavender more than once, in fact!) (Sweetie says no.)  But gray (when gray is intended) should indeed be gray.  Purple-ly gray has always looked like a mistint to me.  Even if it's perfectly intentional.  At least in our sunroom it does.  It drives me a little bonkers.
Second admission: our sunroom isn't really a sunroom.  Or maybe it is.  I guess it depends on how strict you are with the definition of sunroom. Our sunroom is an addition one of the (many) previous owners of this house tacked onto the back of our home.  It has three windows, which makes it sunroom-like, I suppose.  But the windows aren't really large enough to be truly sunroom-esque.  It's a strange little room really.  I think it was constructed as an attempt to add more square footage to the house (which it does.)  Unfortunately, it's a long narrow room, so while it adds MORE space, it's not entirely USEFUL space.  Right now it mostly functions as our back entryway.  Let's call it a mudroom sporting a miscellaneous couch, a desk, and my piano.  (Because every mudroom needs its own piano, of course!)  I'm hoping a quickie facelift will make it prettier (if not more functional?)  (Prettiness leads to function, right?)
Third admission: I would much rather be working on our kitchen floor than painting our sunroom right now.  But, I'm still making the official decision on what to do with the floor (yep – I'm hopelessly floor-fickle) so in the meantime, the sunroom's number has been pulled!
All that out in the open, could I interest you in some befores?  Just so you can see where I'm starting?  Here you are.  :)
Here's the view into the sunroom from our main hallway.  And a cat.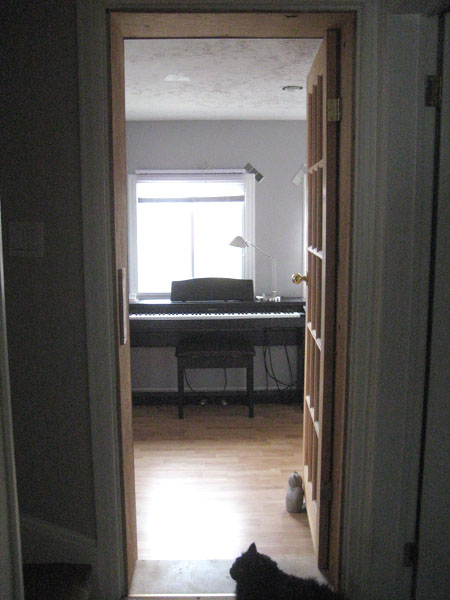 Next to the piano (like, one centimetre away), is a really cluttered (soon to be relocated) desk…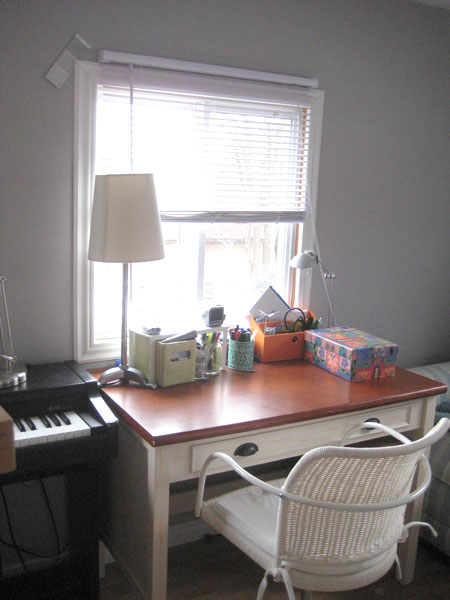 …and next to the desk, squished onto the side wall, is the comfiest couch ever.  EVER.  (Jacob agrees.)  Which is why it's back there.  I can't bear to part with it, even though we don't have anywhere for it really (except the sunroom.)  Come over and take a sit on it for a sec.  You'll understand.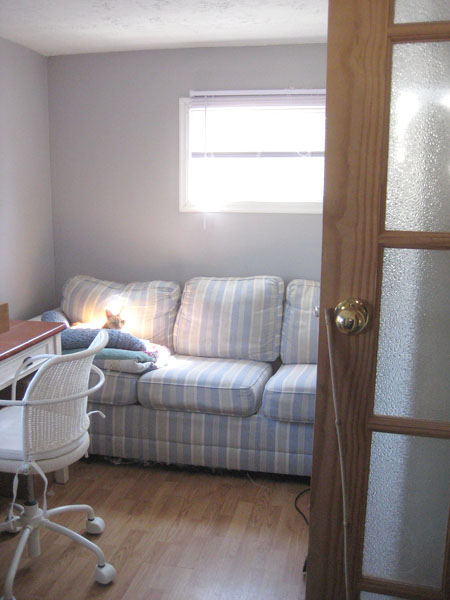 Something that drives me a little crazy about the sunroom?  Check out the blinds.  Specifically where they're mounted…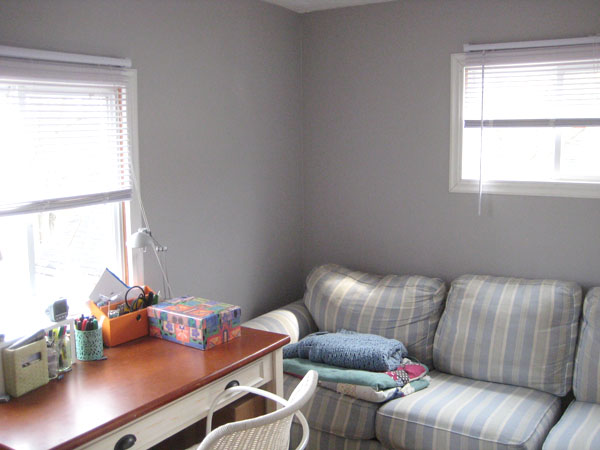 Yep.  All the blinds in the room are mounted above the windows.  It's not pretty.  I can't wait to tear those down.
Oooh!  And let me show you the ceiling for a sec.  :)  Patching began a couple weeks ago with caulking the seam where the walls meet the ceiling alllll around the room.  Why?  Look…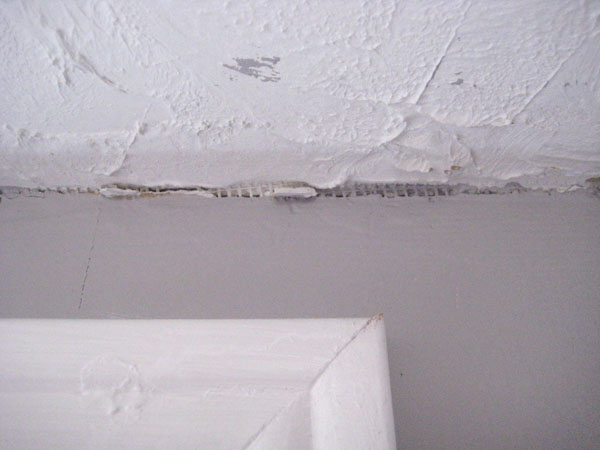 Yep.  Whoever finished this room didn't really excel at taping/mudding.  (Although, that said, neither do I LOL.)  You can see a steady band of mesh tape (unmudded) alllll around the perimetre of the room.  (Or at least you could until I got my caulking gun out!)
The good news?  Once this room is painted, the entire main floor will be done.  Done!  Hooray!  Then it's on to the bedrooms.  And the basement.  And the front porch.  (Someday I'll buy a house that comes pre-painted.)  (I hope.)  (Ooooh!  And a dishwasher!  I'd really like a house that comes with a dishwasher please!)  (Unrelated, of course, but very very true.)
Want something equally awesome? Check these out!:
0 comments on "
Could the next project in line please stand up (yes, that would be you, purple sunroom)

"
Pingback: The pea soup green slumber chamber (the befores) | Sweetie & Joy

Pingback: Sunroom inspiration (because, let's face it: dark paint is scary) | Sweetie & Joy

Pingback: Sunroom progress to-date (a little less purple plus a lot more organized equals one happy little sunroom) | Sweetie & Joy