Hello!  Sooooo…  I'm flip flopping around here like a perch in the woods.  As explanatory background information, let's take a look at my existing kitchen for just a sec, k?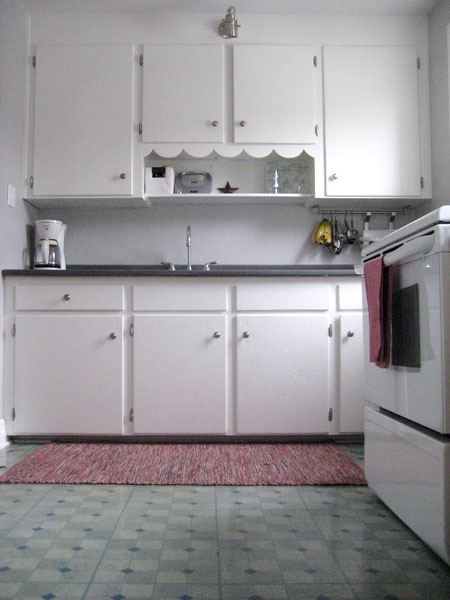 Ah.  There she is.  In all her ugly-floored glory.
Remember this post where I ooooohed and aaaaahed about how much I looooove butchers' block countertops?  Yep.  Me too.
But then, THEN I discovered inexpensive easily-installed hickory-look Allure flooring.  Which led me to thinking (in THIS post) that maybe a black countertop could be in my future, a la my inspiration image (since, in my head at least, wood-look floors plus a wood countertop just seemed a little too… woody.)
But yesterday, I flopped.  Or flipped.  Or flip flopped.  Whatever.  I changed my mind (let's go with that!) yet again.  You see, I found a post about painted plywood floors.  Yeppers.  And after just a few seconds with my buddies at Pinterest, I'd found a plethora of painted plywood prettiness.
Need proof?  Lookie here…
Painted and stencilled plywood from Creek Bed Threads.  Sweetie and I could totally do this.  Love!!!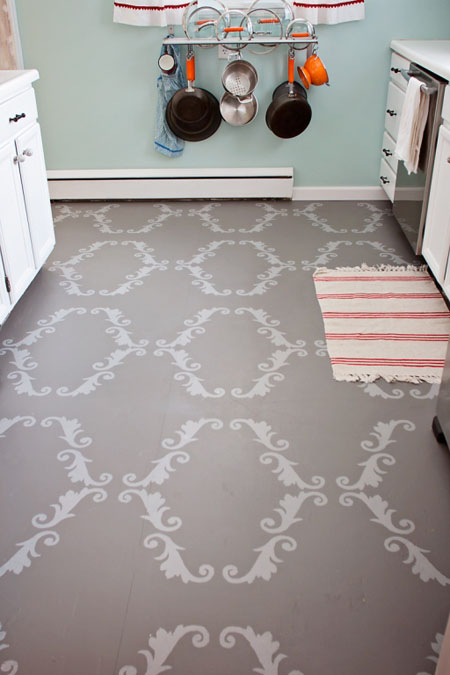 Or there's this one too (from smart the folk at Back to Domestics.)  Also painted plywood.  Also stencilled.  Also fantastic!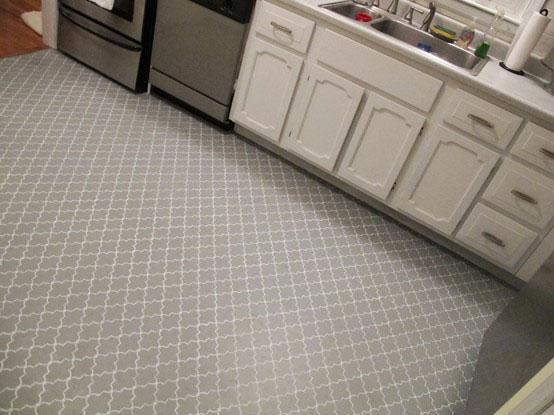 These are actual hardwood floors, I think (not plywood) (brave souls!) but I looooove the gray and cream checkerboard pattern (from Better Homes and Gardens)…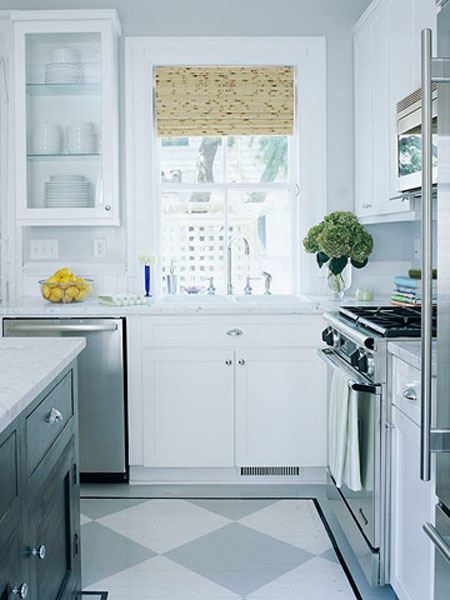 Oooooh.  And I adore this honeycomb patterned painted floor from Apartment Therapy…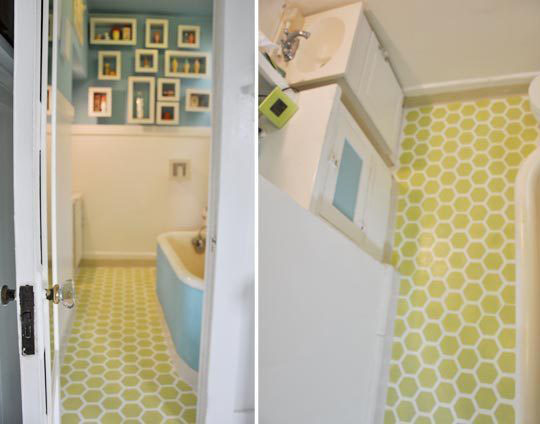 And just look (omg LOOK!) at this simple and lovely painted plank plywood floor from Frugal Farmhouse Design…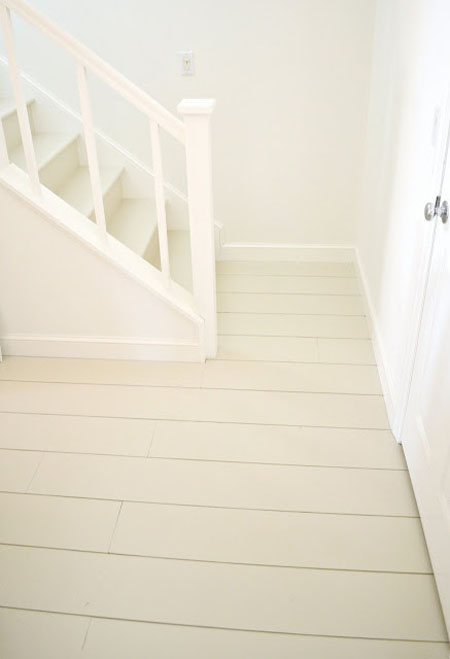 Swoon, eh?
So I brought this all up with Sweetie (who, being a boy, is indeed a big fan of plywood) and after a brief chat and a few pics, he's on board.  It'd be even cheaper than the inexpensive Allure hickory-look flooring I'd found.  And, well, despite that the Allure flooring claims to be easy-peasy to put down (and I've read many testimonials agreeing with this) my experience with installing it at our last house was neither easy nor peasy at all.  Once it was down, it was awesome.  But getting it all down with the seams snug and everything stuck together with the uber sticky glue strips while cats were circling helping the whole time?  Bad combo.  So painted plywood is my new plan, even if just temporarily (ie: a few years) until we can afford nicer flooring for the kitchen (at which point we'll have a nice sturdy plywood subfloor to lay everything on!)  The perfect plan?  I think so!  :)
And you know what this all means, right?  If we go with the plywood floors, my butchers' block countertops are back in.  At least for now.  Unless I change my mind again.  Which could happen.  Maybe.  Or maybe not.  We'll see.  (Earlier perch reference?  Yup.  That's me.)
Want something equally awesome? Check these out!: