Let's revisit the wonderful world of kitchens again, shall we?  :)  I know – sigh, groan…  We've been here before.  A couple of times.  But I spend A LOT of time in my kitchen.  It's the first room I stumble to when I leap (er, blindly crawl) out of bed every morning (since that's where my beloved and cherished coffeemaker resides.)  (Dear coffeemaker: I love you.)  And it's where friends and family gravitate to whenever they're over (I'm not entirely sure why – there's a big comfy couch on the other side of the island, but everyone always ends up in my kitchen) (although really I don't mind. :)  It's where I make the most awesomest brownies ever (and a mean orzo salad too.)  It's where I sing (like a big idiot) to the radio (and sometimes dance a wee bit too) while doing dishes.  And it's where the fridge resides (and inside that fridge?  Wine.  'Nuf said.)  All in all, my kitchen is a pretty darn fantastic place.  It's still not the prettiest place ever (although I'm working on that!), but it otherwise rocks.  Need a kitchen-reminder?  Here she is (original cupboards and cutesy little 1940s scalloped trim and all.)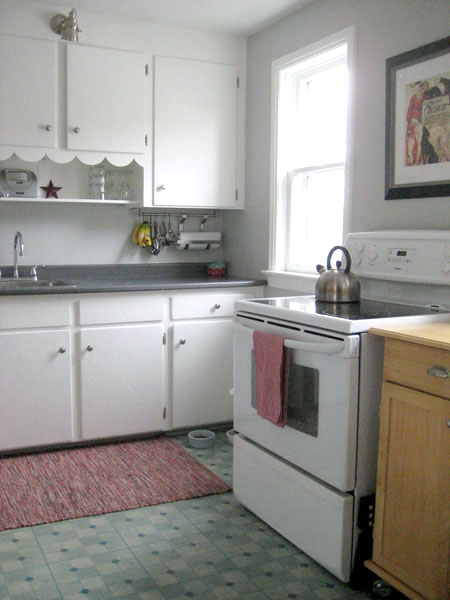 Yep.  Despite that the floor is still hideous (change coming soon!  I hope…) my kitchen makes me happy.  :)  Is it any wonder, then, that I'm mildly (ehem, majorly) obsessed with other 1940s kitchens?  Might I interest you in a peek into my kitchen world?  Let's take a looksee at other older kitchens, via the good folk at Googlesearch…
I love this kitchen, with its old cupboards but modern stainless steel appliances, courtesy of Casapinka.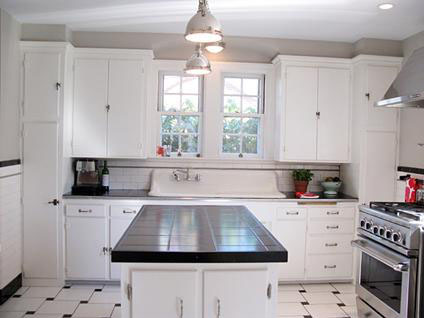 (And that floor makes me super happy too.  Oh!  And, in case you haven't noticed it, looking all lovely back there in the background, just look at that SINK!  Sigh.  Goodness me…)
And check out Carolyns 1940′s kitchen makeover, via Apartment Therapy: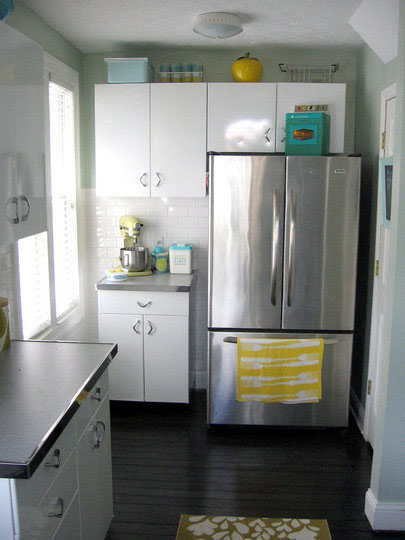 Love love love!  And the dark wood flooring kinda makes me want wood floors in my kitchen.  Again.  (I'm seriously never going to make a final decision regarding floors at this rate, you know.)
But I saved the best for last.  Are you ready for this?  Here's my favourite of the bunch via The Home Project…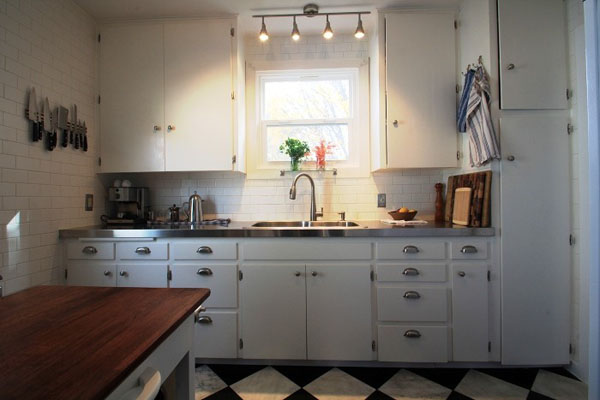 Oh swoon.  Do you see what I see?  Stainless steel countertops, the most beautiful marble and granite floor ev-ver AND lovely old original kitchen cabinets.  So perfect.  I want to sing to the radio (and dance just a little too) while scrubbing pots in THAT kitchen, please.
So there you go – my top three picks (for now) for older kitchens that have been reno-ed (but retain their original and awesome charm.)  Here's hoping that one day someone finds my 1940s kitchen project just as inspiring!  Until then, I'm pretty darn pleased with it, at least.  (Just don't look at my floor.)
Want something equally awesome? Check these out!: