I don't barbecue.  Propane plus flames equals a terrifying combination if you ask me.  (Yep – I'm that girl.)  Luckily, Sweetie loves to barbecue.  And not just in the summer – he's barbecued in the snow, the freezing rain, and in torrential rainstorms…  He is quite a barbecuing trooper, truth be told.  (And I'm a very lucky girl.  :)
My (well, our) favourite grilled grub?  Hamburgers.  Joy-burgers, to be exact.  Just a couple ingredients, but infinite yumminess.  Once grilled to perfection (a la Sweetie) they look like this…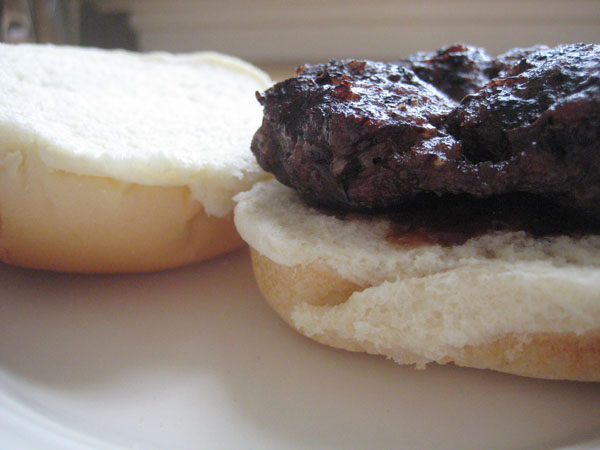 Here's how all that deliciousness happens!
INGREDIENTS
-1 large pound of extra lean or lean ground hamburger (aside – am I the only one who uses the term "a pound of hamburger" to refer to the package and not necessarily the actual volume/weight?  Sweetie thinks this is weird.  Growing up, any package of hamburger, even if larger than a pound, was "a pound."  SO, for this recipe, you can either use a traditional [ie: actual and, well, normal person] pound, or a large-ish pound [which for me means about 0.6kg])
-1 egg (lightly beaten)
-1-2 tablespoon of crushed soda biscuits (another aside: I love soda biscuits) or oatmeal (if you don't have soda biscuits on hand) (but I always have soda biscuits on hand)
-1 tablespoon secret ingredient (keep reading for the dramatic reveal!)
METHOD
1. Mix all four ingredients in bowl, and shape into tennis ball-sized balls (I usually get about 5 hamburgers from a large pound of ground beef.)
2. Flatten burger-balls between your palms, making the centre thinner than the outsides (this helps them cook better!)
3. Grill until fully cooked, inside and out (an undercooked burger is a sad burger)
4. Prepare on a bun (with lots of condiments.)
5. Eat.
6. Rub tummy and smile.  :)
And that secret ingredient?  (Queue dramatic drum roll…)
…It's Montreal steak spice!  Which looks like this: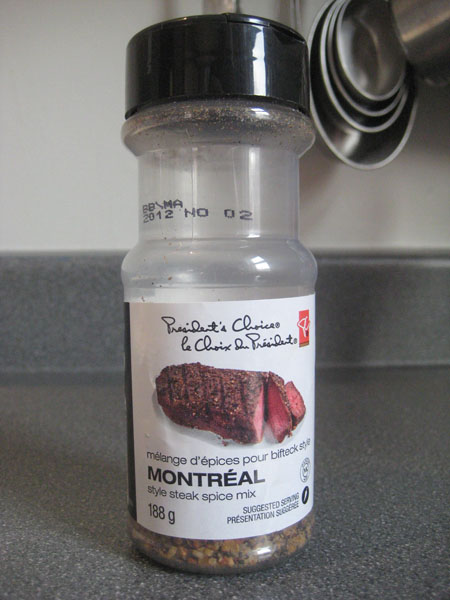 This is the President's Choice version (available at Loblaws, Superstore, Zehrs and No Frills stores, and maybe others!), but Club House makes an identical spice (and I'm sure others do too – I think I've even seen it at the Bulk Barn in the past.)  This stuff is AWESOME.  And it will make your hamburgers peppery and garlicky and amazing.  Really really.  Really.  Leaving you with this…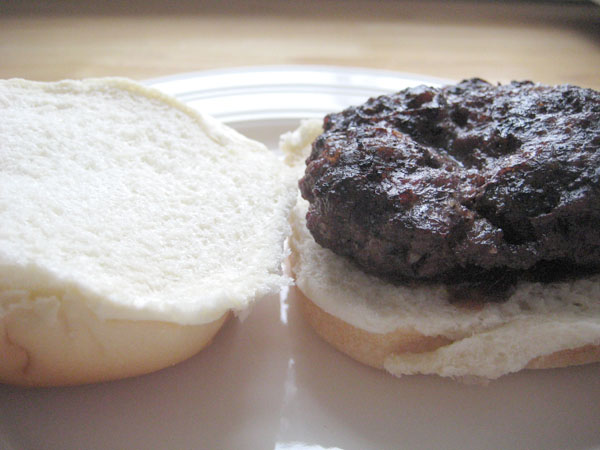 Yum…  That there is summer on a plate, if you ask me.  :)
So there you have it!  My (no longer secret) barbecued hamburger recipe.  Perfect for a summer supper (I love my burgers with plain potato chips on the side, truth be told, but the healthy adult in me recommends a lovely side salad.)  (Unless you love plain potato chips as much as I do!)  And equally perfect for a blizzardy day.  So long  as you have a die-hard griller willing to brave the elements (like my Sweetie.)  (I really am a lucky girl!  :)
Want something equally awesome? Check these out!: