I have a love/hate relationship with the colour yellow.  I love it in other people's houses, but I've never had much of a hankering for adding it to my own.  My friend Jess LOVES yellow (her eldest son's nursery was yellow and it was such a cheery little room!)  My friend Shawn (who is an absolutely fantastic photographer and artist btw – check out some of his amazing work here and here) has been telling me that yellow is the way to go for years.  Being the rather awesome friend that I am, I've pretty much ignored all yellow yammerings from either of them in the past.  (I'm a bit stubborn like that.)  But then I found this…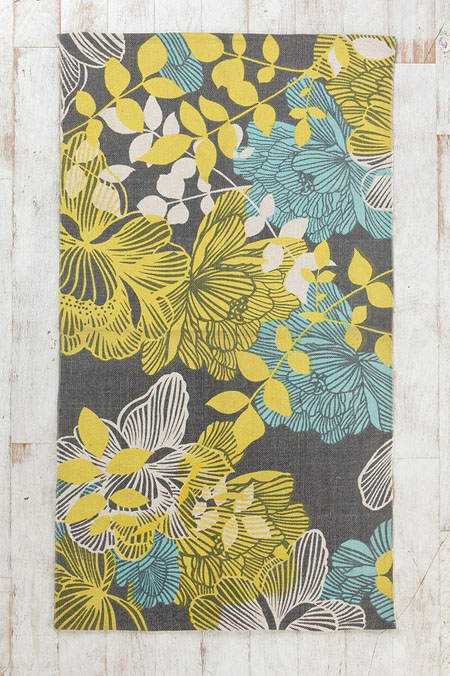 …and realized that this lovely gray, yellow and teal rug (courtesy of Urban Outfitters) would look pretty darn good in my little gray kitchen.  Which, consequently, would mean bidding the red accents adieu.  And, well, maybe replacing them with something… sunnier.
Just as a reminder (just because my kitchen, even sans new rug, makes me happy!) here's what I'm starting with…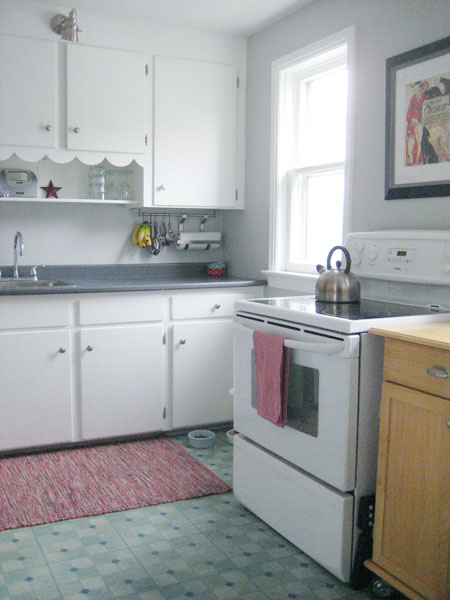 Don't get me wrong – I actually rather like the red.  But see the bananas in the background?  See how pretty the yellow looks against the gray?  Yep.  I'm thinking it's most definitely a sign.  (While I don't necessarily listen to my friends, when fruit makes a suggestion I'm all ears.)
And really, all I'd have to do is switch out the carpet (and I've already found the replacement!) and the tea towels (Etsy has lots of cheap and cheerful yellow tea towels) and maybe the print above the stove too (I really do miss having a mirror over my stove, so I'm thinking I'd like to try that again…  maybe one with a white wooden frame this time.)
And, if I'm feeling extra fancy, maybe I'll get a yellow kettle.  Maybe.  :)
My other motive for the new rug?  I'm kinda hoping that the teal colour in the rug will make the icky teal peel-and-stick tile floors look a little better.  Maybe even like they were a deliberate and fashionable choice or something like that (even though we all know I can't wait to replace them.  Eventually.)
It's wishful thinking, I know.
Regardless, my kitchen is a happy place, and yellow is most definitely a happy colour!  All in all it seems like a pretty good match to me.  And I'm guessing that my bananas would likely agree.
Want something equally awesome? Check these out!: