I ADORE fall.  Like, I'd hug it if I could.  Absurd, yes, but true.  It's my absolute favourite season (for reasons I divulged a bit here.)  I just wish it lasted longer…  Here in Southwestern Ontario we seem to go from super hot/humid/gross/summer temperatures, straight into a measly 2-3 weeks of perfect and amazing fall-like weather (bliss!), to snow/cold/wintery/icky weather far too fast.  Mother Nature is a bit cruel that way.  But I appreciate the short-lived autumn loveliness nonetheless!
With the official dawn of fall this weekend (hooray!), I officially engaged in Project Fall-er-ize.  What does this all entail?  Let me show you!  (And yes, I'm ridiculously excited about all this – it's strange, I know.)  There are 4 official steps…
1. Mums make everything fall-ier
I adore mums.  Or, specifically: yellow mums.  So cheery!  So happy!  So exceedingly fall-ish!  Sweetie bought me two little pots of yellow mums last week.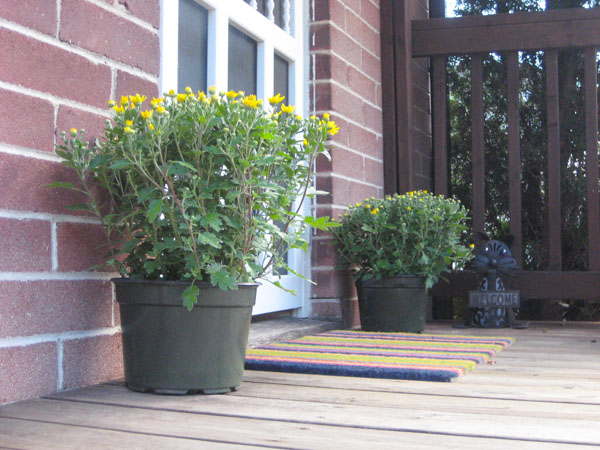 They're not super huge, but neither is our porch.  And they're a little sad-looking right now, but you just wait till these puppies open up – it'll be like a big explosion of yellow awesomeness.  They're perfect!  (Although I may see if there's some way I can snazz up the boring basic black plastic pots they came in a wee bit.  Crafting project of some yet-undetermined sort to follow?  Possibly.)  :)
2. The big quarterly purse-swap
I'm not one of those people who has a purse for every outfit (although I'd really like to be.)  Instead, I take the lazy route: a purse for every season!  And fall makes me happy because I absolutely adore my fall handbag.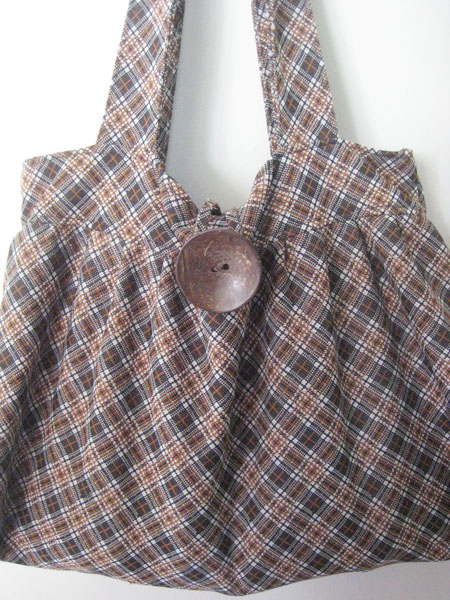 The orange and chocolate brown…  The big wooden button…  Swoon!  Doesn't this just scream "hello fall!"?  It was made from an old skirt (hooray for recycling!) by amazing etsy-er Shannon at Shanionie.  I've since purchased several other handbags from her…  and will definitely be back for more!
3.  Is that apple pie I smell?  (Aka making the house smell fall-y)
I loooooove baking, and I love the way our house smells post bake-fest (a bi-weekly event, of course.)  But sometimes I cheat just a little.  This weekend, in celebration of fall, I started a new Baked Apple Pie cube in my Scentsy.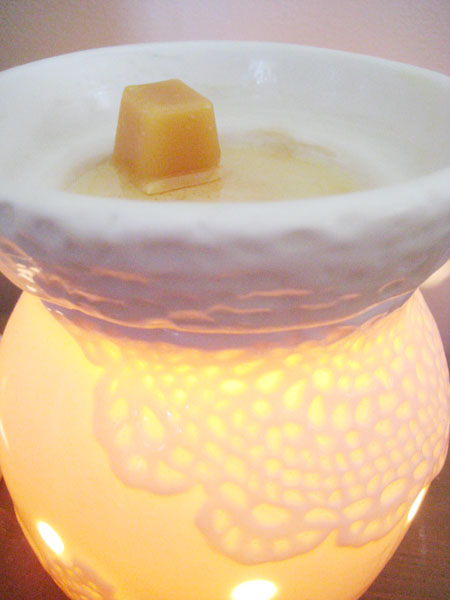 My house now smells like a delicious apple pie-making factory (sans apple-peeling and dough-rolling thankfully.)  Yummm.  It's the perfect fall scent.  :)
(PS – I swear – no walls in my house are pink!  Lesson learned?  Never wear a fuchsia hoodie while taking pictures of your Scentsy.)
4.  I like it so I'm gonna put a wreath on it!
(I'm pretty sure somewhere Beyonce is cringing right now.)
I've had my fall wreath for many many many years.  It's sun-faded, and half the leaves/berries/doodads have fallen off, but I still absolutely love it.  The (now less-vibrant but still rather lovely) orange and green and brown colours make me happy!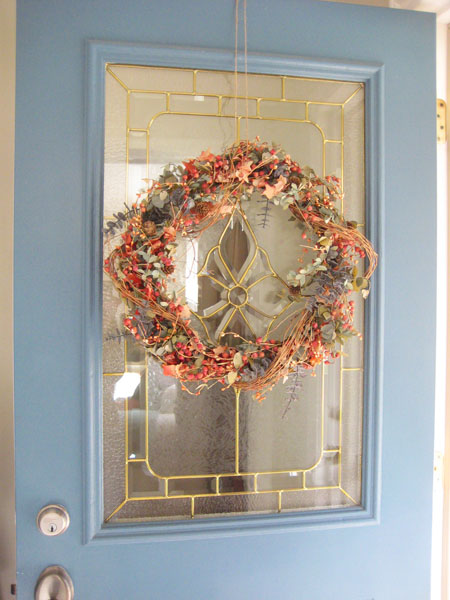 My front door is painted Benjamin Moore's Schooner btw.  It's a bit darker/bolder/prettier in person than in the pic above.  I think it looks lovely with all that (slightly faded) fall wreathiness!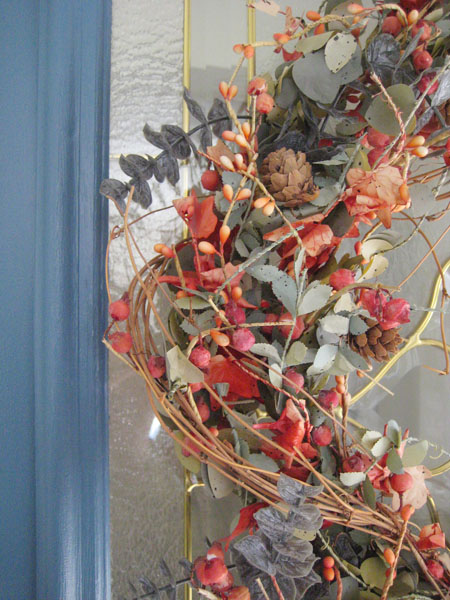 And tada!  Poof!  Weekend fallerization project complete.  :)  Come October (so, well, next weekend) there may be some (k, lots of) pumpkins added to the mix.  (Truthfully, Sweetie and I have a weird pumpkin-obsession.  Growing, carving, seed-roasting…  Just another reason I adore fall!)  In the meantime, I'm going to enjoy this likely too short but lovely little fallish spell we're having.
And maybe hug a tree or two too.  While wearing my fall purse.  :)
Want something equally awesome? Check these out!: