Despite that I love our dining room (wait – have I ever shown you our dining room?  Hmmm… I may have skipped that.  K!  Post to follow on that shortly!) Sweetie and I most often eat at the island that divides the kitchen and living room (well, when we're not enjoying dinner in front of the telly, that is…  shhhhh…  don't tell…)  Eating at the island is just easier and closer to the kitchen than eating in the dining room (since, well, that 10 extra feet ALL THE WAY over to the dining room is just way too far to go for casual meals when it's just Sweetie and me.)  Don't get me wrong: I absolutely love our dining room (which is why I'm super surprised I've never done a dining room post) and we eat in there whenever company is over, but if it's just Sweetie and me (like it is 99.9% of the time) we just eat at the island (or, um, in front of the telly.)
The stools on the living room side of the island are AWESOME.  I adore them.  They're Ikea's Ingolf stools (bar height) and I think they rock.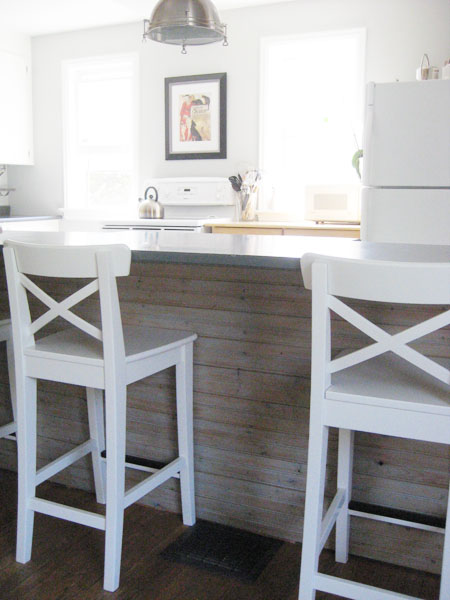 BUT, they're far too cumbersome for the kitchen-side of our island (since there's no overhanging countertop to push the chairs under there.)  For a while we tried the little white piano stool I scored a la Kijiji a while back…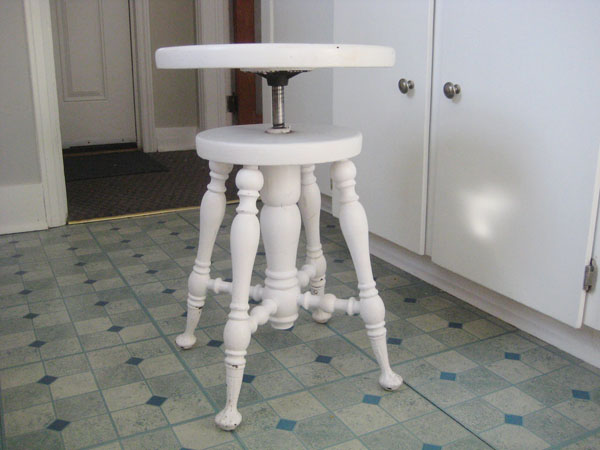 …and while I LOVE my pretty piano stool, I didn't love it in the kitchen (and plus Sweetie and I are different heights, and he was always screwing the seat down, while I was screwing the seat up, and it was just a big pain in the tooshy, truth be told.) (Ha!  Get it?  Pain in the tooshy?  Sitting?  Chair?)  (Yes, groan.  I know.  K.  Carrying on…)
Enter: my parents.  Well, actually, enter: my grandparents.  While visiting last time I was home, my parents offered me this…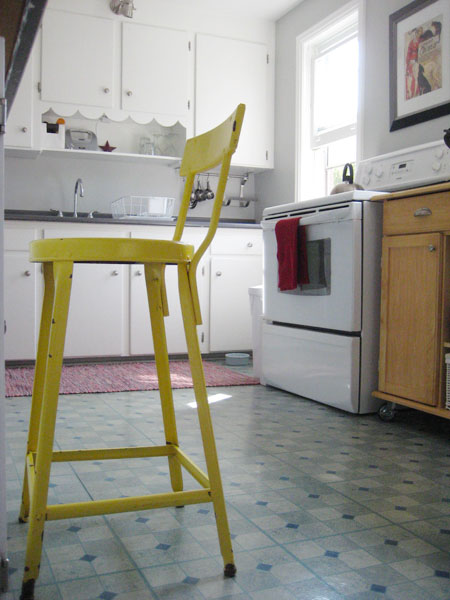 …and I did a ginormous (and rather embarrassing) happy dance right there on the spot.  This metal bar stool used to reside in my grandmother's little 1940s kitchen.  And then it migrated to my parents' home at some point.  And now it lives in my kitchen.  And it's perfect.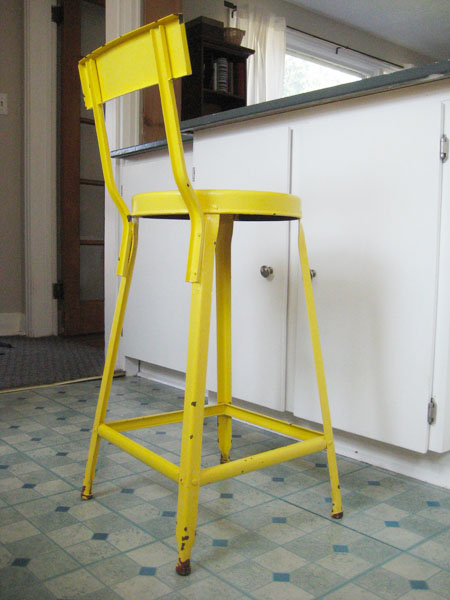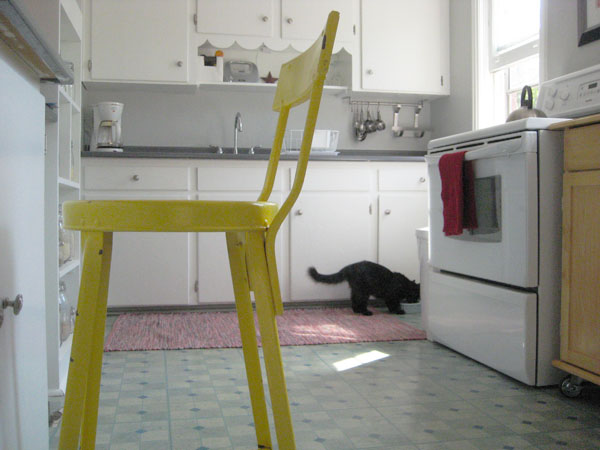 Am I going to paint it?  Oui.  It's been a long time since this lovely little stool was last painted, and some of the yellow paint has chipped off at the corners and such.  Being my indecisive self, I haven't officially decided on a colour yet, but it may end up either pistachio green or (big surprise) teal.  Because I adore teal (in case you hadn't noticed!)  And, seriously, I can't help but be inspired by Young House Love's teal-coloured bar stools…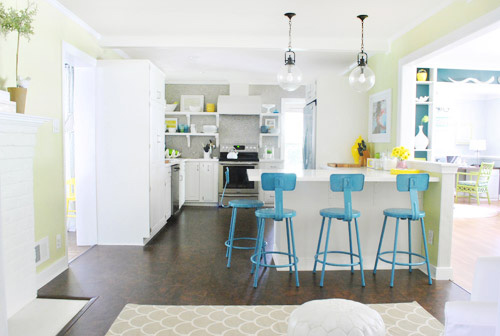 Squeal!  Pretty!  :)
Further updates on the fate of my cute little vintage bar stool to follow!  But in the meantime, Happy Labour Day Weekend to everyone out there!  And welcome September!  (Dear September: I love you.)  I suppose this means I should get on all those September resolutions eh?   Hm, k.  Off I go to work on our basement…
Have a fantastic Labour Day Weekend!  :)
Want something equally awesome? Check these out!: