Let's chat about my kitchen floor again, shall we?  I mean, it's been at least a good month since I last obsessed over my floor (publicly at least…)  So, all thing considered, I'm actually way overdue for a kitchen floor post.  :)
Today's kitchen flooring option for consideration?
Checkerboard.
Yep.  I'm thinking about going with classic black and white tiles now.  Why?  In all honesty?  Cost.  I found peel and stick solid black and solid white linoleum (or whatever peel and stick-ers are made out of) tiles at Home Depot a couple days ago for about 50 cents each.  At that price, I could redo my entire floor for about 50 buckeroonies!  As you can imagine, my head has been a-whirlin with the possibilities.
Just to remind you of how dire my floor situation is, here's a shot of my kitchen as of this morning (in all her ugly-floored glory)…
I'm not necessarily looking at the peel and stick checkerboard option as a permanent solution, but it would be a super cheap fix while we're saving up for (and, well, deciding on) whatever our permanent floor will be.  And it would be EASY to put down.  If I don't go on a diagonal with the tiles (or anything fancy-pants like that) and just stick to a plain old grid pattern, I could simply use the existing peel and stick tiles as a guide.  I'm guessing…  two hours tops to put the entire floor down.  Maybe.  If that.  We're talking instant gratification to the tune of $50.
BUT, (as always) I have some reservations.
Reservation #1: I've read that the checkboard pattern shows EVERY spec of dirt that falls on the floor.  And I can imagine this is very true (particularly with the white squares.)  Not that I'm against religious sweeping and washing of my floors – just call me Susie Homemaker because I'm a little OCD about that sort of thing.  But I'm wondering if floors that show every single crumb (or piece of cat fur) that falls might push me over the edge.
Reservation #2: My kitchen is PRETTY.  And I want it to stay a pretty little spot (it makes me happy!)  The black and white checkerboard might be a little too… busy and loud for me.  The last thing I want is a floor that screams "Helloooo!  Welcome to our house!  Look at me!  I'm a checkerboard floor!" every time someone walks through our front door.  (Nobody likes being hollered at by an overbearing floor.)
Reservation #3: Maybe I should just hold out for the floors I really want (you know, the ones that I haven't yet decided on) rather than settling for a temporary fix for the time being.  Although, that said, with potentially only a two hour and a 50 loonie investment, why not make things BETTER for the next little bit while waiting for the flooring I really want?
Hmmmm…  Sigh.  I'm undecided.  Of course.
But, in lieu of an actual decision, here are some black and white floors that I do indeed love!
From Brown Button…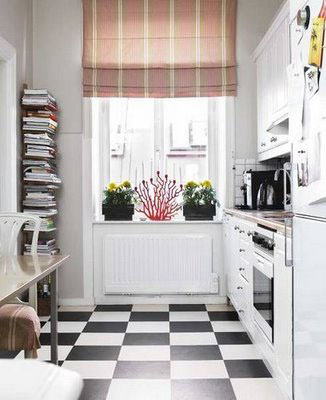 …this gives me hope that a black and white checkered floor could indeed look serene (and not screamy!) in my space.  :)
And I love this diagonally-laid floor, courtesy of the Marion House Book…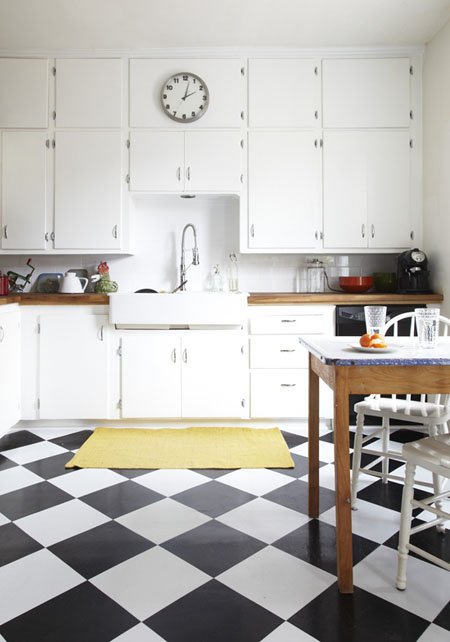 …coupled with the older cupboards, this makes me think a checkerboard floor could in fact work in my space!
And here is a different take on the traditional checkerboard pattern that I love, from my fellow Canucks over at The Sweetest Digs…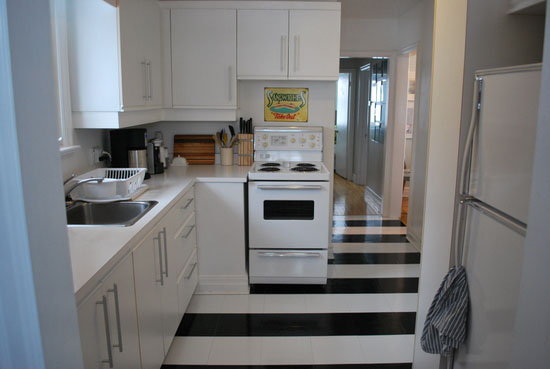 …they used the exact same inexpensive peel-em-and-stick-em tiles that I'm contemplating from Home Depot.  It's not a traditional checkerboard pattern, but I absolutely adore how their floor turned out!
So…  all that loveliness aside, will a black and white floor be in my future?  I'm undecided.  (Yes, big surprise.)  I adore all of the above floors (A LOT) but I'm just not sure if it'll look as nice in my space.
(Do you see yet another kitchen floor post coming in the future?  Yep.  Me too.  This is definitely not the last time we'll be chatting about my floor…)
Want something equally awesome? Check these out!: