I consider myself to be super crazy lucky (which is completely different from being super crazy, btw) (although sometimes I think I'm a little of both) because I have truly amazing friends.
Of particular importance is my Jess (I introduced you to her a bit back here.)  She was once my roomie (way back during our ridiculously fun/tumultuous/Ally McBeal-obsessed/quasi-intoxicated university years), and she's still one of my absolute best friends.  She's my weekly marathon phone date (till it's way past our bedtimes and we're both exhausted and eventually the battery in one of our phones inevitably dies.)  She's my voice of reason.  And she's my mommy-inspiration with three little boys (one eight, one six, and a little man who is just about to turn one year old in a few days) who she handles with apparent ease, grace, and genuine adoration.
My Jess recently started a mommy-blog which I follow religiously, not because I'm a good friend, but moreso simply because I think it's brilliant.  It's funny.  It's insightful.  It's honest.  And it makes me love and admire my Jess even more than I already do.  :)
Her blog is called Little Townhome Love.  Definitely check it out!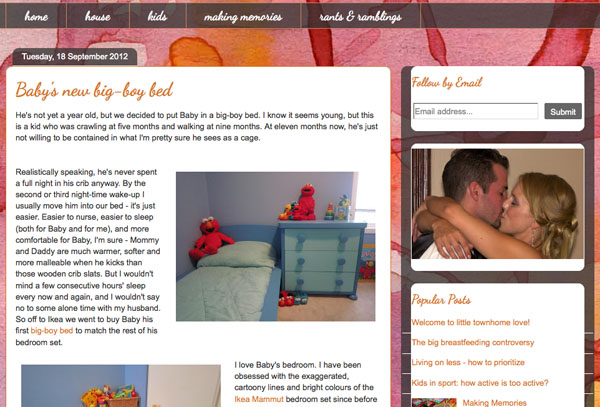 And, speaking (well, writing) of being thankful, I hope that all my lovely fellow Canadians have a very Happy Thanksgiving this weekend!  And I hope that your weekend is filled with great friends, loving family, and amazing food.
Now, if anyone needs me, I'll be in the kitchen preparing for Sunday's Thanksgiving feast at my house – only the second ever family holiday meal I've ever hosted at our tiny little abode.  There will be turkey.  There will be mashed potatoes.  There may even maybe be ridiculously cute cupcakes.  So excited.  Can't wait!
Want something equally awesome? Check these out!:
One comment on "
I'm thankful for friends. And turkey. (Happy Thanksgiving!)

"