So rather than going all gung-ho with my porch painting project (although, admittedly, I'm rarely gung-ho with any painting project) I've been taking the exterior painting equivalent of baby steps.  Instead of painting my entire front porch all at once in one fell swoop (and committing to a colour willy-nilly) I tested the waters a bit first.  See, not only did our front porch need a makeover (desperately), but the window at the front of our house also looked pretty sad (and I knew that the time/effort involved in painting the window would be far less than that needed to complete my porch painting project.)  So I experimented with my paint colour on the front window first.  You know, just in case.  And I'm really glad I did.
Here's our front window pre-paint.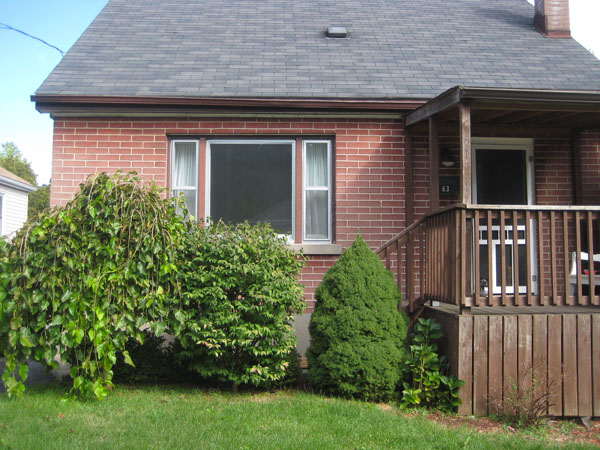 Our house, being, well, old, has storm windows still.  And while I'd really like to replace those windows for fancy new ones ("fancy" meaning windows that actually open and aren't half painted shut, of course), that's definitely not in the budget right now.  Paint, however, is a bit more wallet-friendly.  Cheap and cheerful?  Yup!  It's my middle name.
A long while back, someone had capped around the old wooden window frames with some sort of aluminum shell, I'm guessing to protect the original wood.  I don't think the aluminum parts had ever been painted.  They weren't pretty.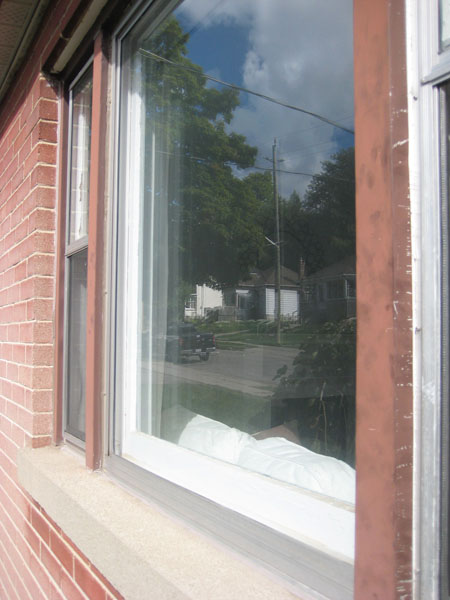 Ew, eh?  Yeah.  I know.
So poof!  Out came my trusty paintbrush.  And poof!  One coat of primer later and the ugly brown aluminum caps were banished forever.  Here's what everything looked like post-coat of BullsEye primer (I should probably own shares in that company – love that stuff!)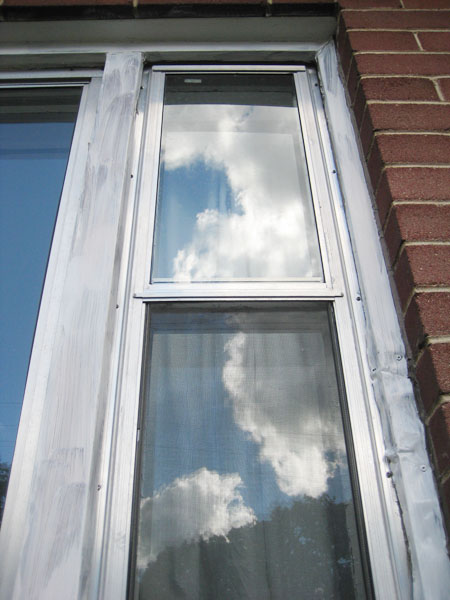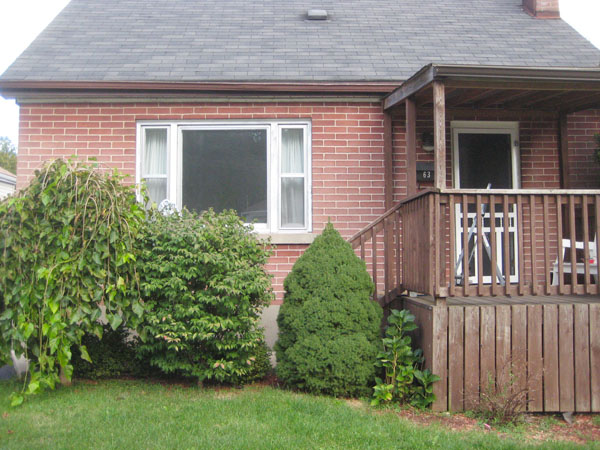 It was around this point where I seriously considered painting the windows white (Cloud White, to be exact.)  But I didn't really want our icky and worn aluminum-capped storm windows to become a glaring white focal point at the front of our house.  No, my goal was to make the windows blend in with the brick, and thusly create exterior paintcolour harmony.  Or something rather yoga-esque like that.  :)
A couple coats of Benjamin Moore's Rockport Gray later (cue big reveal music), and my front window looked like this…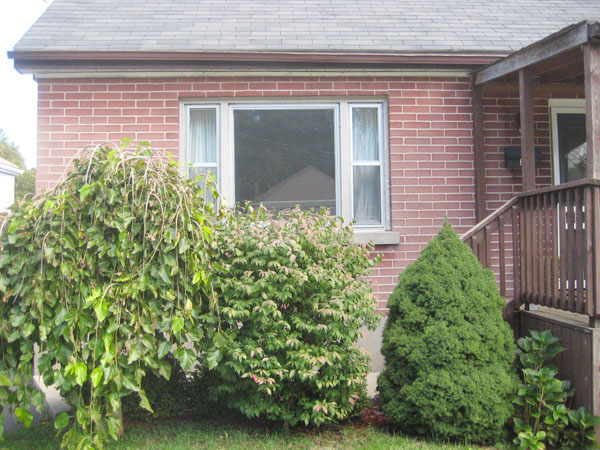 Can I get a dramatic muted-trombone "wop-wop…"?  Yup.  I know.  There was something about that colour that just didn't quite work.  It was a little…  bland.  Lackluster perhaps.  And at certain points in the day it actually… shhhhh… looked a little pink.  Ack.  Was I horrified?  Yes.  Was I convinced that all the neighbours were snickering?  Yes.  Was I really really glad I didn't go through the effort of painting my entire front porch in that colour?  Yes.
So, being a trooper, I tried again.  Another trip out to my local Benjamin Moore store, and another couple coats of paint later, and here's what my front window currently looks like…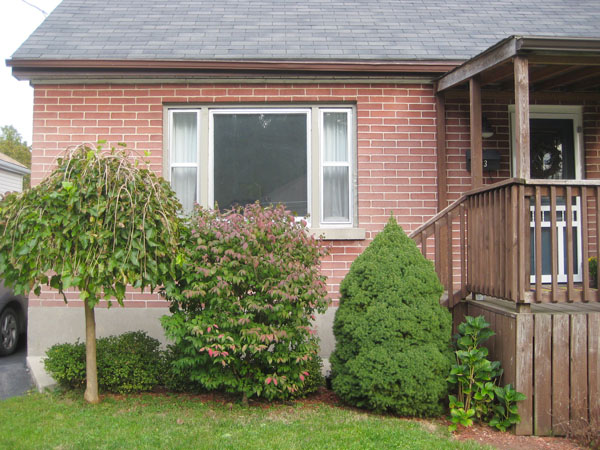 It's better, eh?  It's Benjamin Moore's Copley Gray, a taupey-gray with just a little lovely olive-ness.  To channel my inner Carrie Bradshaw: me likey.  :)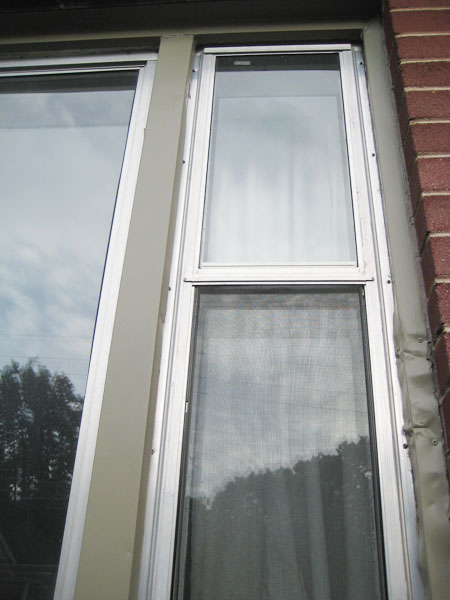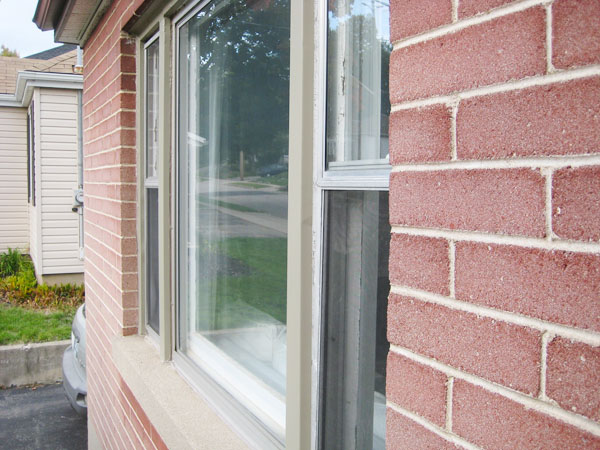 Paint colour experiment complete, I'm now preparing (sorta) to move on to the front porch.  It's a significantly larger job.  Am I excited?  Meh.  Will it look better?  YES.
And I'm even more excited to have this entire exterior painting project DONE.  (Soon.)  (I hope.)  Further porch painting project updates to follow shortly (since porch painting season has almost ended…  why does fall fly by so fast?  Sigh.)  Stay tuned.  :)
Want something equally awesome? Check these out!: