Have I mentioned yet how pleased I am with how our sunroom has turned out?  Just in case I haven't: I'm very very pleased!  As in proud mama pleased.  Like my sunroom just got a shiny gold star for being awesome and I'm starting up the mixer to make it a big ol' batch of congratulations cookies.
Or something like that.
Just as a reminder, here's where the sunroom started…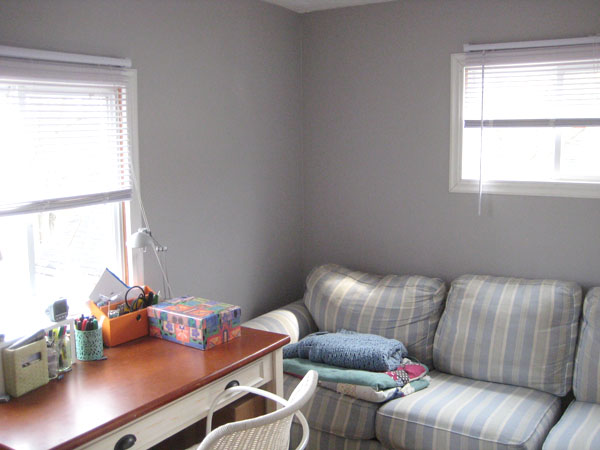 It was a rather unfortunate shade of purple-ish gray, cluttered, and basically had become a dumping ground for stuff we didn't currently have a location for elsewhere in the house.
Yep.  It was one of THOSE rooms.
So, of course, I painted.  EVERYTHING.  The ceiling, the walls (BM Chelsea Gray), all the trim (in my beloved go-to trim colour: BM Snowfall White.)  The only items that have not yet been painted to-date are the closet and back entry-way doors (and that's coming shortly too.)  When I finished painting, here's what the room looked like…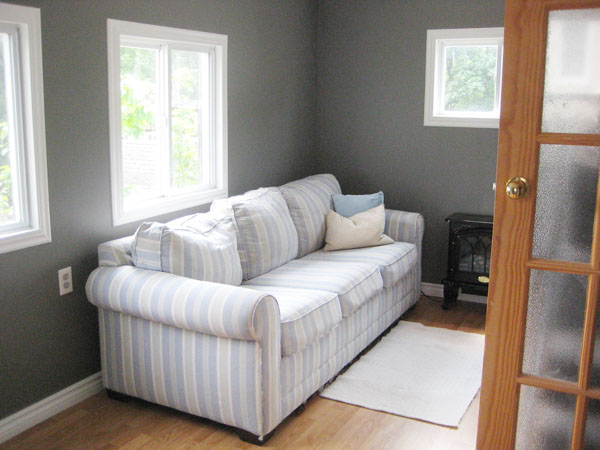 Was I happy?  OUI!  But something was still missing.
Cue: curtains.  Free Ikea Lenda curtains, in fact!  Hand-me-downs from friends who were purging (like, years ago) that I've been holding on to ever since, knowing that eventually I'd have a use for them.  And I did!
Here's my newly painted sunroom, avec les curtains…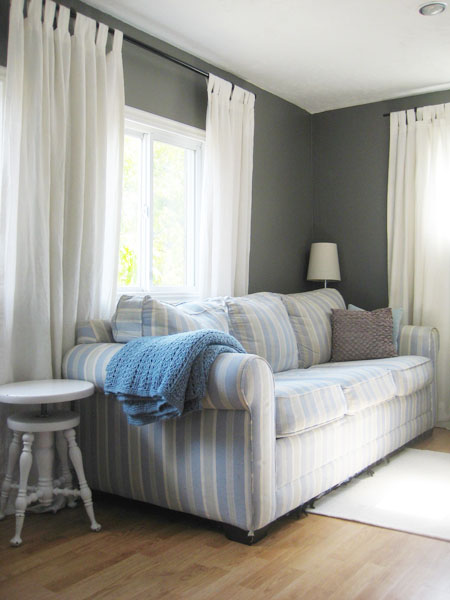 Eeee!  The room now makes me so happy!  It's cozy.  It's organized.  It might now be my favourite room in the house (and it's not yet even finished!)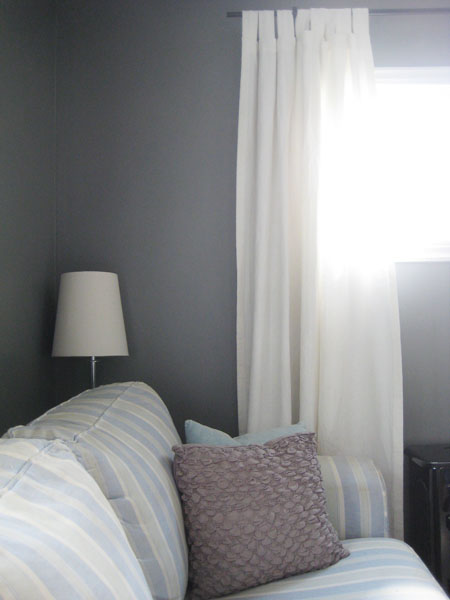 And I even repurposed the poor little piano stool that was usurped from kitchen-stooldom by my beloved vintage yellow barstool I inherited from my parents.  It makes quite the nice little side-table!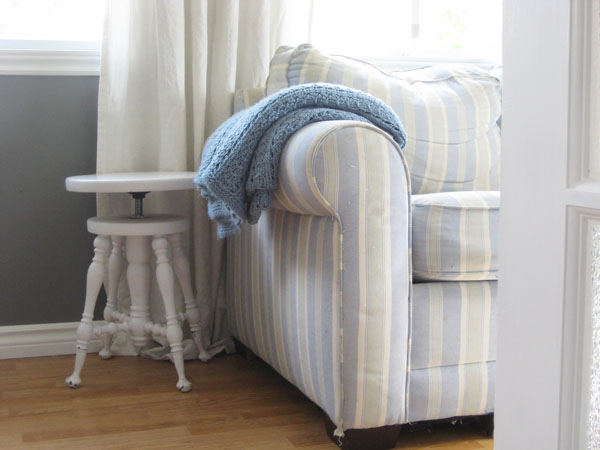 What's left to do?  Door and closet painting, as I mentioned.  I'd also love to find a cheap and cheerful slipcover for the sofa (since, while it's the most comfortable sofa ever, it definitely isn't the prettiest.)  Art needs to go up on the walls, of course.  And I'd love to get a more substantial rug for the floor too.
But for now, I'm happy.  So happy, in fact, that I often just stand in the room and look around and smile.  It creeps the cats out a bit, but I can't help it.  My sunroom makes me smile.  :)
Want something equally awesome? Check these out!: