My lady with her cats (and dogs) has adorned the kitchen wall above my stove for quite a while now.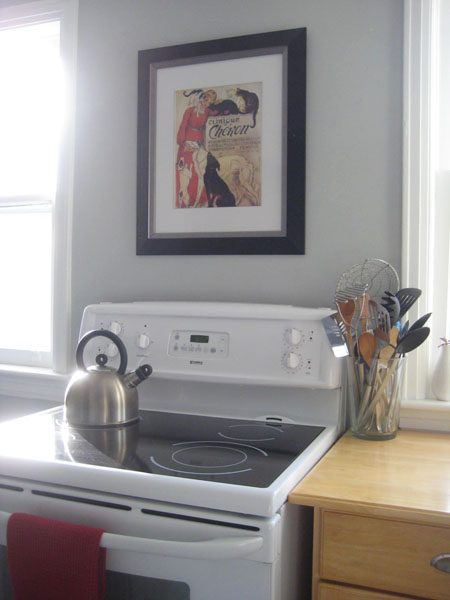 I love her.  She's classy (there's french writing on that print – doesn't that automatically make her sophisticated?), and, well, she's hanging out with several cats (which makes her pretty darn cool in my books.)  It's perfect.  :)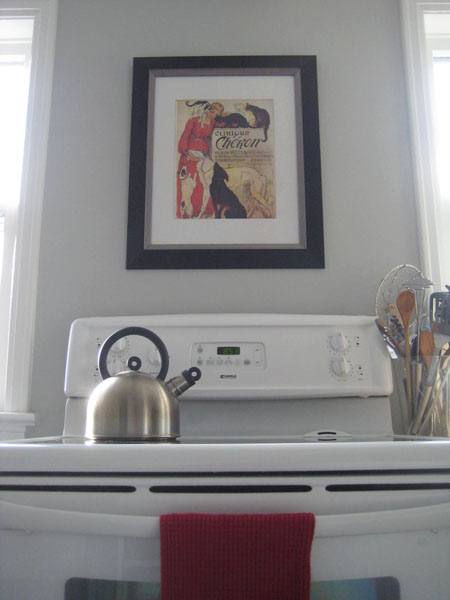 But…  I've been feeling the need to switch things up a bit lately.  While I love my crazy French cat lady, I've been feeling the need for more colour.  More oooomph, if you will.  A little cheer and a lot of joy perhaps.  So, with Christmas coming (and the gazillion free printables floating around Pinterest) I decided to make the switch.  For the holidays at least.  And then I'll revisit my "art above the stove" dilemma again in January.  (Stay tuned for another post on that in about 40 days.)
It didn't take me long to find this…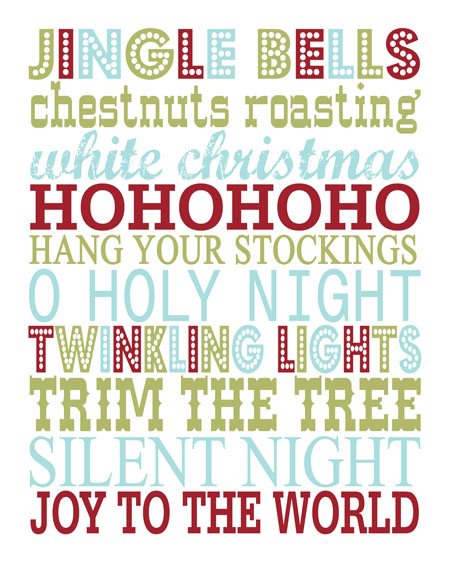 …courtesy of the lovely ladies over at Eighteen25.
And it didn't take me long to decide that it's perfect for my little kitchen. :)
The only problem?  Our printer, being a non-fancy-pants little machine, prints 8.5×11″ pages.  It's not a high-end printer by any means, and it maxes out at a standard papersize.  Downsizing the original 16×20″ print to fit my tinier paper wasn't a huge problem.  However the matting in my frame was for my lovely 11×14″ cat lady.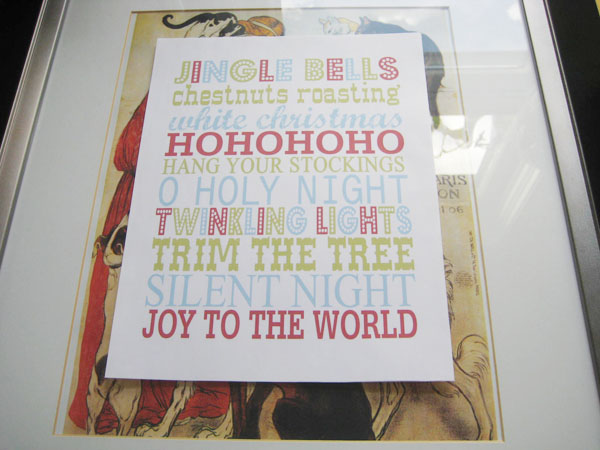 My "use whatcha got" solution?  Leftover scraps of scrapbook paper from other random past project.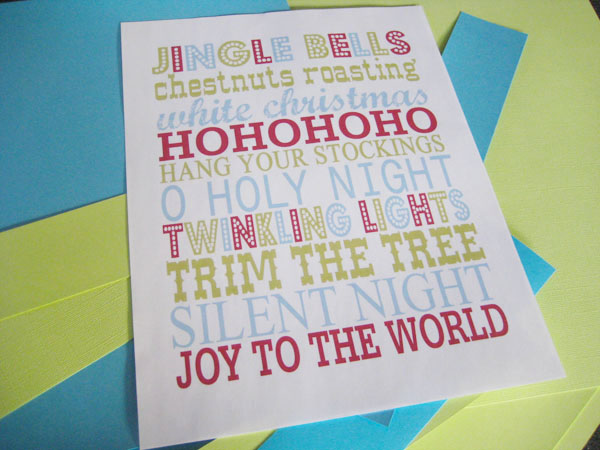 Yup.  I pieced together what I'll call an "inner-matting" (technical term) using some sparkly blue scrapbook paper pieces I had leftover from some other random DIY project.  For the record, I'm not a scrapbooker.  But I love scrapbooking stuff.  Paper and punches and pretty things…  It all makes me swoon, just a bit.
And, when I was done my little project (I excelled at cut-and-paste as a toddler, btw), I was left with this…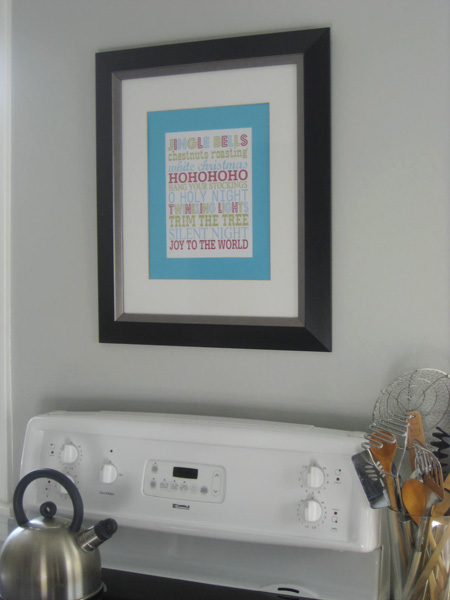 Insert semi-frowny face HERE.  The big reveal was most definitely a colon-S sorta moment.  :S  I'm undecided.  It needs… something more.  Like some red ribbon or some doodads or something like that (maybe there is in fact a little closet scrapbooker buried somewhere deep inside of me afterall.)  Or perhaps it's the blue paper that's throwing me off.  While I love the blue with the print, it's just not playing nice with the gray on my walls.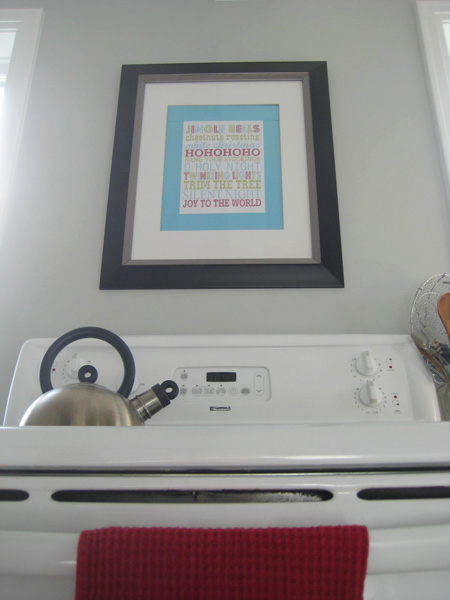 So let's consider this a 4 out of 10 for now, k?  To be revisited again shortly.  I have some deep red scrapbook paper kicking around somewhere in my scrapbook paper basket (yes, I have a designated container for pretty papers…  don't tell…) that I'm guessing will likely be the solution to all my kitchen print woes.  Yep, there may indeed be a second "inner-matting" cut and paste project extraordinaire coming to a kitchen island near me.
Are you excited?  Me too.  :)
To be continued…
Want something equally awesome? Check these out!: