It's November now, and autumn is almost all finished up for another year.  Insert wistful and nostalgic sigh HERE.  It seems so unfair that fall, being such a lovely season (and, if you ask me, the very best season), flies by so quickly.  Fall is Sweetie and my THING.  Our anniversary is in the fall.  We both love the cooler temperatures and falling leaves.  We host my family for Thanksgiving each year.  And, most importantly, we love pumpkins.
One could even possibly say that we're pumpkin junkies, perhaps.  We go gaga for the gourd.  We dash to the pumpkin patch.
Or something like that.
I'm not entirely sure exactly when we became pumpkin people.  But it happened pretty early on, I think.  (Having been together for almost twelve years now, the early-years have started to blur a wee bit…  there were pre-home-ownership apartments, there were minimum wage jobs, there were spur-of-the-moment cross-country roadtrips, there were fewer wrinkles and fewer gray hairs peeking through…) (and there was lots and lots of love…  almost as much as there is today.)  (And yes, feel free to gag a little.  It's all true, but even I rolled my eyes at myself just a bit for typing that.)
We were a little slow on pumpkin acquisition this year.  We waited until the Saturday before Halloween to get our gourds.  But, like every year, Pumpkin Day (as it's officially known) began with a quick roadtrip to our favourite little lunch spot, Mackies (in the tiny little summer cottage town of Port Stanley on Lake Erie.)
Mackies caters to the beach crowd during the summer.  They serve burgers and hotdogs and fries and onion rings primarily.  It's like a cholesterol junkie's dream.  And, it's delicious.
We mainly go for the fries.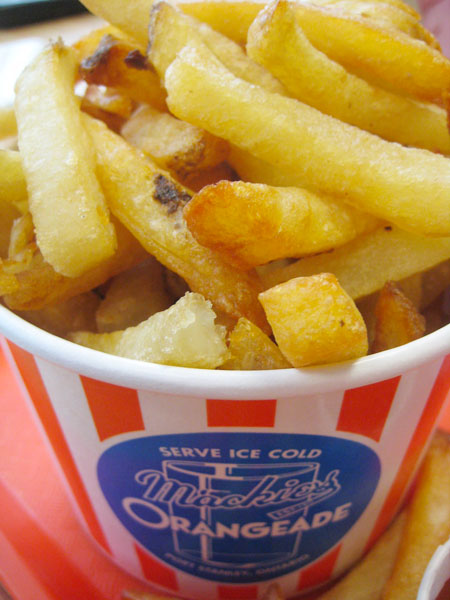 Mackies is also the home of Orangeade, a sweet orangey drink with little bits of orange pulp thrown in for fibre.  Truthfully, I'm not a big Orangeade fan.  (But please don't tell Mr and Mrs Mackies that!)  But it's WHAT YOU GET when you go to Mackies (it'd be preposterous to request any other beverage!)  So it's what WE get when we go to Mackies too.
Plus Sweetie rather likes it.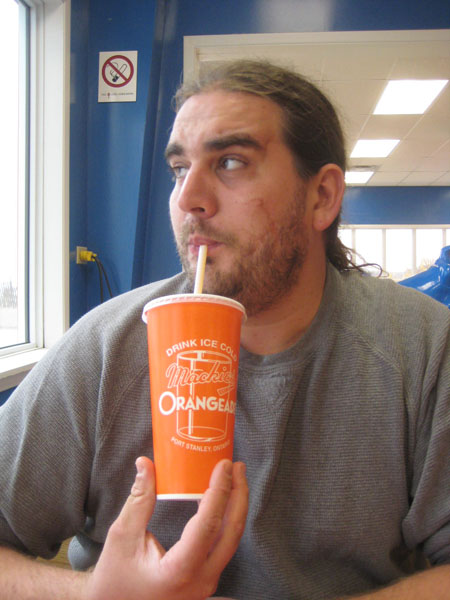 (Dear commercial makers of Canada: Sweetie is really rather excellent at product placement and endorsement.  Please consider this his official audition for your next big ad.)
Lunch devoured (and grease quota filled for the next six months or so) we headed out to Ferguson's pumpkin patch.  Ferguson's is another of our traditions – we've been getting our pumpkins there for as long as I can remember.  They have hay rides and face painting and scarecrow decorating and lots of fun things for kids.  But most importantly?  They've got some super stellar squash.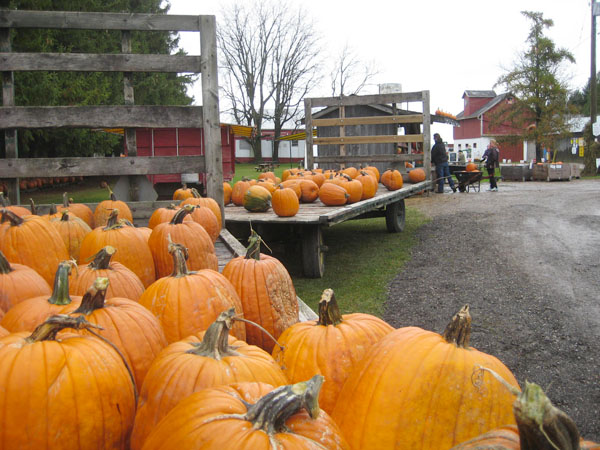 There's the rather wholesome "pick your own pumpkin" option (which always looks like a lot of fun!) but I'm rarely wearing muddy-pumpkin-patch appropriate footwear (I seriously need to find myself some galoshes), so we normally make our selections from the flatbed-pumpkins (I'm guessing that's their official breed name.)
And then, once we arrived home…  pumpkin carving began.  And it was crazy messy.  And it was rather gross.  But in the end it all worked out pretty well…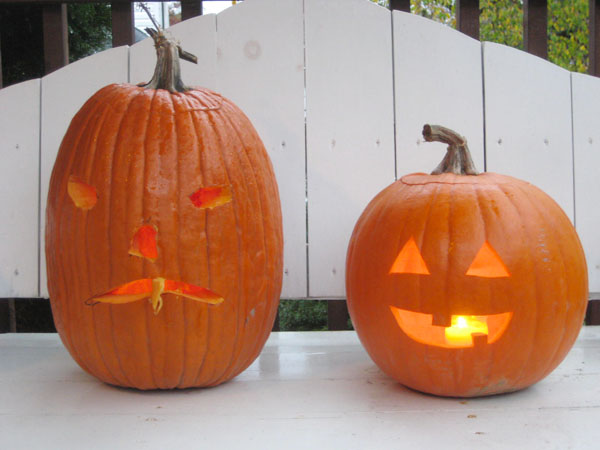 And, as per tradition, Sweetie turned the rather unappealing bowl of leftover pumpkin innards…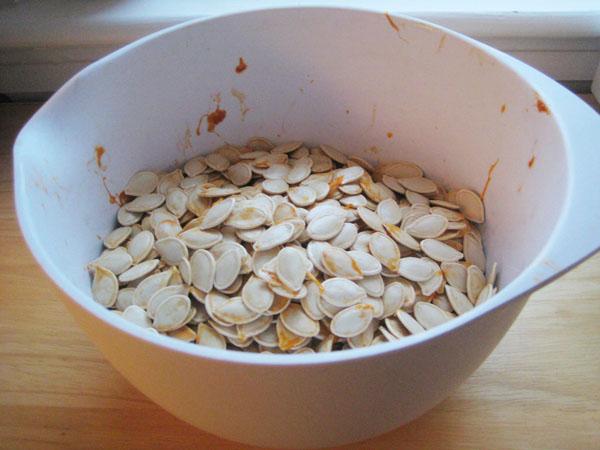 …into yummy roasted pumpkin seedy goodness.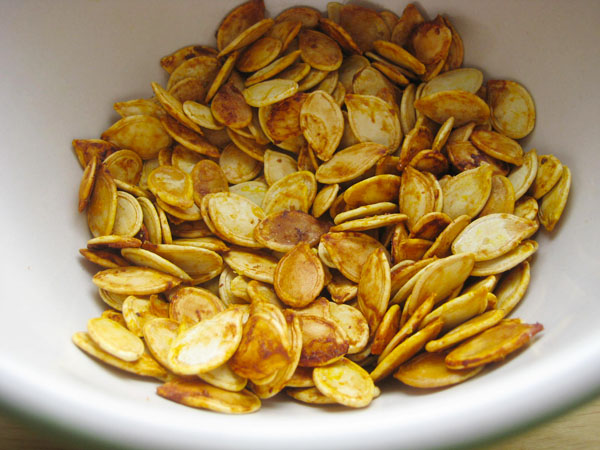 Sooo good.  They didn't last long.
And, fifty kids dressed in rather well-thought-out and entertaining costumes later, Halloween was officially over.  Poof!  Just like that.  :(  And it's suddenly now time to start shopping and decorating and planning for the next big holiday, when that lovely jolly chubby dude in the red suit and white beard comes to visit.
Until next year, of course, when Halloween all begins again with a trip to Mackies for more greasy goodness.  :)
Hope your Halloween was full of deliciousness and tradition too!
Want something equally awesome? Check these out!: