My traditional Christmas gift of choice for friends has always been baked goods of some sort.  Last year I made fancy little chocolate truffles, peanut butter cookie reindeer, and chocolate cookie bark.
I didn't take any pictures of last year's treats, but luckily my friend (and happy cookie recipient) Shawn did.
And it got Instagram-ed.  :)
(Related confession: I haven't yet figured out Instagram.  I should probably work on that eh?)
This year, I'm skipping the somewhat time-consuming (yet adorable!) pretzel-antlered cookies, and the crazy delicious (and rather pretty!) chocolate truffle balls, and I'm going straight to the bark.  Partly because it's everyone's favourite.  Partly because I haven't had time yet this year to make multiple Christmas-tin offerings.  (Has the Christmas season been insanely busy for anyone else this year?  Or is it just me?)  (Maybe it's just me…)
My bark recipe?  It's Kraft's.  (Shhhh…  Don't tell!)  And it's absolutely delicious.
In a nutshell, bark-making looks a bit like this:
Melt this…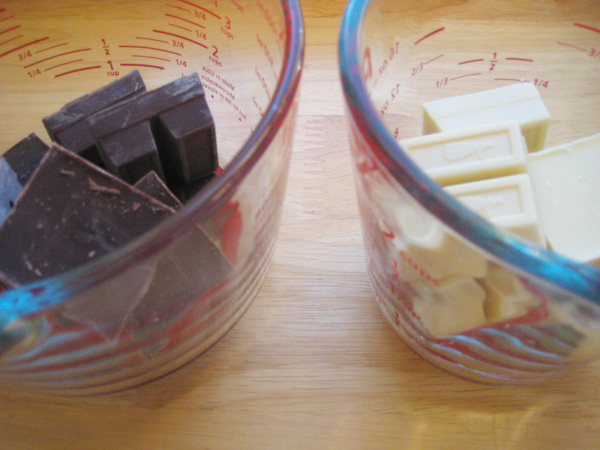 Add this (plus a wee bit of peanut butter)…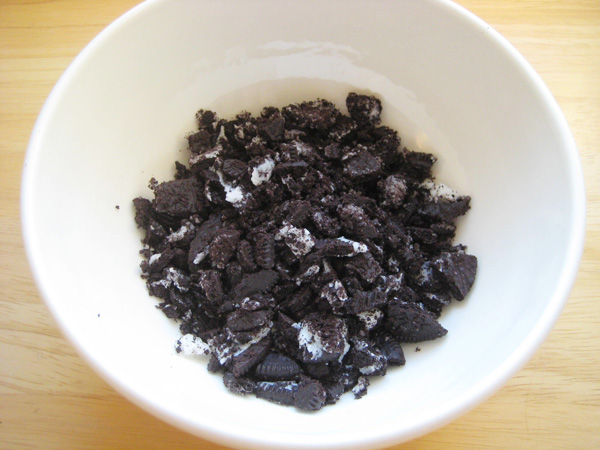 Drop (or dollop, if you prefer) randomly on wax paper…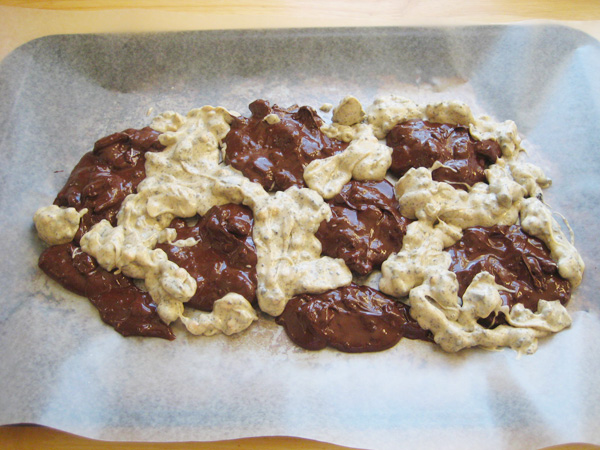 Make super swirly…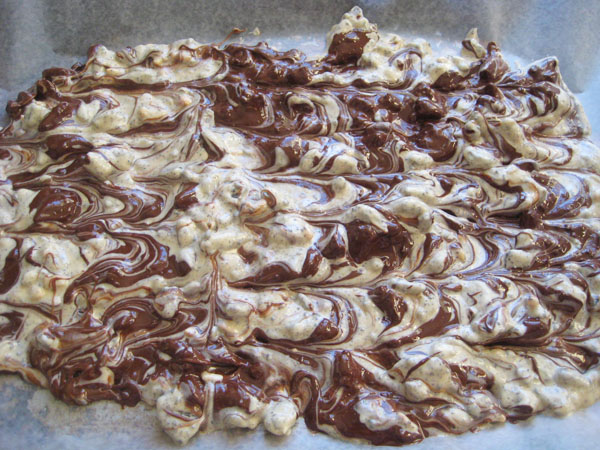 Refrigerate and break into pieces.  Poof!  Bark!
The most important component (that isn't listed in the ingredients?)  LOVE.  And a dash of Christmas cheer. And a pinch of merriness.
(Cheesy?  Yep.  True?  Yep again!)
But, if you ask me, even more important than the bark itself is the bark delivery mechanism.  If I delivered delicious cookie bark in a plastic baggie, would it be just as delicious?  Likely.  Would it be as special?  Absolutely not!
Last year I packaged up my Christmas yumminess in pretty teal canisters.  And they were cute with a capital C.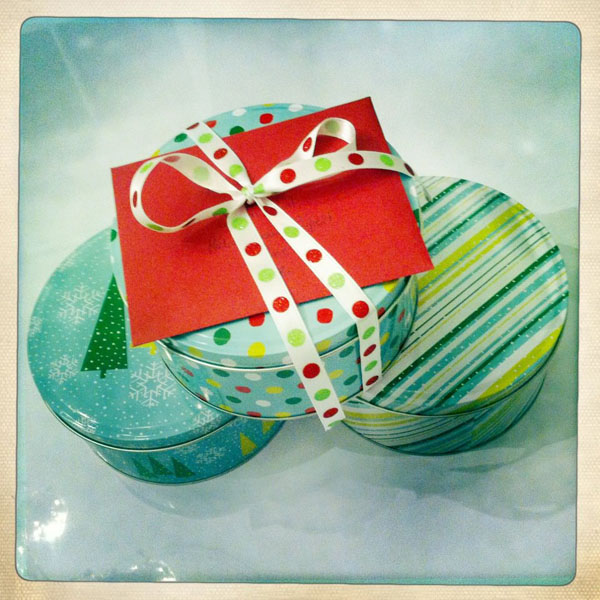 (Thank you again to Shawn for immortalizing the pretty multi-tin package I left on his front porch.)  (And yes – I'm a bit of a Christmas cookie drop-and-dash kinda elf.)
This year I've moved beyond my tin-lined comfort zone and stepped things up a notch.  I've moved on to glass containers.  Fancy eh?  Cue "ooooohs" and "aaaaaahs."
I found these glass jars at HomeSense for $3.99 each.  $3.99!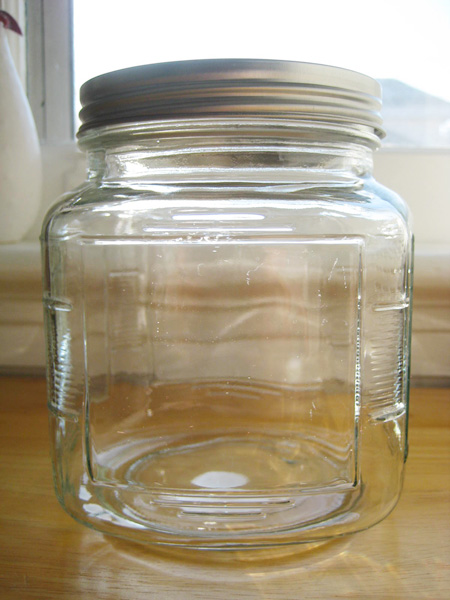 And with a wee little bit of yarn wrapped around the middle, and a couple of coordinating pompoms attached (I chatted a bit about my pompom obsession HERE), the once rather utilitarian glass jars become cheery bark-ready vessels.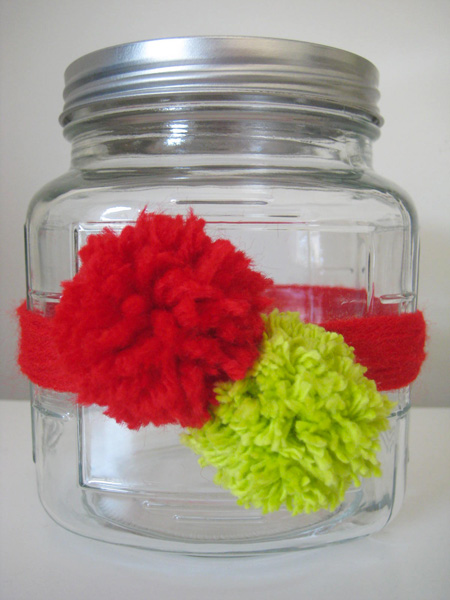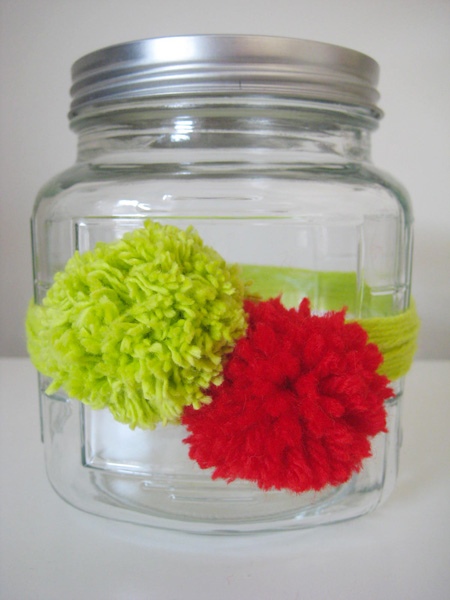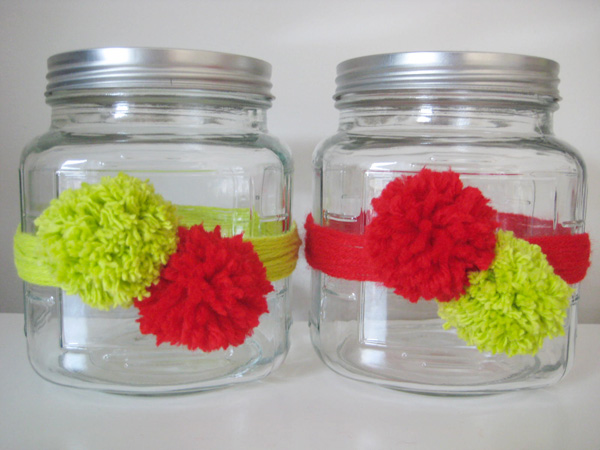 I think they're even cuter once filled with super swirly bark…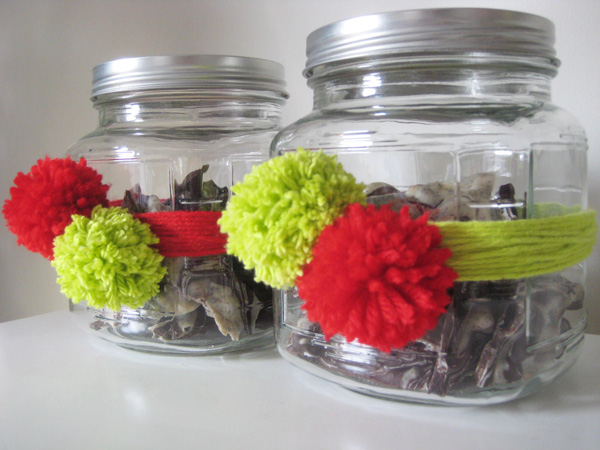 Yep!  I'm pretty pleased with how they turned out.  :)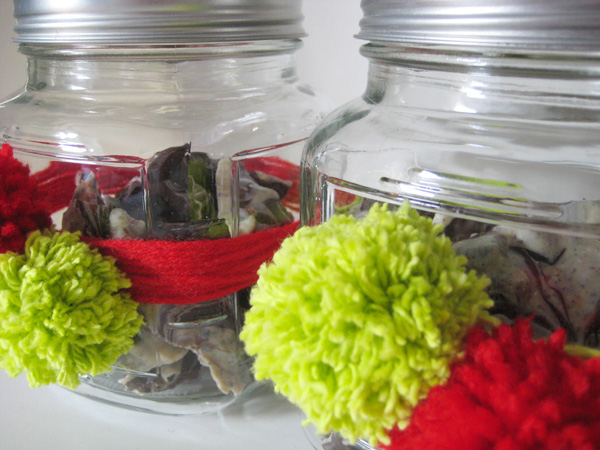 So there!  Dear friends, please consider this your 2012 Christmas-baking delivery preview.  Coming shortly to a front porch near you!
Very shortly, in fact.  Only six more days to go!  :)
Want something equally awesome? Check these out!: