While I'm busily painting away at my bedroom (since, having divulged a bit about my rather OCD painting process HERE, it's pretty obvious that this won't be a quick little project) let's take a look at what I'm HOPING my bedroom will look like-ish once it's all finished up.  :)
First, the colours I did not choose.  Our bedroom at our last house was a lovely shade of blue-gray.  I adored it.  Peaceful and serene and so pretty!  And I totally thought that a blue-gray hue was destined to make another appearance on our bedroom walls here in this house.  In particular, either Coventry Gray (which has always been my all-time favourite gray) or Stonington Gray (which is one shade lighter and beautifully graces the walls of my happy little kitchen.)
But when I tried both colours in large swatches in our bedroom, I wasn't impressed.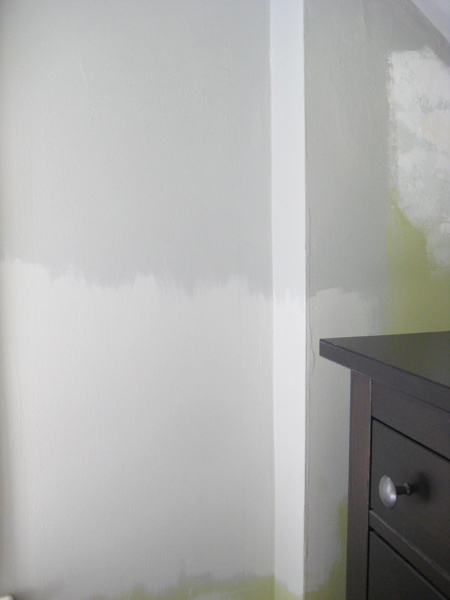 Blah eh?  I mean, I LOVE both colours.  But they just looked a little lackluster in our bedroom.  A wee bit "meh", perhaps.  I was sad.
But then – THEN! – I remembered Revere Pewter, another colour I've been in love with for eons and dying to use somewhere in this house.  And then I got all giddy and went completely insane and threw caution to the wind and hurried out to my nearest Benjamin Moore store for a full gallon of the glorious colour.  Yep.  Buying paint without first testing it on my walls is my definition of living dangerously.  I'm a rebel, I know.
But with a colour so lovely, how could things possibly go wrong?  Famous last words?  Nope!  Fabulous snap decision-making, I hope.  :)
(And, to my dear friends who know how I often agonize over paint colours – yes, that's you Shawn – you should be rather impressed by my rather uncharacteristically quick paint colour decision making skills.)
I don't have any in-progress shots to share at the moment, but here is the colour scheme (via Apartment Therapy) I'm going for…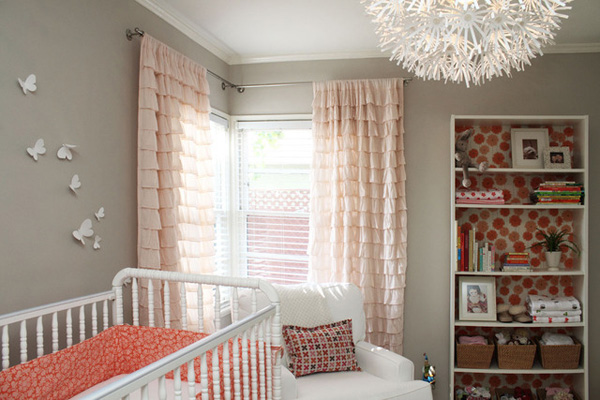 …well, minus the nursery part.  There will be no crib in our room, and Sweetie would likely ixnay the pretty ruffly curtains, but I love the beigey-gray with the coral.
Yep.  That's right.  I just admitted to loving coral.  Insanity eh?  The 80′s most definitely are back.  Minus the ginormous and absurd shoulder pads.  I hope.
What else do I love?  Coral and navy.  Swoon.  See?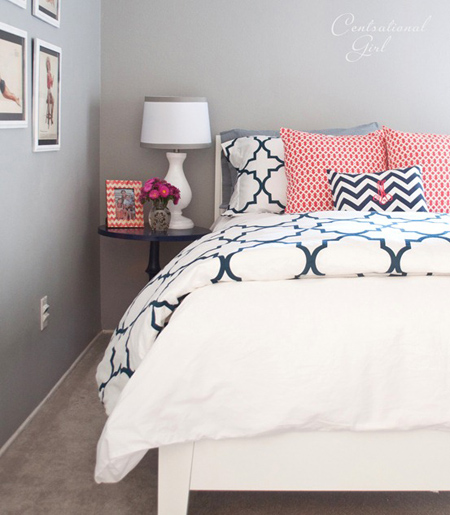 I absolutely adore this bedroom from Centsational Girl.  I'm thinking that by adding navy to the coral, I'm semi-guaranteed that Sweetie will embrace my vision.  Afterall, nothing says "manly" like a little navy, non?
And can I just mention that I'd like these pillows (from Honey & Fitz) please?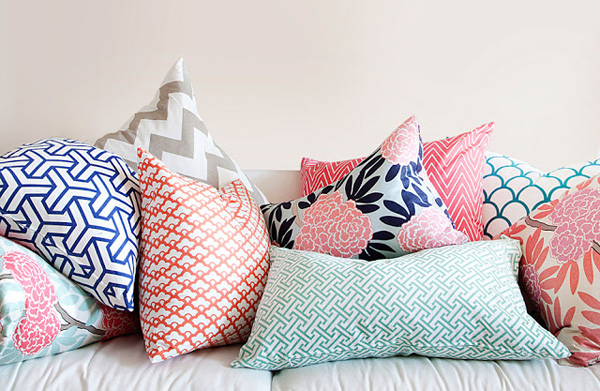 Please please please?  Like, all of them?
So yes!  That's the overall colour scheme I'm going for.  I think it'll be pretty and fresh but still subdued enough to be sufficiently bedroom-ish.
Further bedroom-redo updates to follow!  Eventually.  (Since y'all now know how very very slowly I paint.)  ;)
Want something equally awesome? Check these out!: