Exactly one year ago today, I (albeit somewhat timidly) hit the big scary PUBLISH button to send my first post out into the rather intimidating internet-world, thus officially starting this tiny little blog (woo!  Happy bloggiversary to me!)  I started this blog to keep family updated on our various goings-ons (my dad and my father-in-law are my biggest fans) (hi Dad!  Hi Ron!) and to put picture-proof to the multitude of renos that I'm constantly rambling on about to friends (hi friends!)
Now that 2012 is leaving us (can I say good riddance?) (yup – it's official: I'm saying good riddance)  (I'm more than just a little perturbed at the year 2012 has been) and making way for the fine and outstanding year that 2013 is going to be (I have reallllly high hopes for you, 2013!) I thought that now might be a good time to give thanks for another year.  2012 really hasn't been the best year (it's kinda sucked – a lot – at times), but I'm still here and I still have my Sweetie and my family and my cats and my friends, so, in the grander scheme of things, 2012 was ok.  I didn't win the lottery (I was expecting a massive lottery win in 2012) and I didn't take that cross-European trip I really wanted (so disappointed that that one didn't pan out as planned) but all in all, I suppose 2012 wasn't entirely bad.
So, to 2012, as you leave us (and as I dance my little bon voyage happy dance) I would like to extend my thanks for the following…
I'm thankful for friends.  Both new and old.  Friends who made me laugh.  Ones who kept me going this year with encouragement.  Ones who let me cry.  Ones who let me vent.  Friends who reminded me that eventually everything works out, with a little patience and lots (and lots and lots) (and lots) of perseverance (when the time is right.)
I'm thankful for our snazzy new vacuum, the fabulous Mr D (aka the Dyson DC37) (fur?  What fur?)  And for our new washer and dryer too (dear LG: Love you!)
I'm thankful for two new furbabies who joined our family in May.  I think Jacob is thankful for them too (but he'll likely never admit to that) (he's a rather stoic and serious orange cat, you know.)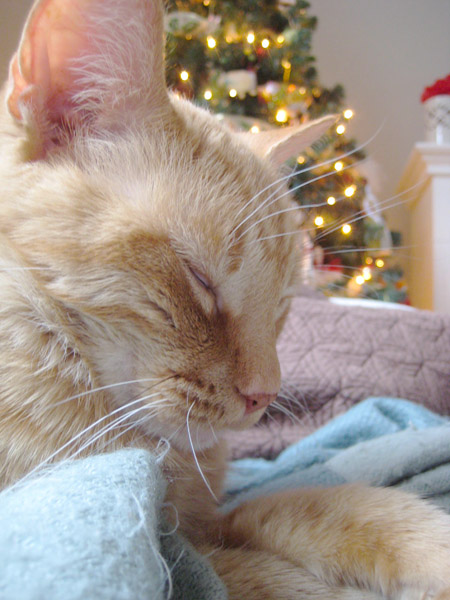 I'm thankful for our cozy little 1940s house.  It's tiny, but it's more than enough space for Sweetie and me and our three little furry roommates.  I'm pretty sure my house, on the other hand, is thankful for Benjamin Moore.
I'm thankful for family.  My family, Sweetie's family, extended non-related-but-just-as-loving-and-amazing family.  I'm thankful for long phone chats and Christmas baking with my mom.  For coffee runs and Diners Drive-Ins & Dives marathons with my dad.  I'm thankful for my niece, the sweetest little one year old ever.  I'm thankful for laughter-filled dinners with my in-laws, and long emails from family-like friends.  I'm pretty darn lucky to have so many awesome people in my life.
I'm thankful for wine (the super girly pink stuff, of course) and dill pickle cream cheese and pumpernickel bread and pizza.  And brownies.  But I think we're all thankful for brownies.
I'm thankful for good health and a creative mind.
And so many other things.
So, as we wish 2012 adieu, I'd like to present the following wish to all my friends and family (found during a random Pinterest patrol via the lovely blog Beige Infection):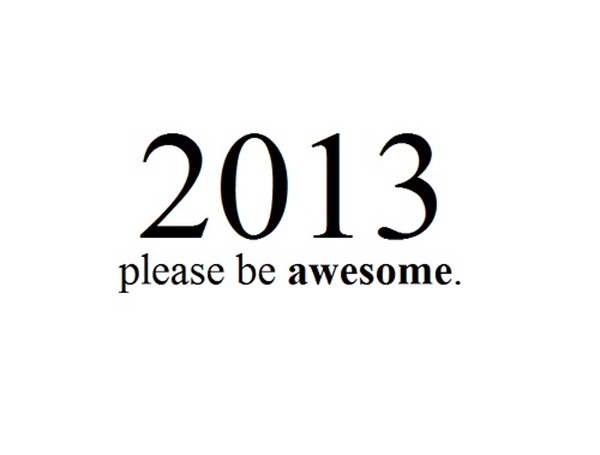 …and I think that says it all.  :)
Happy New Year!  May 2013 bring you everything you want and much much much more.  Wishing you good health, great friends, and love.
And lots of brownies.  One can never have too many brownies.  :)
Want something equally awesome? Check these out!: