I've likely mentioned this before (and, well, possibly several times) but there are two things that drive me a little wacko about my cute little kitchen: the countertops and the floor.
The floor is its own separate debate (that I've already chatted about HERE and HERE and HERE and HERE just a little HERE too.)  The floor is indeed hideous, and soon needs to be replaced (sadly, teal-coloured 1980′s peel and stick tiles just aren't my thing.)
But almost equally offensive are my old laminate countertops.  They're warped.  They're chipped.  They're scorched in a couple of places.  They're, um, blue.  From a distance they don't look completely awful…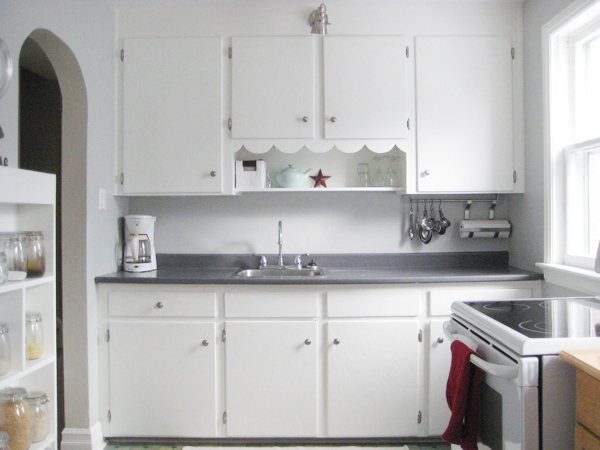 But once you get a little closer, the years of wear and tear (and overall blue-ness) becomes a little more apparent…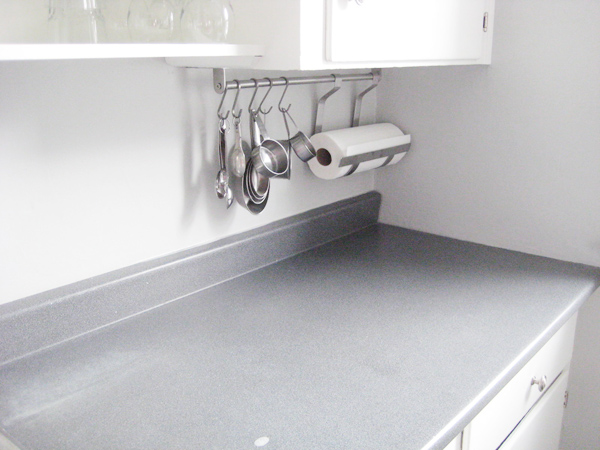 Yep.  Kinda gross.
In a perfect, countertop-abundant world, I would adore new Corian or Caesarstone countertops, or some other sort of composite material.  Similarly, granite would be fantastic.  And marble would be positively lovely!  Unfortunately my (rather frugal) bank account has a bit of a say in the matter, and is dictating my choices just a little.
I've always lived with laminate countertops.  My mom had them in our house growing up (and recently replaced her old laminate countertops with gorgeous new granite-look laminate counters.)  Every apartment and house I've lived in since (including this one obviously) has also had laminate counters.  And I DO like them – untrendy as they may be, they're rather easy to care for (no sealing, no worrying about standing water or red wine…  install, and enjoy.  Simple!)  Of course I'd absolutely prefer a snazzy natural stone or one of the new composites (oh, Misty Carrera Caesarstone, how beautiful you are!) but from a financial and practicality standpoint, laminate is a far more appealing option.
And, all that said, I HAVE found a laminate option that I think I could live with.  It's a granite-y laminate called Ivory Kashmire, and it's made by those fine folk over at Formica.  On the tiny little chip I nabbed from Home Depot, it looks like this…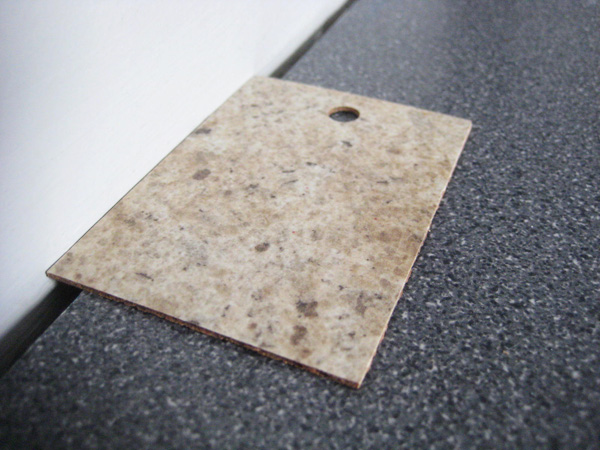 Which, I'm hoping in my kitchen, would look a bit like this (from the Lettered Cottage)…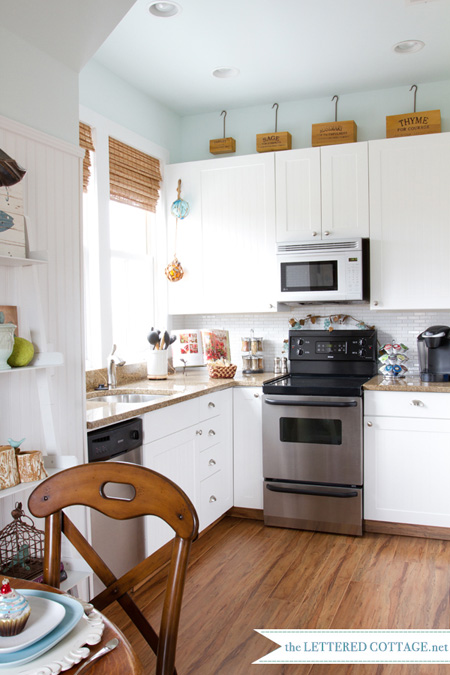 Or like this (from Made By Girl)…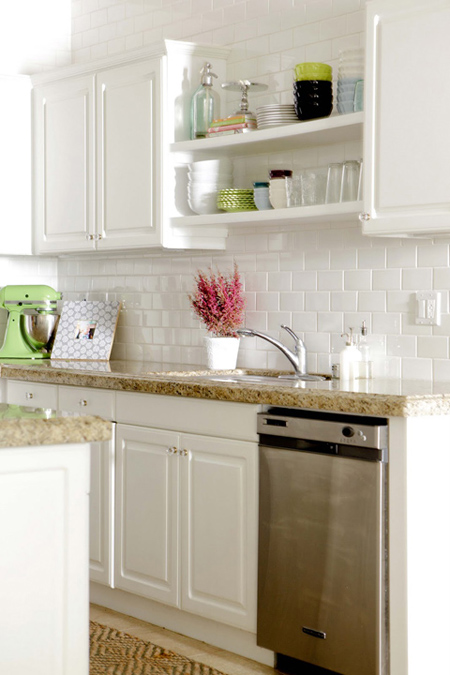 Pretty eh?  :)
My other option would be the super trendy (and lovely!) butchers block countertops.  Butchers blocks seem to require considerably more care than laminate counters.  There's the sealing.  And the oiling.  And more oiling.  And the paranoia regarding standing water.  And the oiling.  And while treating wooden countertops once every few months doesn't sound like a huge undertaking, I'll forget.  Guaranteed.  And Sweetie will forget to wipe up water splashes.  Also guaranteed.  And then I'll end up with watermarks or cracking or whatever normally happens to shamefully neglected butchers block countertops.  And then I'll be sad.
But, they're SO NICE.  See?  I want my kitchen to look like this (from the Marian House Book)…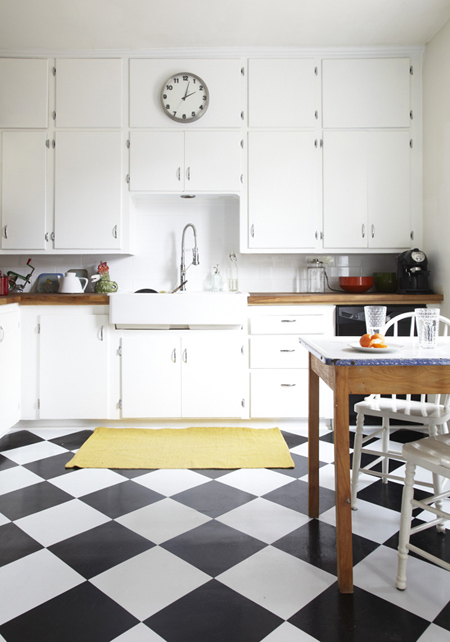 …or like this (from the Mustard Ceiling)…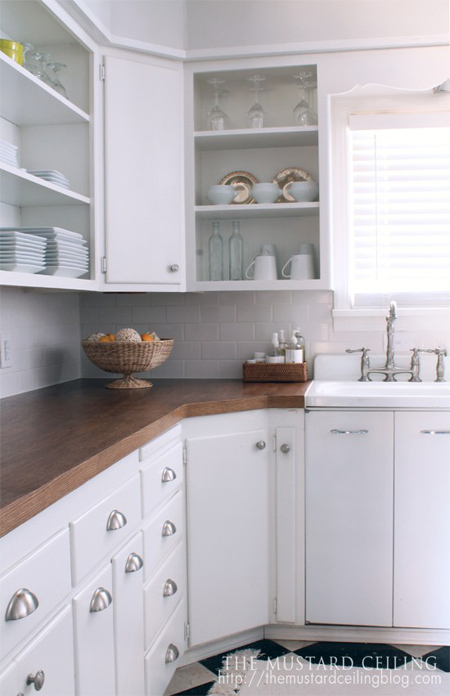 Love!
I may, in the end, very well end up with both in my kitchen – laminate on the countertops around my cupboards/sink, and butchers block on the island (where its much less likely to come into contact with water, and could look lovely leading into my living room!)  Time will tell.  Until then, I'll likely continue to obsess over both.
Because that's what I do.  It makes me sound a little crazy (but, in truth, it's sorta fun.)
Want something equally awesome? Check these out!: